La microfinanza nei paesi post-comunisti: il caso della Polonia
L'anteprima di questa tesi è scaricabile in PDF gratuitamente.
Per scaricare il file PDF è necessario essere iscritto a Tesionline.
L'iscrizione non comporta alcun costo. Mostra/Nascondi contenuto.
2 balance the negative effects of the transformation and to compensate losers through social allowances, as well as the efforts of privatisation of former state-owned enterprises. A considerable attention will be given to the birth and growth of private business activities in transition countries and in Poland and, in particular, to the role of small and medium enterprises (SMEs) in the development of a renewed sound economy capable of generating benefits for all layers of population. Also the various obstacles hindering SMEs' expansion will be stressed. These are i.e. the period of economic recession and falling demand started in 1998 and not yet recovered; the high level of social insurance drawings on salaries (the so called Z.U.S. payments); the cash-flow problems for many companies; the lack of marketing and business knowledge and experience; the problems of underdeveloped rural areas; the mentality of people, not yet used to a market economy and the problem of access to finance from the banking system for entrepreneurs who want to start their own activity or expand their businesses. The subsequent paragraphs will be therefore devoted to considering the evolution of the banking system in transition countries and Poland and to the study of the critical problem of lack of financing for emerging SMEs, to which microfinance tries to give an answer. Finally, but only in the more general part dedicated to all transition countries (chapter 1), the need for an appropriate legal environment in a situation of diffuse corruption and state-capture will be examined. The section about Poland (chapter 4) will be on the contrary closed by a special paragraph about the difficult living conditions in rural areas. Once dealt with all these background themes, the central issue of microfinance will at last come on the scene in both parts. I have chosen to focus my thesis on this subject and its application in transition countries, because I think microfinance can play a significant role in the building of a new social and economical environment not just in the developing world, but also in this peculiar reality. It can be seen in fact as an attempt, in principle rising from the "bottom", to instil self- confidence and trust in their own creative and entrepreneurial skills to the inhabitants of that region. The expected result consists in the encouragement of self-employment and in the birth of micro- enterprises after the collapse of the plan-system, the closing of many state-owned enterprises and the loss of any economic security, however miserable it was. Chapter 2 will concentrate on the typical traits this newly born industry assumes in transition countries. The high demand for its services will be highlighted, its functions in the transition process will be enumerated and the four main institutional models will be described in depth, together with their strengths and weaknesses. As a matter of fact, institutions providing micro- lending services in transition countries can take the form of Credit Union, of Non-Governmental Organisations, of "downscaled" commercial banks and of greenfield microfinance banks. Chapter 2
Anteprima della Tesi di Paola Caruso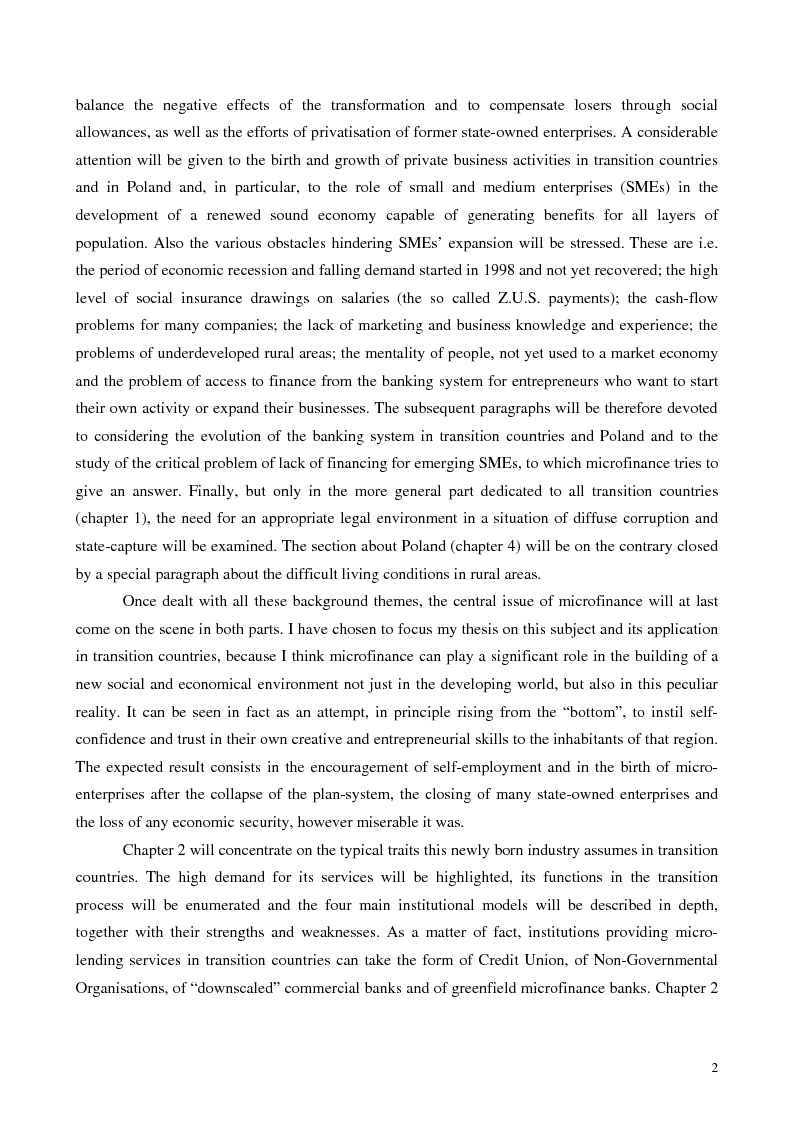 Tesi di Laurea
Facoltà: Scienze Politiche
Autore: Paola Caruso Contatta »
Composta da 268 pagine.
Questa tesi ha raggiunto 1622 click dal 20/03/2004.
Consultata integralmente 2 volte.
Disponibile in PDF, la consultazione è esclusivamente in formato digitale.