C.A.L.L. ( Computer Assisted Language Learning ), web based learning e supporti informatici per interpreti: esordi, sviluppi e prospettive
L'anteprima di questa tesi è scaricabile in PDF gratuitamente.
Per scaricare il file PDF è necessario essere iscritto a Tesionline.
L'iscrizione non comporta alcun costo. Mostra/Nascondi contenuto.
5 PARTE 1 C.A.L.L. COME E PERCHÉ "Computer Assisted Language learning (CALL)) is a relatively new and rapidly evolving academic field that explores the role of information and Communication Technology (ICT) in language learning and teaching. It includes a wide range of activities and initiatives in materials development, pedagogical practice and research. CALL as a field began when the limitations of the computer narrowly limited the pedagogy that could be implemented with it, and consequently some people still believe that CALL refers only to drill and practice and mechanical exercises. Today, however, CALL includes highly interactive and communicative support for listening, speaking, reading and writing, including extensive use of the Internet. Materials development, pedagogy and research have developed in intellectual sophistication to the point where the status of CALL is no longer either a straightforward pedagogical application of a new medium, or simply a practical extrapolation of theoretical work in some other discipline. CALL is sometimes regarded simply as a sub-section of Computer-Assisted Learning (CAL), but because CALL deals specifically with language learning it is both inherently, multidisciplinary and academically substantive. It can be said to belong to the field of Applied Language Studies and, within, that, is most closely related to Second Language Acquisition (SLA), which itself is a rapidly evolving discipline. CALL and SLA are related to sociolinguistics, pragmatics, discourse analysis, and psycholinguistics. In addition, CALL is related to work in education, computer science, natural language processing, cognitive science and psychology, linguistics, cultural studies, and media/communication studies. It is influenced by, and in turn influences, theory and research in all these related fields." From: EUROCALL, CALICO, IALL Joint Policy Statement arising from a Research Seminar on CALL 30 April to 1 May 1999, University of Essen, Germany
Anteprima della Tesi di Mirta Devitor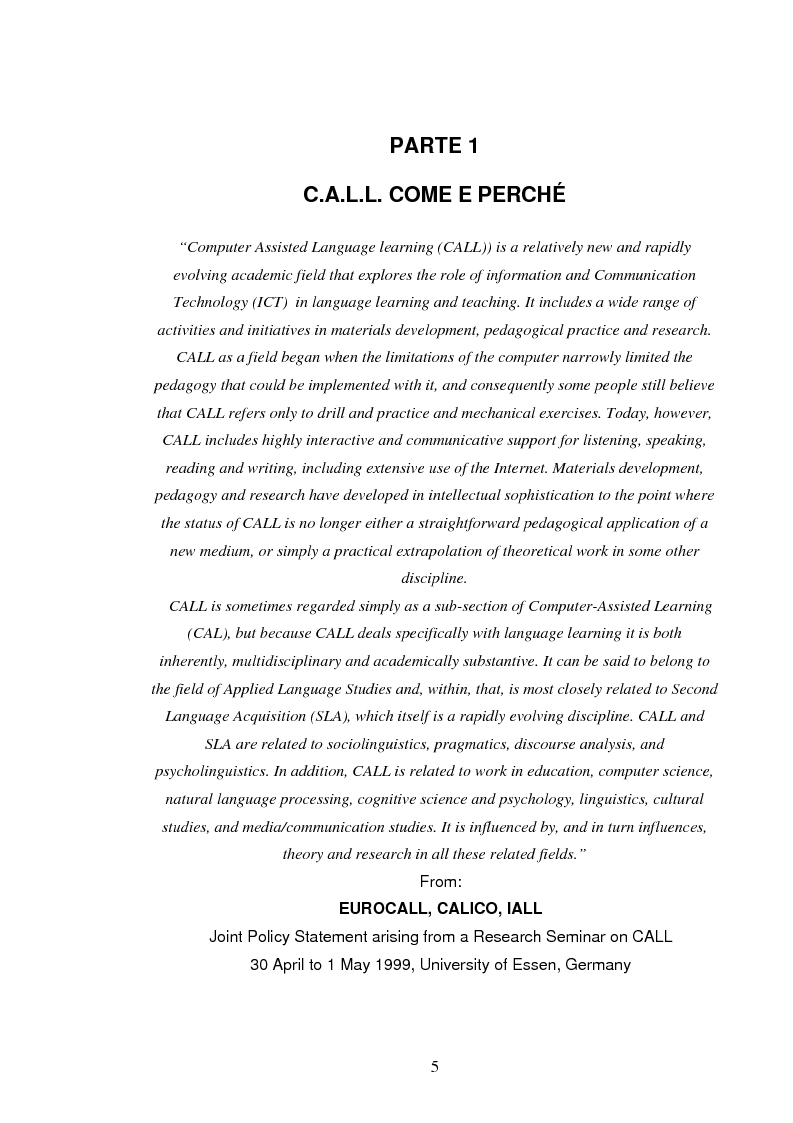 Tesi di Laurea
Facoltà: Scuola sup. di Lingue Moderne per Interpreti e Traduttori
Autore: Mirta Devitor Contatta »
Composta da 256 pagine.
Questa tesi ha raggiunto 7370 click dal 20/03/2004.
Consultata integralmente 10 volte.
Disponibile in PDF, la consultazione è esclusivamente in formato digitale.