Decoding the Language of War
L'anteprima di questa tesi è scaricabile in PDF gratuitamente.
Per scaricare il file PDF è necessario essere iscritto a Tesionline.
L'iscrizione non comporta alcun costo. Mostra/Nascondi contenuto.
'Decoding The Language of War' – Introduction Pietro de Perini 450153/LL 6 Robert Fisk is Middle East correspondent for 'The Independent'. He was in Baghdad during Operation Iraqi Freedom and normally lives in Beirut (Lebanon). He is Britain's most awarded foreign correspondent, winner of the Pulitzer Prize and the United Nations Press Award, and has seven times been named 'British International Journalist of the Year'. He is the author of many authoritative books including PITY THE NATION: THE ABDUCTION OF LEBANON. His contribution is about all the topics analysed in the thesis. Questions and answers and other pieces of the interviews are noted along the work where the reference is necessary while the entire interviews are posted in the appendix at the end of the thesis. Research methodology. Since most of the bibliography of the thesis consists of online documentation, the researching phase was quite delicate. Online versions of International newspapers were taken as the main sources. A selection of American and British newspapers was made including tabloids and broadsheets (see Chapter 1.2). This specific decision was taken in order to cover the largest area of English language varieties. Excluding the solid newspaper-made basis, there were other difficulties in looking for reliable sources in a jungle of self-made information. In the beginning the subject of the thesis was still vague and every search attempt gave too many results to be considered. It was quite hard to detangle this mess (just remember that anyone can insert their own material online). Many efforts were made to overcome this obstacle and much time spent in differing between bad and reliable sources.
Anteprima della Tesi di Pietro De Perini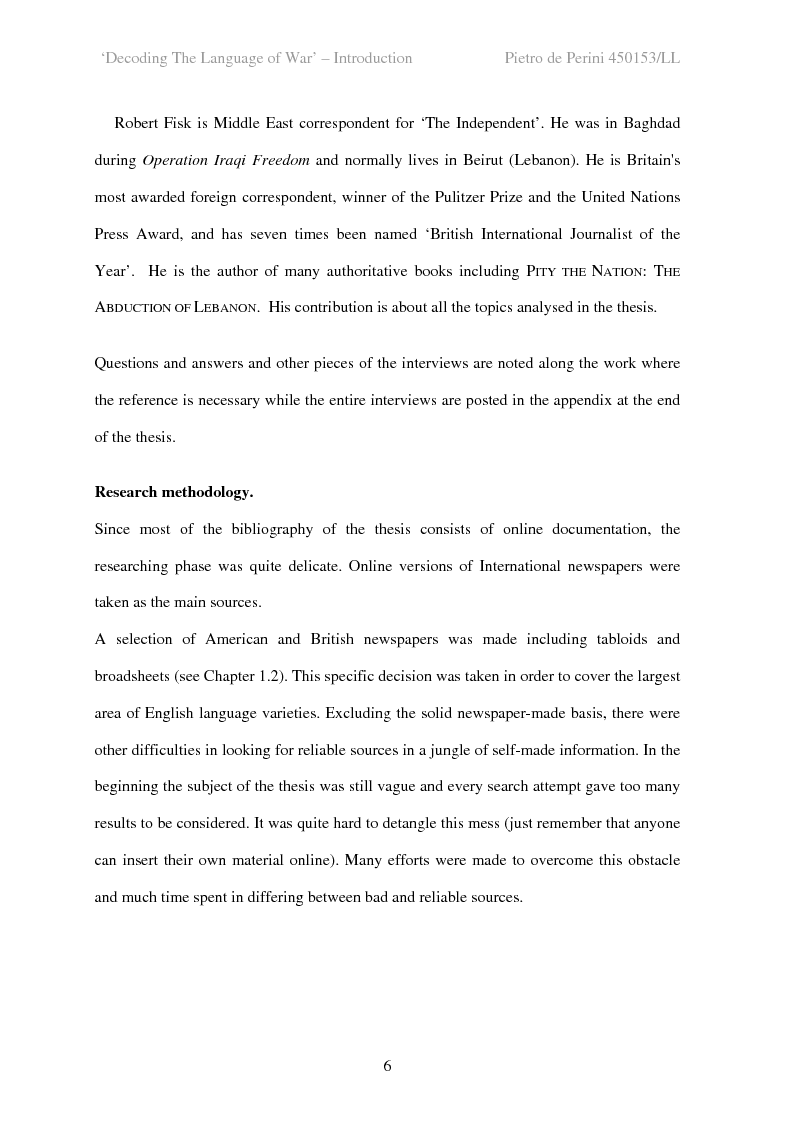 Tesi di Laurea
Facoltà: Lettere e Filosofia
Autore: Pietro De Perini Contatta »
Composta da 158 pagine.
Questa tesi ha raggiunto 991 click dal 21/05/2004.
Consultata integralmente una volta.
Disponibile in PDF, la consultazione è esclusivamente in formato digitale.