Decoding the Language of War
L'anteprima di questa tesi è scaricabile in PDF gratuitamente.
Per scaricare il file PDF è necessario essere iscritto a Tesionline.
L'iscrizione non comporta alcun costo. Mostra/Nascondi contenuto.
Chapter I – Media Choices Pietro de Perini 450153/LL 9 In a few lines Professor Francis A. Beer of University of Colorado explains this change in the behaviour of the media: 'The change in speed of communication over the past fifty years has produced a revolution. For the first time in human history the shot was heard around the world. [...] It begins with technology. The time required to communicate from anywhere is now measured in seconds. Global communication has always been possible – if you were willing to wait. But waiting only seconds brings new meaning to "global communication" and creates a new human reality' 1 Terrorism has always existed, but now it is a public affair. The media deal with public opinion and try to obtain agreement from it. This is a crucial point; public opinion has to be won whatever it costs. American National Security Adviser Condoleezza Rice, after Bin Laden's first videotape was broadcast around the world, asked the presidents of all American networks to interrupt the flow of information. She justified this unusual request saying that the Talebans' broadcast might contain messages for Al Quaeda sleeper associates in America. The reaction of CNN was quiet; it accepted the request, probably because it felt the responsibility of being the first international news channel in the world. Therefore, on one hand this request by the Bush administration is an almost unacceptable but necessary act of protection for the population; on the other hand, American citizens had and still have the right to hear the voice of the enemy and see his face. If the enemy was invisible, he could spread the fear he has already generated. Walter Cronkite, a famous American anchorman said that the media have to inform with all the news they hold in order to give the people the opportunity of judging the government's activity. This role does not change, in times of war or peace.
Anteprima della Tesi di Pietro De Perini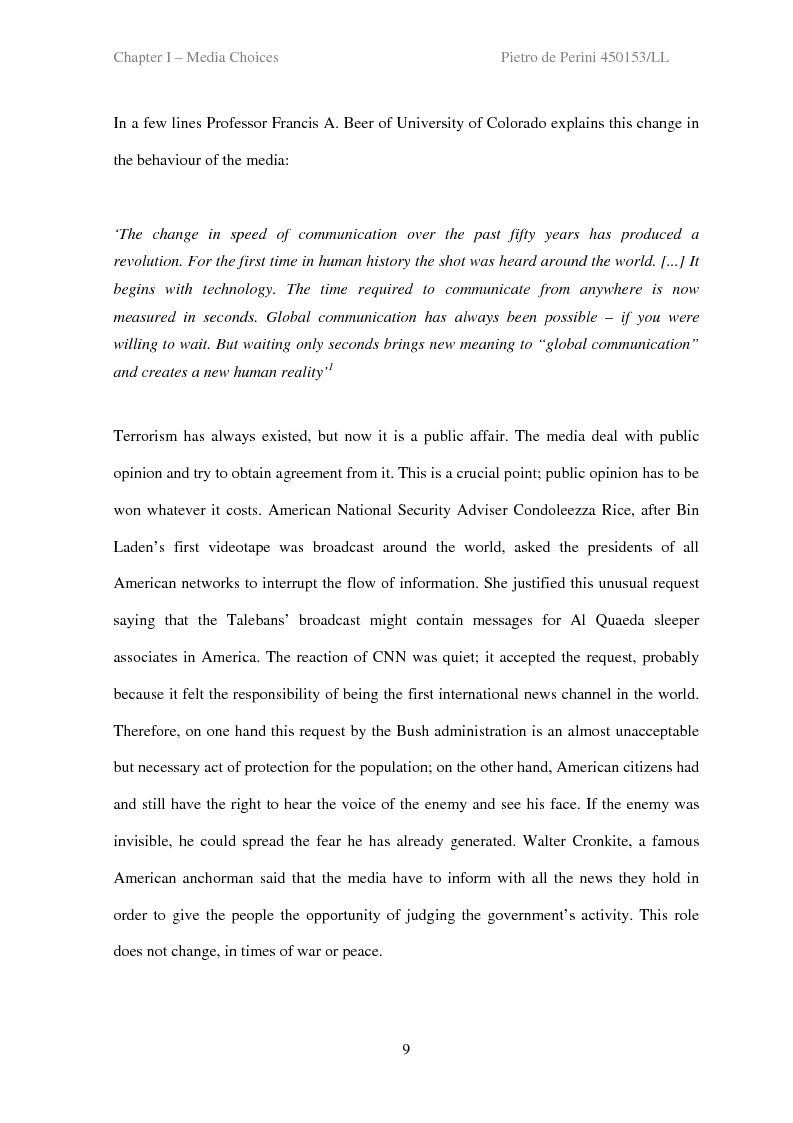 Tesi di Laurea
Facoltà: Lettere e Filosofia
Autore: Pietro De Perini Contatta »
Composta da 158 pagine.
Questa tesi ha raggiunto 991 click dal 21/05/2004.
Consultata integralmente una volta.
Disponibile in PDF, la consultazione è esclusivamente in formato digitale.