The freedom of movement of workers in the context of an enlarged European Union labor market: Case study on Italy and Romania
L'anteprima di questa tesi è scaricabile in PDF gratuitamente.
Per scaricare il file PDF è necessario essere iscritto a Tesionline.
L'iscrizione non comporta alcun costo. Mostra/Nascondi contenuto.
10 The Treaty of Amsterdam signed in 1997 amended the EC Treaty and the Treaty of Maastricht and incorporated the Schengen Agreement. Among the four main objectives of the Treaty the Member States placed the employment and citizens rights in the center of the Union and reinforced the strengthening of the security and the removal of any remaining obstacles to the freedom of movement 11 . As we could see from this brief overview of the main events concerning the legal provisions trying to regulate the freedom of movement for people, including workers, the issue at stake is a very sensitive one. There was a need of many reinforcements and changes of this matter which includes newer elements, like the treatment of third country nationals who want to work on the territory of the Union, about visas, asylum and police policies, the recognition of higher-degree diplomas and professional qualifications. And even now things are far from being resolved, as some barriers still exist such as the danger to destabilize some national labor markets. The complexity of the freedom of movement for workers can be seen also in the great amount of EU legislation issued to regulate and facilitate this subject: treaties, amendments to these treaties, agreements, the decisions of the Court of Justice, secondary legislation (directives, regulations) issued by the Council at the recommendations from the Commission and the approval from the Parliament. All the rules that are issued are part of the acquis communautaire (the entire body of European Union laws), which covers four aspects of this area: the mutual recognition of higher-degree diplomas and professional qualifications, citizens' rights, free movement of workers and coordination of social security schemes. Therefore it is prohibited any national legislation contrary to the acquis. All Member States are obliged to transpose the Community legislation into their national legislation, according to the terms of the respective legal regulatory instrument. 11 Mastricht Treaty, Amsterdam Treaty, Nice Treaty, http://mis.ucd.ie/staff/bstahl/eur2001/maastricht_grainne.htm, accessed December 28 2003.
Anteprima della Tesi di Daniela Petcu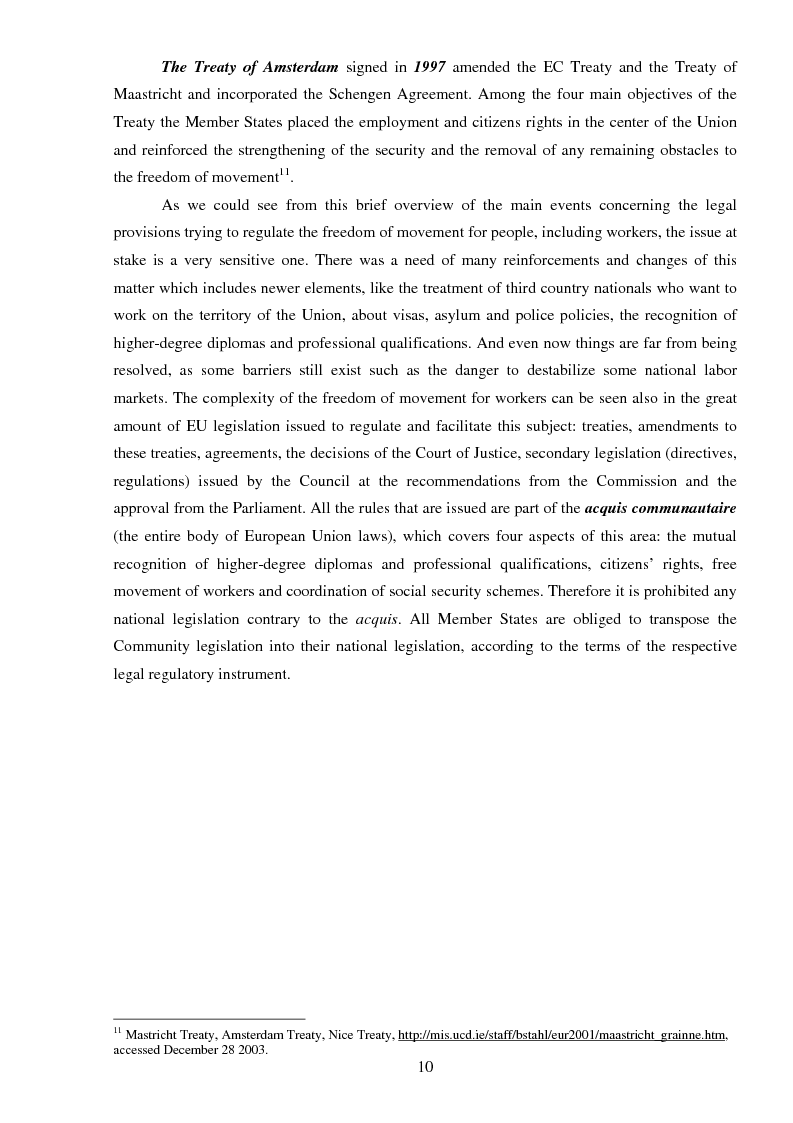 Tesi di Laurea
Autore: Daniela Petcu Contatta »
Composta da 127 pagine.
Questa tesi ha raggiunto 637 click dal 31/08/2004.
Consultata integralmente 2 volte.
Disponibile in PDF, la consultazione è esclusivamente in formato digitale.