Quality In Process Control Charts
L'anteprima di questa tesi è scaricabile in PDF gratuitamente.
Per scaricare il file PDF è necessario essere iscritto a Tesionline.
L'iscrizione non comporta alcun costo. Mostra/Nascondi contenuto.
10 This is what happened to Taguchi methods: the early wariness that received them at their appearence, with time has changed into great respect so that now, according to many teachers, "experts", consultants and so on, they are worthy of the highest praise. Intellectually honest people, by virtue of Logic and Scientific Approach, have proved the misleading outcomes provided by Taguchi methods, but their voice has been unheard: must we doubt someone to have something to gain from the spread of certain methods? Cui Prodest? Unfortunately, no answer will be given to these questions. The same remarks made with reference to the Taguchi methods, hold also for other methods: a look at Galetto's papers would be very interesting and useful since he devoted, sometimes together with his students, lot of time and research to the analysis of non-scientific methods for quality. Teachers, consultants and "experts" would learn a lot of things about quality of methods for quality if only they would test themselves out: understanding Galetto's papers could be a good "crash test". Very often, wrong methods suffer from a lack of Logic and total absence of statistical basis, which are fundamental for quality achievement and improvement: companies need competent managers who, making use of their knowledge and ability, can teach "statistical thinking" (term contrived by Deming) to other managers, engineers, foremen, supervisors, production workers, designers and so on. Good knowledge of statistics is needed in order to discover the fallacy of bad methods: this means that teaching pure statistical theory in universities, including probability theory, should be excellent and, consequently, should be entrusted to qualified teachers. As Deming states very clearly: "Teaching of beginners should be done by a master, not by a hack", "anyone that engages teaching by hacks deserves to be rooked" and "nothing takes the place of a good teacher". Managers and teachers must commit themselves in the use of sound methods if they want achieve and improve quality: they must analyse any method before using it and, above all, they must remember that "it is a hazard to copy. It is necessary to understand the theory of what one wishes to do or to make." [Deming, 2000]
Anteprima della Tesi di Laura Perri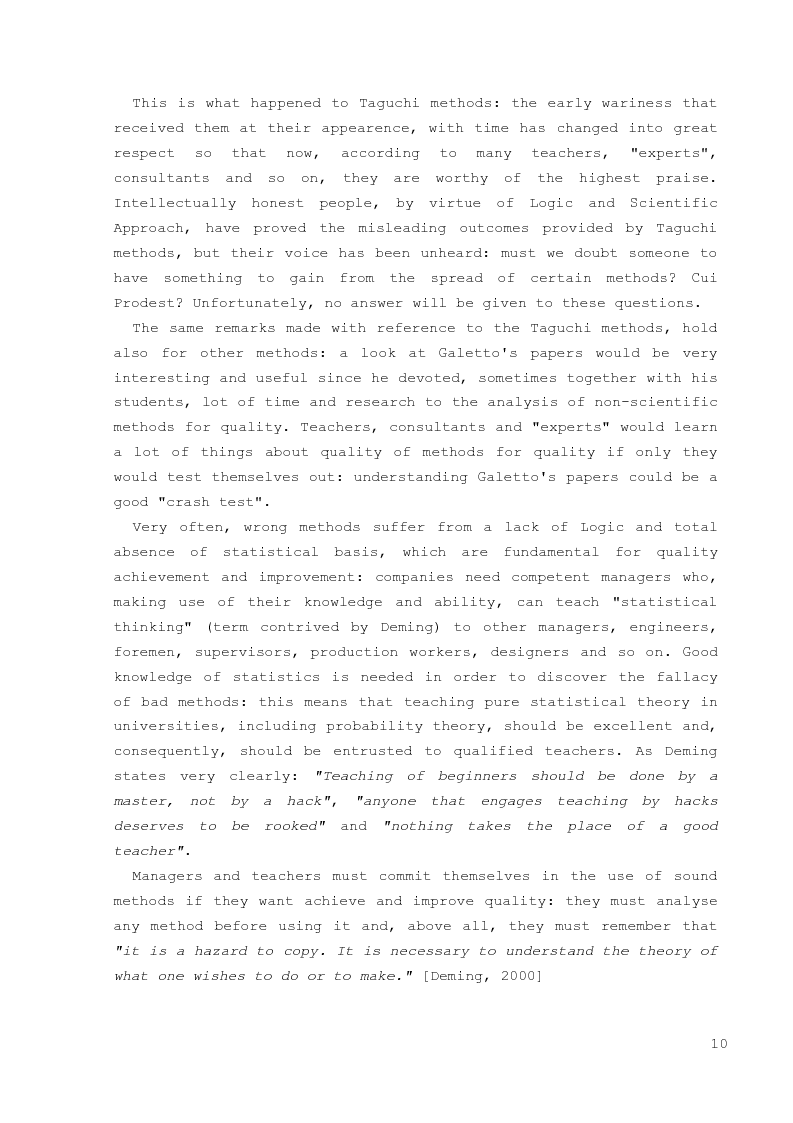 Tesi di Laurea
Facoltà: Ingegneria
Autore: Laura Perri Contatta »
Composta da 268 pagine.
Questa tesi ha raggiunto 1495 click dal 03/01/2005.
Consultata integralmente 3 volte.
Disponibile in PDF, la consultazione è esclusivamente in formato digitale.