Soul Talk: the Emergence of Black English as a Literary Language
My dissertation, entirely written in English, analyzes the use of Black English as a literary language. The first part traces a historical frame in which Black English is situated, based on the history of African-Americans from the origins of slavery to the Civil Rights Movements of the 1950s and 1970s. I also analyze the opinions of various linguists about how to classify Black English: slang, dialect, self-standing language or simply wrong English. After that I investigate the use of Black English in African-American literature, above all during the Harlem Renaissance. I particularly consider the works of Paul Laurence Dunbar. Then, I deal with the problem of translating Black English into Italian, discussing the various translation strategies that could eventually be applied. The last part of my dissertation is constituted by a comparison of the two Italian translations of Their Eyes Were Watching God, by Zora Neal Hurston.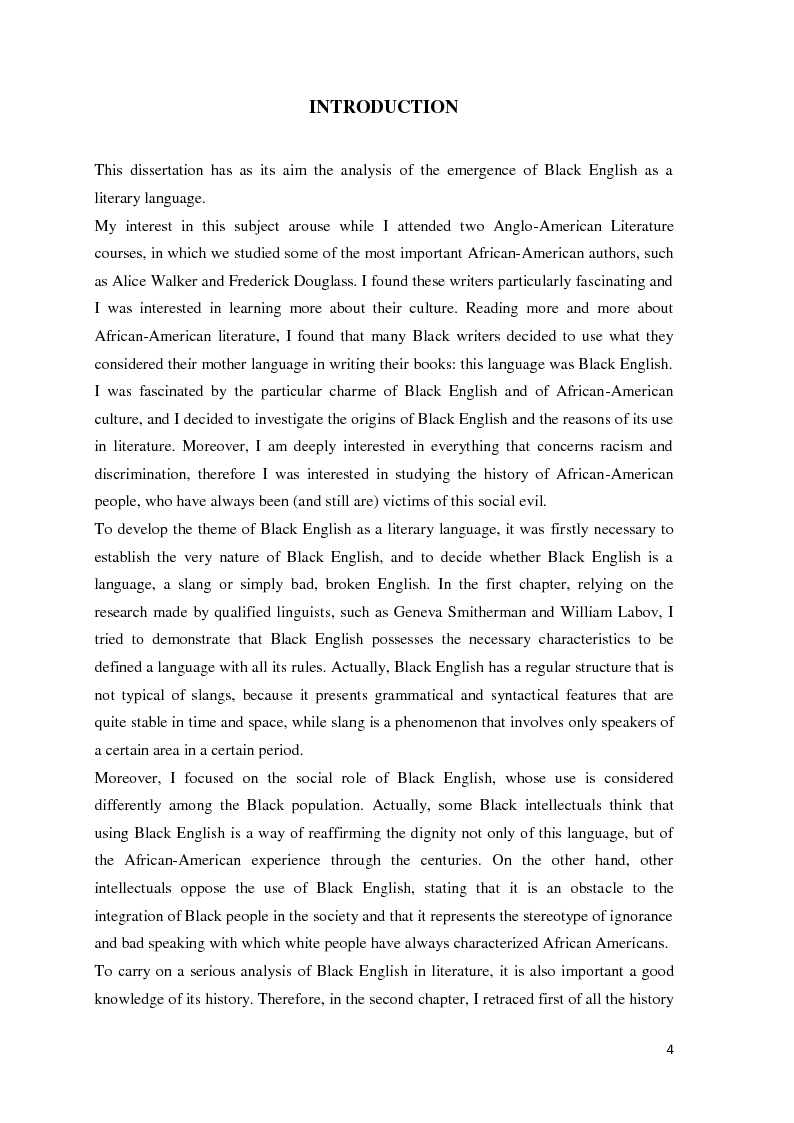 Mostra/Nascondi contenuto.
4 INTRODUCTION This dissertation has as its aim the analysis of the emergence of Black English as a literary language. My interest in this subject arouse while I attended two Anglo-American Literature courses, in which we studied some of the most important African-American authors, such as Alice Walker and Frederick Douglass. I found these writers particularly fascinating and I was interested in learning more about their culture. Reading more and more about African-American literature, I found that many Black writers decided to use what they considered their mother language in writing their books: this language was Black English. I was fascinated by the particular charme of Black English and of African-American culture, and I decided to investigate the origins of Black English and the reasons of its use in literature. Moreover, I am deeply interested in everything that concerns racism and discrimination, therefore I was interested in studying the history of African-American people, who have always been (and still are) victims of this social evil. To develop the theme of Black English as a literary language, it was firstly necessary to establish the very nature of Black English, and to decide whether Black English is a language, a slang or simply bad, broken English. In the first chapter, relying on the research made by qualified linguists, such as Geneva Smitherman and William Labov, I tried to demonstrate that Black English possesses the necessary characteristics to be defined a language with all its rules. Actually, Black English has a regular structure that is not typical of slangs, because it presents grammatical and syntactical features that are quite stable in time and space, while slang is a phenomenon that involves only speakers of a certain area in a certain period. Moreover, I focused on the social role of Black English, whose use is considered differently among the Black population. Actually, some Black intellectuals think that using Black English is a way of reaffirming the dignity not only of this language, but of the African-American experience through the centuries. On the other hand, other intellectuals oppose the use of Black English, stating that it is an obstacle to the integration of Black people in the society and that it represents the stereotype of ignorance and bad speaking with which white people have always characterized African Americans. To carry on a serious analysis of Black English in literature, it is also important a good knowledge of its history. Therefore, in the second chapter, I retraced first of all the history
Laurea liv.I
Facoltà: Lettere e Filosofia
Autore: Monia Dal Checco Contatta »
Composta da 64 pagine.
Questa tesi ha raggiunto 331 click dal 11/04/2012.
Consultata integralmente una volta.
Disponibile in PDF, la consultazione è esclusivamente in formato digitale.