Culture, tourism and Fascism in Venice 1919-1945
The thesis aims to determine whether the project of 'nationalization of the masses' promoted in Venice by fascism through culture was successful, or whether local authorities were interested in using exhibitions, concerts, festivals and theatrical pieces to the revive local cultural tourism after an industrial project in the thirties moved all economic activity to local Mestre and Marghera, and the only alternative for the center was to invest on tourism development.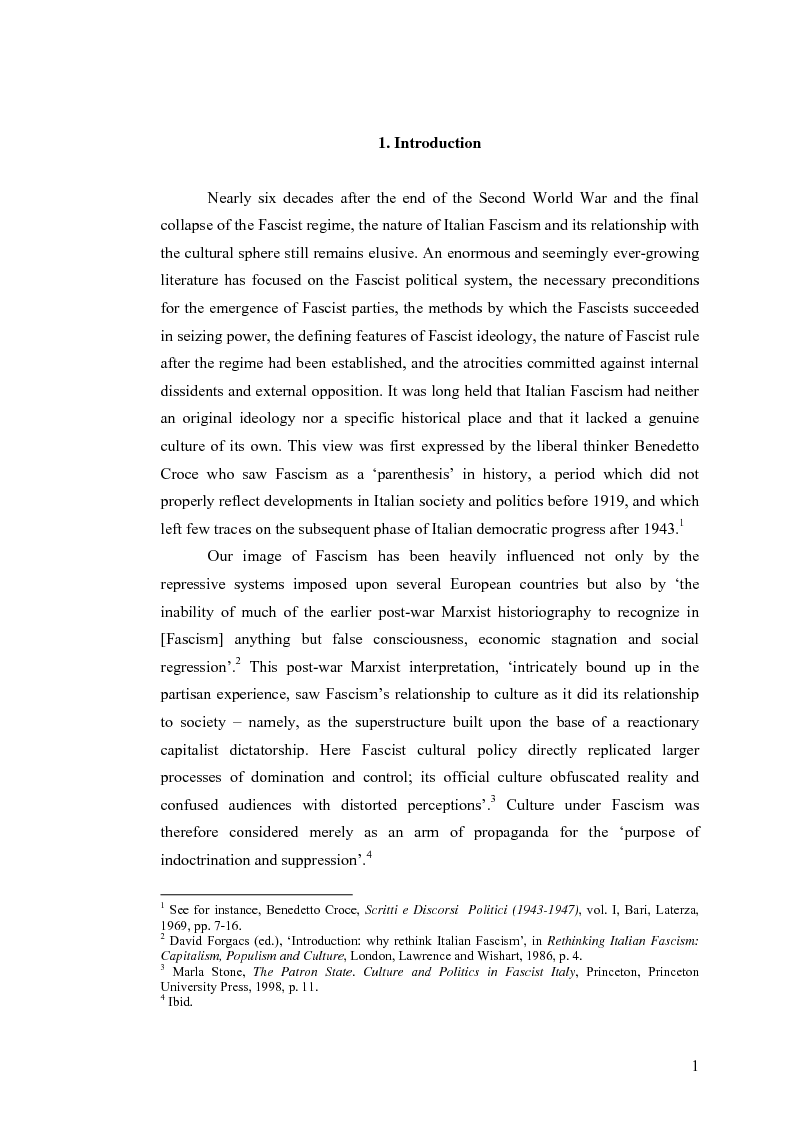 Mostra/Nascondi contenuto.
1 1. Introduction Nearly six decades after the end of the Second World War and the final collapse of the Fascist regime, the nature of Italian Fascism and its relationship with the cultural sphere still remains elusive. An enormous and seemingly ever-growing literature has focused on the Fascist political system, the necessary preconditions for the emergence of Fascist parties, the methods by which the Fascists succeeded in seizing power, the defining features of Fascist ideology, the nature of Fascist rule after the regime had been established, and the atrocities committed against internal dissidents and external opposition. It was long held that Italian Fascism had neither an original ideology nor a specific historical place and that it lacked a genuine culture of its own. This view was first expressed by the liberal thinker Benedetto Croce who saw Fascism as a 'parenthesis' in history, a period which did not properly reflect developments in Italian society and politics before 1919, and which left few traces on the subsequent phase of Italian democratic progress after 1943. 1 Our image of Fascism has been heavily influenced not only by the repressive systems imposed upon several European countries but also by 'the inability of much of the earlier post-war Marxist historiography to recognize in [Fascism] anything but false consciousness, economic stagnation and social regression'. 2 This post-war Marxist interpretation, 'intricately bound up in the partisan experience, saw Fascism's relationship to culture as it did its relationship to society – namely, as the superstructure built upon the base of a reactionary capitalist dictatorship. Here Fascist cultural policy directly replicated larger processes of domination and control; its official culture obfuscated reality and confused audiences with distorted perceptions'. 3 Culture under Fascism was therefore considered merely as an arm of propaganda for the 'purpose of indoctrination and suppression'. 4 1 See for instance, Benedetto Croce, Scritti e Discorsi Politici (1943-1947), vol. I, Bari, Laterza, 1969, pp. 7-16. 2 David Forgacs (ed.), 'Introduction: why rethink Italian Fascism', in Rethinking Italian Fascism: Capitalism, Populism and Culture, London, Lawrence and Wishart, 1986, p. 4. 3 Marla Stone, The Patron State. Culture and Politics in Fascist Italy, Princeton, Princeton University Press, 1998, p. 11. 4 Ibid.
Tesi di Dottorato
Dipartimento: Dipartimento Storia
Autore: Stefania Longo Contatta »
Composta da 274 pagine.
Questa tesi ha raggiunto 906 click dal 02/03/2005.
Consultata integralmente 4 volte.
Disponibile in PDF, la consultazione è esclusivamente in formato digitale.