International and Comparative Management Paper - Consensus, Opposition, and the Communication Process in the Italian Managerial Model

The in-depth study of the Italian managerial model is a fundamental task for a Management School whose objective is to actively play a role in changing the current managerial culture in Italy. A working knowledge of this model, in fact, constitutes a very important pre-requisite for a better understanding of both the development of managerial theories and the evolution of managerial behavior in terms of the internationalization strategies adopted by corporations, and also by professional schools and consulting firms. The latter, in particular, seem to be heavily influenced by the current globalization trends. In addition, a good understanding of the Italian managerial processes helps Italian managers build a more solid and effective paradigm for importing managerial processes that originated in other countries and cultures. These observations have motivated a group of researchers from the Scuola di Direzione Aziendale Divisione Ricerche , at the Universita' Bocconi, to conduct a research project about the Italian managerial model, directed towards a functional understanding of the management process. In this paper the author will analyze some of the results that emerged from the first phase of the above mentioned research study.
The author believes that such an analysis can be very helpful for extrapolating elements that are peculiar to the Italian managerial culture. Of all the meanings attributed to the term "Managerial Model" , the cognitive-interactive one was chosen. We will therefore define the Italian managerial model as the cognitive and socially interactive framework for people playing managerial roles in Italian firms. A managerial model for the firms, i.e. cognitive and social systems, is the result of the interactions of the individual managerial models.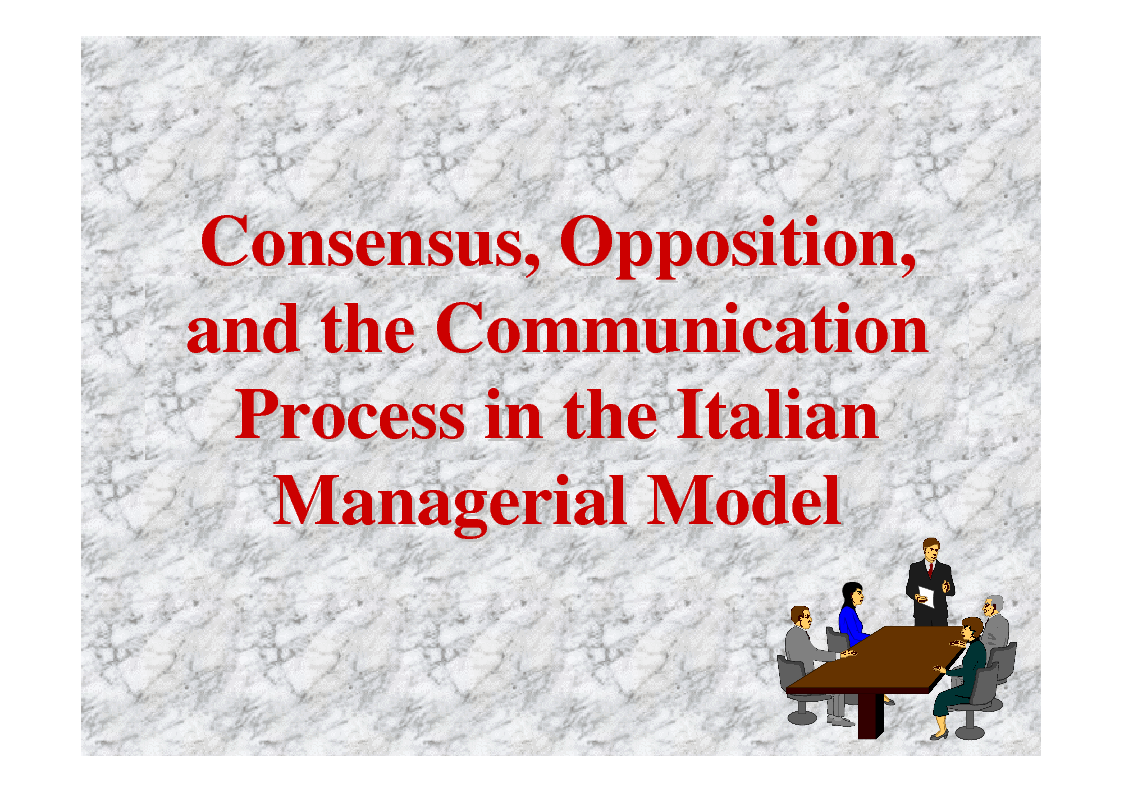 Mostra/Nascondi contenuto.
Consensus, Opposition, and the Communication Process in the Italian Managerial Model
Tesi di Laurea
Facoltà: Economia
Autore: Christian Cappelluti Contatta »
Composta da 51 pagine.
Questa tesi ha raggiunto 769 click dal 24/06/2005.
Disponibile in PDF, la consultazione è esclusivamente in formato digitale.