Performance of Wireless Ad Hoc Networks - A Simulation Study in Realistic Environments
Multiple wireless devices jointly create and maintain ad hoc networks without the help of centralized wired entities of any kind. Thus, their employment is favored to happen in many environments with distinct topological characteristics. A typical place of employment is in Urban Areas.

Since the ad hoc technology is not yet massively spread, research in this area is mostly simulation based. It takes place by modeling a variety of features of the particular framework under study. The motion of the mobile terminals along with the topological characteristics of the terrain in which a network operates, are key factors in the performance of the protocol being investigated. Diversified mobility conditions and different propagation prediction methods, vary the network connectivity graph distinctively throughout the time. Hence, they both impact protocol performance.

This thesis proposes and implements a new, complete, and realistic Urban Mobility Model. The aim is to study its effect on routing performance in comparison with the more common RWP mobility fashion. The research is performed through the use of DSR as routing protocol.

The results prove that in a realistic scenario with roads and buildings,
the topological features of the environment dominate the routing protocol performance. Particularly, while the presence of streets itself slightly eases the protocol's duty, the placement of buildings drastically
makes it harder.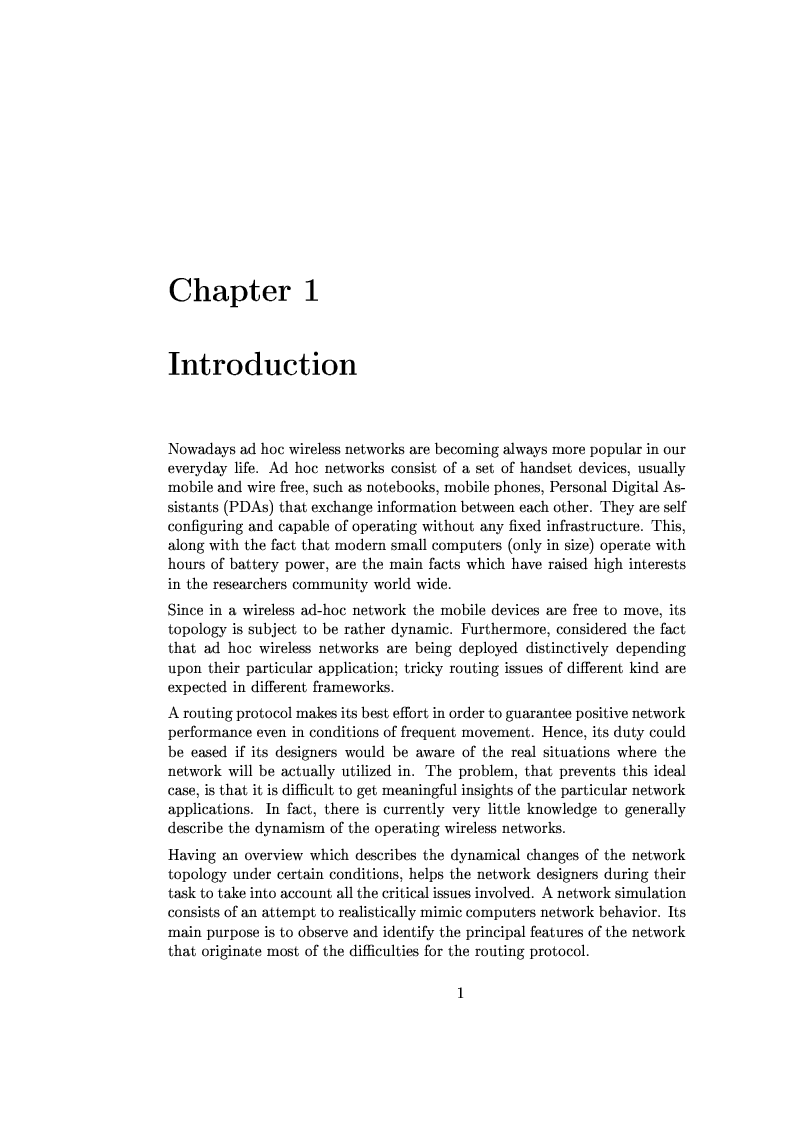 Mostra/Nascondi contenuto.
c5hh"ffi h 7cj 5 gbflffiffi i5cb8ffi hb ; jcff gi hfl5h"ffi ff cb 0c0n flhb gi cnb#b"h" flgd e 7cj i5cb8ffi jciffigffi cd h ffi cd 7hiffi # gjffi : nffinh flfl"ff c; gfl hi 5 gb db : ffinj7 hffi ic;cc8ffi : ff c; gfl 07ciffi : abfficih fl g gh fl ffi!ffigffihiffi affi 7h j7hi gidcbff h gci ; 5i hj7 c7b e 7" hb ffifldjci< nbgi hi jh0h;fl cd c0bh gi 5 g7cn hi" < gidbhffibnjnb e 7 gffi :h flci 5 g7 7 dhj 7h ff cbi ffiff h flfl jcff0nbffi ci fl" gi ffig9 c0bh 5 g77cnbffi cd ;hb" 0c5b : hb 7 ff hgi dhjffi 57 gj7 7h# bhgffi 7 g 7 gibffiffigi 7 bffihbj7bffi jcffffnig" 5cbfl 5 g e gij gi h 5 gbflffiffi h!7cj i5cb8 7 ff c; gfl # gjffi hb db c ff c# : gffic0 c flc " gffi ffin;6 j c ; bh7b "ihff gj e nb7bff cb : jciffigb 7 dhj7h h 7cj 5 gbflffiffi i5cb8ffi hb ; gi 0flc" gffi gijg#fl" 0 i gi n0ci 7 gb 0hb gjn flhb h00flgjhgci bgj8" bcn gi gffiffinffi cd g=bi 8 gi hb0j gi g=bi dbhff5cb8ffi e bcn gi 0bccjc fl ff h8ffi gffi ; ffi =cb gi cbb c nhbhi 0 cffigg# i5cb80bdcbff hij #i gi jci g gciffi cd dbni ff c#ffi e m ij : gffi n" jcn fl; hffi gd gffi ffig ibffi 5cn fl ; h5hb cd 7 bh fl ffignhgciffi 57b 7i5cb8 5 gflfl ; hjnh flfl" n gflg9 gi e 7 0bc;flff : 7h 0b#iffi 7 gffi gh fljhffi : gffi 7h g gffi g jn fl c ff higi dn fl giffig 7ffi cd 7 0hbgjn flhb i5cb8h00flgjhgciffi e i dhj : 7b gffi jnbbifl" #b" flgfl 8ic5 fl c ibh flfl"ffijbg; 7 "ihff gffiff cd 7 c0 bhgi 5 gbflffiffi i5cb8ffi emh# gi hi c#b# g5 57 gj7 ffijbg;ffi 7 "ihff gjh fl j7hi ffi cd 7 i5cb8c0 c flc " nib jbhgi jci g gciffi : 7fl0ffi 7 i5cb8 ffig ibffi nbgi 7gbhffi8 c h8 gic hjjcni hflfl 7 jbg gjh fl gffiffinffi gi#c fl# e i5cb8 ffigffn flh gcijciffigffiffi cd hi hff0 c bh flgffigjh flfl" ff gff gj jcff0nbffi i5cb8 ; 7h# gcb e ffiff hgi 0nb0cffi gffi c c;ffib# hi gigd" 7 0bgijg0h fl dhnbffi cd 7 i5cb87h cbg gih ff cffi cd 7 g jn fl gffi dcb 7 bcngi 0bccjc fl e,
Tesi di Laurea
Facoltà: Scienze Matematiche, Fisiche e Naturali
Autore: Stefano Marinoni Contatta »
Composta da 94 pagine.
Questa tesi ha raggiunto 1009 click dal 27/06/2005.
Consultata integralmente 2 volte.
Disponibile in PDF, la consultazione è esclusivamente in formato digitale.