The Dynamics of Service Delivery Management: An Investigation of the Impacts of Hiring Contracted Agents on Service Capacity and Cost.
The open sky policy has been imperatively forced airlines through out the world to reduce their operational cost. The previous studies econometrically analyzed cost and capacity of airline services on the basis of static scenario which is not corresponds to the real world which is dynamics one. Based on dynamics scenarios, System Dynamics Approach, this study aimed to examine: how hiring contracted agents affect service capacity and cost in passenger check-in? (2) How contracted hiring feedback impacts firm hiring policy? And (3) what is the optimum number of hiring contracted agent and permanent employment in passenger check-in?
To answer these questions the System Dynamics Models were formulated to encompass the complex systems of airline passenger services in to the models for integrating the multiple feedback loops: capacity, cost, in to the frameworks of this study. To test the effect of the hiring policy, the initial value was gathered from one international airline including: passenger flow in flow out per hour, passenger service staff per hour, service capacity per hour, agent training time, agent turnover rate per month, service staff leave rate, as well as service cost per head as input to the simulation models.
The results from 24 months simulation run found that hiring contracted agent to facilitate airline passenger services help reducing cost in the second quarter but start increasing at the end of the first year due to high agents turnover rate stem to staff over time working demand which is ten times higher labor cost than agent one.
For the airline policy makers, the alternative simulation runs suggested that minimal agent training time, agents turnover rate, and staff absent rate will help reducing cost and capacity fluctuations in the systems. For further research, the system boundary should expand to cover the other area of airline passenger such as ramp service and engineering service as well as administrative service.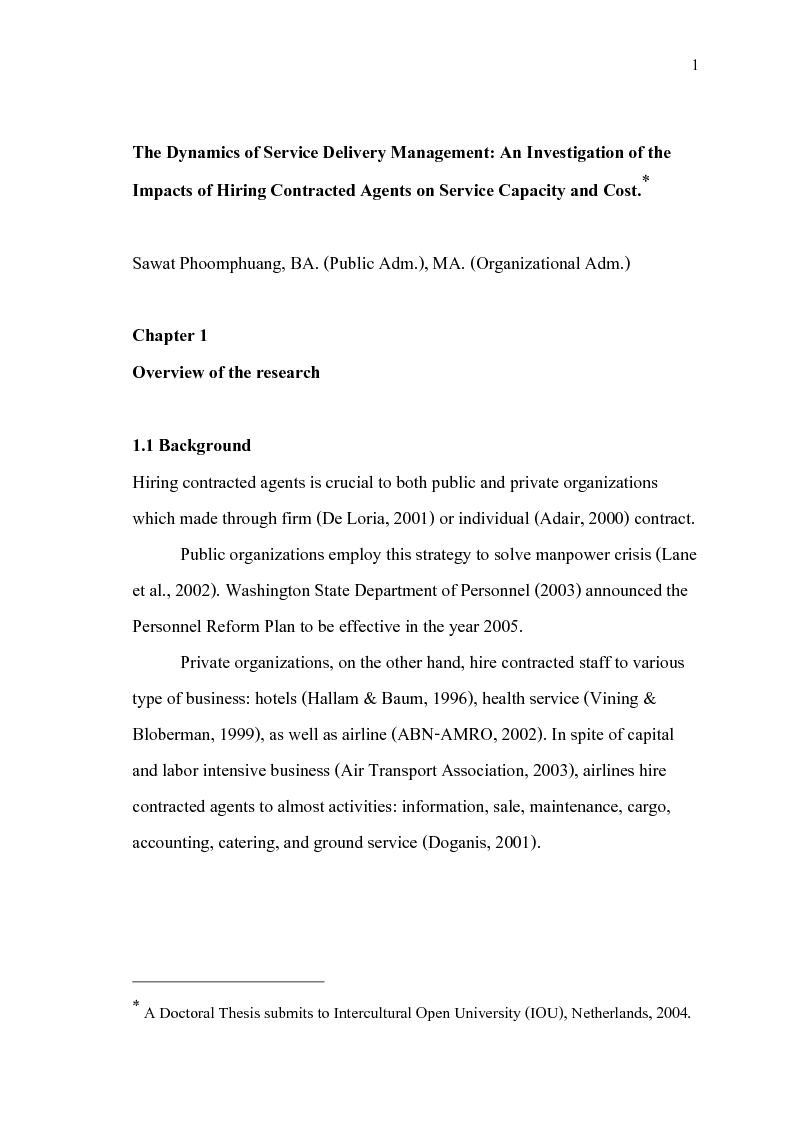 Mostra/Nascondi contenuto.
1The Dynamics of Service Delivery Management: An Investigation of the Impacts of Hiring Contracted Agents on Service Capacity and Cost. ∗ Sawat Phoomphuang, BA. (Public Adm.), MA. (Organizational Adm.) Chapter 1 Overview of the research 1.1 Background Hiring contracted agents is crucial to both public and private organizations which made through firm (De Loria, 2001) or individual (Adair, 2000) contract. Public organizations employ this strategy to solve manpower crisis (Lane et al., 2002). Washington State Department of Personnel (2003) announced the Personnel Reform Plan to be effective in the year 2005. Private organizations, on the other hand, hire contracted staff to various type of business: hotels (Hallam & Baum, 1996), health service (Vining & Bloberman, 1999), as well as airline (ABN-AMRO, 2002). In spite of capital and labor intensive business (Air Transport Association, 2003), airlines hire contracted agents to almost activities: information, sale, maintenance, cargo, accounting, catering, and ground service (Doganis, 2001). ∗ A Doctoral Thesis submits to Intercultural Open University (IOU), Netherlands, 2004.
International thesis/dissertation
Autore: Sawat Phoomphuang Contatta »
Composta da 111 pagine.
Questa tesi ha raggiunto 254 click dal 08/11/2005.
Disponibile in PDF, la consultazione è esclusivamente in formato digitale.