Gender Discourse and Malawian Rural Communities

Contrary to earlier beliefs and media theories such as the hypodermic needle or magic bullet, the audience of public communication is not a passive homogenous mass that easily succumbs to media influence. The audience is active, that is, it makes an effort to interpret media content. Depending on predisposing cultural, political, religious, or economic factors the audience makes different meanings from media texts. Media messages are not wholly controlled by producers, although the producers have their preferred and expected readings.

Using qualitative research techniques associated with ethnographic and cultural studies (notably focus group discussions), this study sought to explore the meanings rural people in Malawi make out of human rights and gender messages broadcast on radio and through music.

Interpreted against Stuart Hall's (1974b) Encoding and Decoding model, the study concludes that while rural communities understand and appreciate the new socio-political discourse, they take a negotiated stance because they have their own doubts and fears. They fear losing their cultural identity. Additionally, men, in particular, negotiate the messages because they fear losing their social power over land, property and family.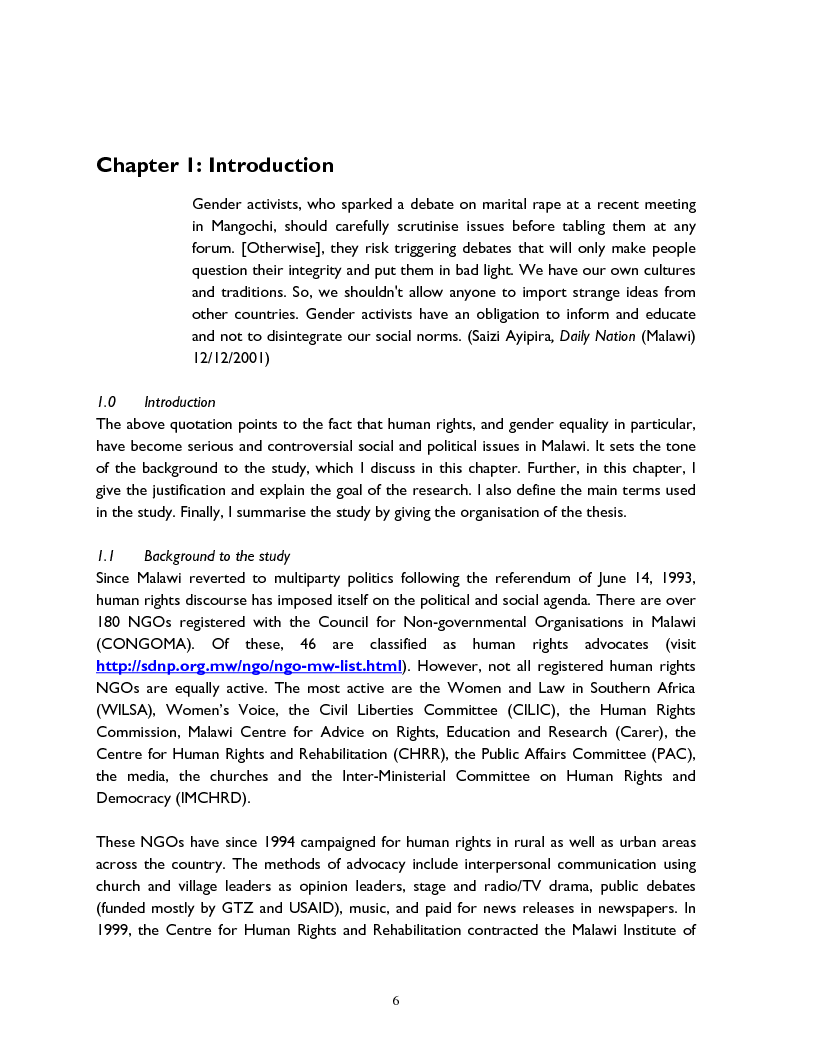 Mostra/Nascondi contenuto.
Chapter 1: Introduction Gender activists, who sparked a debate on marital rape at a recent meeting in Mangochi, should carefully scrutinise issues before tabling them at any forum. [Otherwise], they risk triggering debates that will only make people question their integrity and put them in bad light. We have our own cultures and traditions. So, we shouldn't allow anyone to import strange ideas from other countries. Gender activists have an obligation to inform and educate and not to disintegrate our social norms. (Saizi Ayipira, Daily Nation (Malawi) 12/12/2001) 1.0 Introduction The above quotation points to the fact that human rights, and gender equality in particular, have become serious and controversial social and political issues in Malawi. It sets the tone of the background to the study, which I discuss in this chapter. Further, in this chapter, I give the justification and explain the goal of the research. I also define the main terms used in the study. Finally, I summarise the study by giving the organisation of the thesis. 1.1 Background to the study Since Malawi reverted to multiparty politics following the referendum of June 14, 1993, human rights discourse has imposed itself on the political and social agenda. There are over 180 NGOs registered with the Council for Non-governmental Organisations in Malawi (CONGOMA). Of these, 46 are classified as human rights advocates (visit http://sdnp.org.mw/ngo/ngo-mw-list.html). However, not all registered human rights NGOs are equally active. The most active are the Women and Law in Southern Africa (WILSA), Women's Voice, the Civil Liberties Committee (CILIC), the Human Rights Commission, Malawi Centre for Advice on Rights, Education and Research (Carer), the Centre for Human Rights and Rehabilitation (CHRR), the Public Affairs Committee (PAC), the media, the churches and the Inter-Ministerial Committee on Human Rights and Democracy (IMCHRD). These NGOs have since 1994 campaigned for human rights in rural as well as urban areas across the country. The methods of advocacy include interpersonal communication using church and village leaders as opinion leaders, stage and radio/TV drama, public debates (funded mostly by GTZ and USAID), music, and paid for news releases in newspapers. In 1999, the Centre for Human Rights and Rehabilitation contracted the Malawi Institute of 6
International thesis/dissertation
Autore: Levi Zeleza Manda Contatta »
Composta da 118 pagine.
Questa tesi ha raggiunto 403 click dal 15/11/2005.
Consultata integralmente una volta.
Disponibile in PDF, la consultazione è esclusivamente in formato digitale.