Land cover change detection in Mediterranean burnt forest areas
The problem of forest fires caused by arsonists in Italy was addressed in this work. According to the law n. 353/2000, public administrators are responsible for enacting the controls over burnt forest areas in order to detect if land cover – land use changes have occurred. In fact, by law no land cover – land use change is allowed for 15 years after a fire, no new building is allowed for 10 years after a fire, no government founded regeneration of forest activity is allowed for 5 years after a fire in a forest area. A description of the problem of forest arsons is reported in Chapter 1.
Remote sensing techniques can be successfully applied to detect land cover changes in forest areas.
Remote sensing can provide public authorities with information about the major changes occurred over burnt forest areas, so that more detailed ground surveillance can be focused on areas that showed anomalies from satellite.
The product created is named Balù (Burned areas land use) and consists of digital maps of the burnt areas in Arc View GIS format, with tables joined with them carrying information about the fire and
vegetation recover up to 10 years after the fire. Balù is produced every year, once a year. Balù is made of 2 products: Product 1 and Product 2.

- Product 1 contains two GIS layers, Layer_1 and Layer_2. Layer_1 is a GIS map of every Italian province (one map for each province) representing the land cover over the province according to Corine Land cover database of 1994. In Layer_1 all areas classified by Corine as
forest areas (classes 311, 312, 313, 323 of Corine nomenclature) are updated every year using NDVI. That is every year each area is checked whether it still belongs to the same class.
Layer_2 is a GIS map at provincial level (one map for each province) representing the changes of vegetation cover occurred over burnt forest areas (areas classified as 311, 312, 313, 323 according to Corine nomenclature) in comparison to 1 year and 2 years before. Every year all areas burnt in the previous 10 years are reported.

- Product 2 of Balù is a set of indicators of forest damage due to fire. It is in Excel file format. Balù is described in detail in Chapter 2.

The work described in this thesis was carried out in order to study the best way to conceive Balù products, from the point of view of EO data choice and processing and GIS data processing and handling. As test area, the province of Foggia in Puglia region (south-east of Italy) was chosen because of data availability and presence of large mediterranean forest areas. In particular, two vegetation indices (NDVI, Normalized Difference Vegetation Index and ARVI, Atmospherically Resistant Vegetation Index) have been compared in their performance to detect vegetation changes; and two methods of processing of satellite data (conversion to reflectance with relative normalization of images and conversion to reflectance with no
relative normalization) have been chosen among all possible and compared. A review of papers on the subject was carried and is described in Chapter 3. The scientific works used as reference for the creation of Balù products are Barbosa et al.(2000) and Santos et al.(1999) for ARVI and NDVI and Yang and Lo (2002) for the normalization procedure. Processing steps and results are described in Chapters 4, 5, 6. Chapter 4 describes NDVI differencing, Chapter 5 describes ARVI differencing, Chapter 6 describes the normalization of images; results are discussed in Chapter 7. Results obtained with NDVI are significantly different from results obtained with ARVI and are significantly different from results obtained with NDVI calculated on relatively normalized images.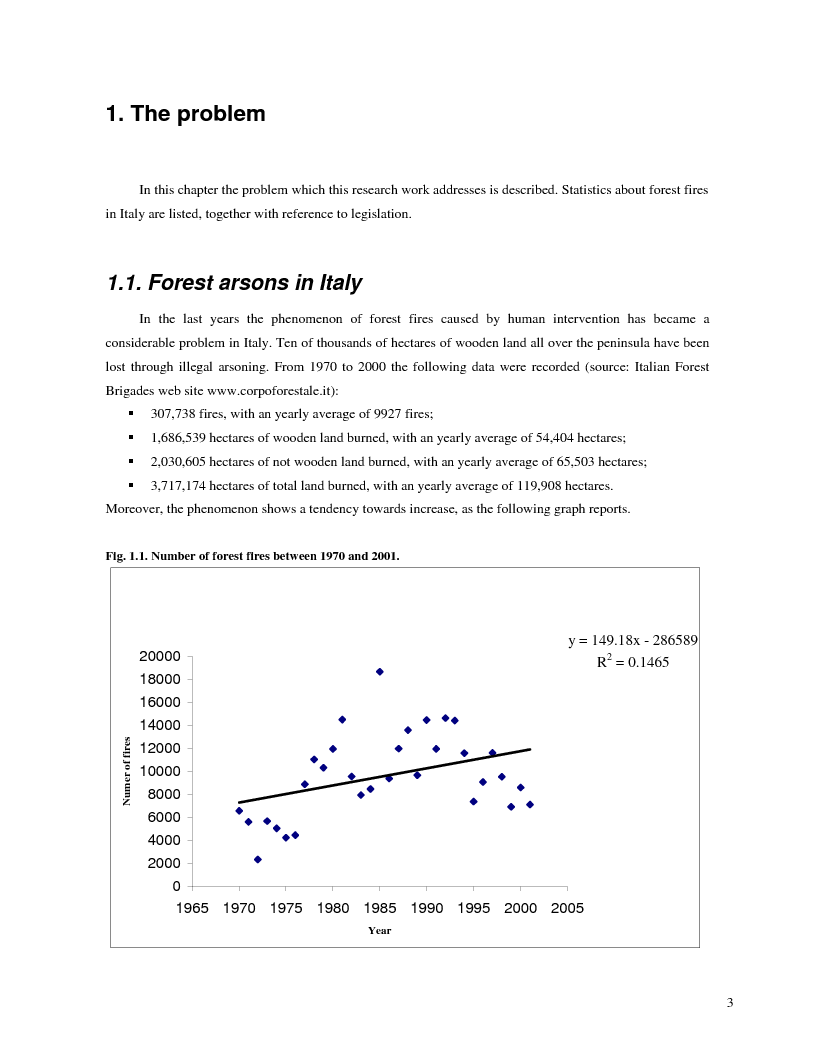 Mostra/Nascondi contenuto.
3 1. The problem In this chapter the problem which this research work addresses is described. Statistics about forest fires in Italy are listed, together with reference to legislation. 1.1. Forest arsons in Italy In the last years the phenomenon of forest fires caused by human intervention has became a considerable problem in Italy. Ten of thousands of hectares of wooden land all over the peninsula have been lost through illegal arsoning. From 1970 to 2000 the following data were recorded (source: Italian Forest Brigades web site www.corpoforestale.it): 307,738 fires, with an yearly average of 9927 fires; 1,686,539 hectares of wooden land burned, with an yearly average of 54,404 hectares; 2,030,605 hectares of not wooden land burned, with an yearly average of 65,503 hectares; 3,717,174 hectares of total land burned, with an yearly average of 119,908 hectares. Moreover, the phenomenon shows a tendency towards increase, as the following graph reports. Fig. 1.1. Number of forest fires between 1970 and 2001. y = 149.18x - 286589 R2 = 0.1465 0 2000 4000 6000 8000 10000 12000 14000 16000 18000 20000 1965 1970 1975 1980 1985 1990 1995 2000 2005 Year N u m e r o f f i r e s
Tesi di Master
Autore: Alessandra De Conti Contatta »
Composta da 146 pagine.
Questa tesi ha raggiunto 735 click dal 26/01/2006.
Consultata integralmente una volta.
Disponibile in PDF, la consultazione è esclusivamente in formato digitale.