Deceptive advertising and product placement
This thesis examines the phenomena of lying of advertising and of hiding of commercial messages in non-advertising contests; the analysis is made under the double profile of consumers' protection and of repression of disloyal competition. For what regards the protection of the interests of competitors, we can say that we are in front of a specification of the general principle of "fair play"; even it's natural that the producers adopt the most efficient and subtle strategies to catch public's favour, everything must be done in the respect of the limits deriving from everyone's economic freedom. Consumers' protection, instead, it's a relatively recent conquest for Italian system. Today, such protection is not limited to commercial information, but regards a wide range of interests.
Particular attention is given, here, to the legislative decree 74/1992, and to the jurisprudence of the Guaranteeing Authority for Competition and Market.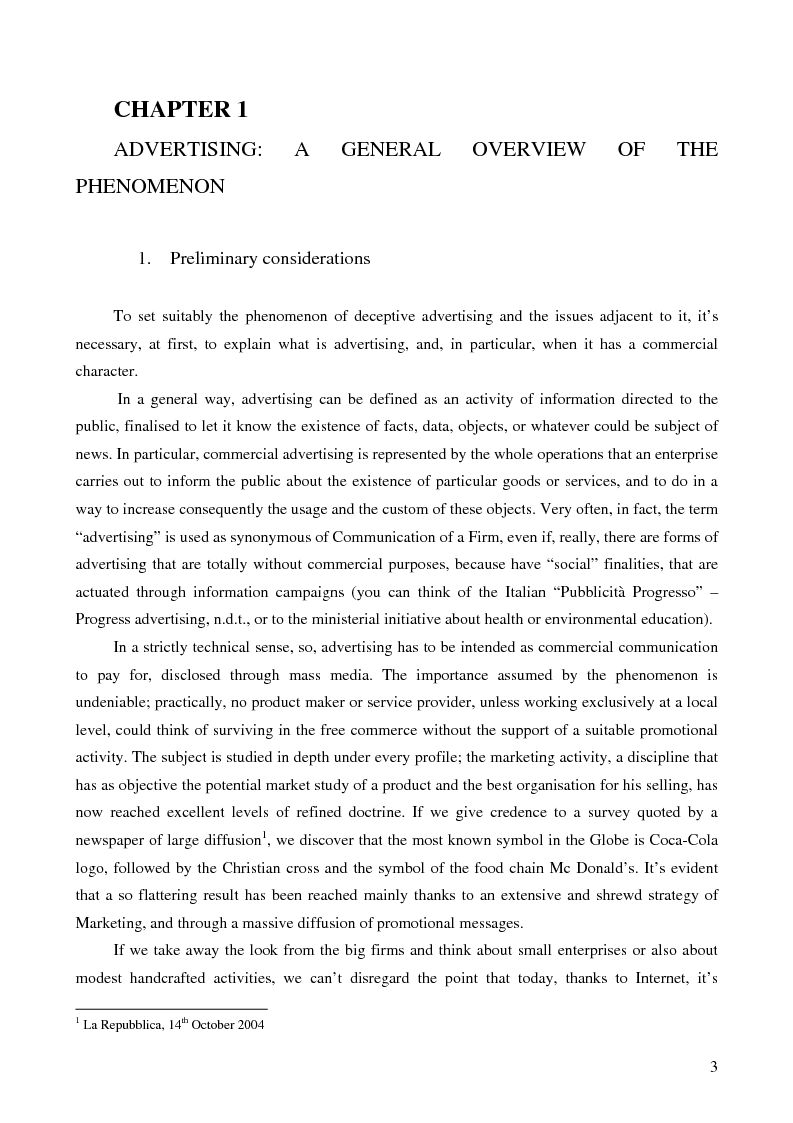 Mostra/Nascondi contenuto.
3 CHAPTER 1 ADVERTISING: A GENERAL OVERVIEW OF THE PHENOMENON 1. Preliminary considerations To set suitably the phenomenon of deceptive advertising and the issues adjacent to it, it's necessary, at first, to explain what is advertising, and, in particular, when it has a commercial character. In a general way, advertising can be defined as an activity of information directed to the public, finalised to let it know the existence of facts, data, objects, or whatever could be subject of news. In particular, commercial advertising is represented by the whole operations that an enterprise carries out to inform the public about the existence of particular goods or services, and to do in a way to increase consequently the usage and the custom of these objects. Very often, in fact, the term "advertising" is used as synonymous of Communication of a Firm, even if, really, there are forms of advertising that are totally without commercial purposes, because have "social" finalities, that are actuated through information campaigns (you can think of the Italian "Pubblicità Progresso" – Progress advertising, n.d.t., or to the ministerial initiative about health or environmental education). In a strictly technical sense, so, advertising has to be intended as commercial communication to pay for, disclosed through mass media. The importance assumed by the phenomenon is undeniable; practically, no product maker or service provider, unless working exclusively at a local level, could think of surviving in the free commerce without the support of a suitable promotional activity. The subject is studied in depth under every profile; the marketing activity, a discipline that has as objective the potential market study of a product and the best organisation for his selling, has now reached excellent levels of refined doctrine. If we give credence to a survey quoted by a newspaper of large diffusion 1 , we discover that the most known symbol in the Globe is Coca-Cola logo, followed by the Christian cross and the symbol of the food chain Mc Donald's. It's evident that a so flattering result has been reached mainly thanks to an extensive and shrewd strategy of Marketing, and through a massive diffusion of promotional messages. If we take away the look from the big firms and think about small enterprises or also about modest handcrafted activities, we can't disregard the point that today, thanks to Internet, it's 1 La Repubblica, 14 th October 2004
Traduzione
Facoltà: Giurisprudenza
Traduttore: Sara Di Fonzo Contatta »
Composta da 94 pagine.
Questa tesi ha raggiunto 999 click dal 22/03/2006.
Disponibile in PDF, la consultazione è esclusivamente in formato digitale.