Formulation of haloperidol injections during detarium oil
Detarium oil is being investigated as a potential vehicle for the parenteral formulation in pharmaceutical drug delivery system.
Soxhlet apparatus was employed in the extraction of the oil from milled seeds of detarium microcarpium using absolute petroleum ether (40-60oC) as solvent. The solvent was removed through vacuum and the resulting oil characterized. The optimal oil yield was 2% and viscosity of 38.5 centipose and free from solid paraffin, mineral oils and other pharmaceutical oils. Other parameters were found as follows, refractive index (R1) 1.463, acid value (AV) 0.15, unsaponifiable matter (m) 2.89, peroxide value (PV) 1.6 and saponificatioin value (SV) 1986 idoione value (iv) 121.8, melting point 2.5oC, relative density 0.921. Injections were subjected to varying temperatures of: 1oC, 60oC and 28oC for one month after which the stability of the product was determined by assaying the dry content using non-aqueous titration. The results of the stability studies using detarium oil, arachis oil and aqueous medium were analysed using univariate analysis of variance (ANOVA) and estimation of means. Arachis oil was the standard vehicle used and it was found to be the most stable of the three media used thought the effect of detarium was comparable to arachis and also the aqueous form. Invariably, the variation of the effects of detarium oil was insignificant when compared with arachis oil which was the standard. This shows the detarium oil is a very good vehicle in the formulation of haloperidol injection.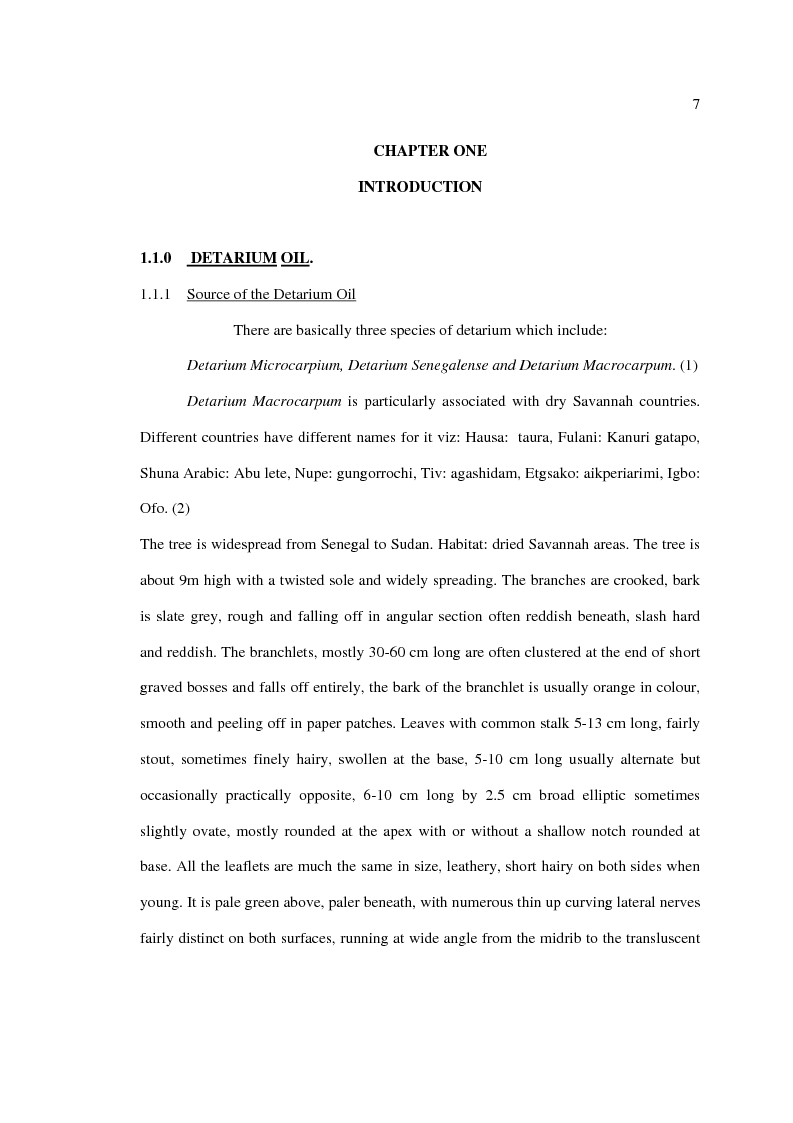 Mostra/Nascondi contenuto.
7 CHAPTER ONE INTRODUCTION 1.1.0 DETARIUM OIL. 1.1.1 Source of the Detarium Oil There are basically three species of detarium which include: Detarium Microcarpium, Detarium Senegalense and Detarium Macrocarpum. (1) Detarium Macrocarpum is particularly associated with dry Savannah countries. Different countries have different names for it viz: Hausa: taura, Fulani: Kanuri gatapo, Shuna Arabic: Abu lete, Nupe: gungorrochi, Tiv: agashidam, Etgsako: aikperiarimi, Igbo: Ofo. (2) The tree is widespread from Senegal to Sudan. Habitat: dried Savannah areas. The tree is about 9m high with a twisted sole and widely spreading. The branches are crooked, bark is slate grey, rough and falling off in angular section often reddish beneath, slash hard and reddish. The branchlets, mostly 30-60 cm long are often clustered at the end of short graved bosses and falls off entirely, the bark of the branchlet is usually orange in colour, smooth and peeling off in paper patches. Leaves with common stalk 5-13 cm long, fairly stout, sometimes finely hairy, swollen at the base, 5-10 cm long usually alternate but occasionally practically opposite, 6-10 cm long by 2.5 cm broad elliptic sometimes slightly ovate, mostly rounded at the apex with or without a shallow notch rounded at base. All the leaflets are much the same in size, leathery, short hairy on both sides when young. It is pale green above, paler beneath, with numerous thin up curving lateral nerves fairly distinct on both surfaces, running at wide angle from the midrib to the transluscent
International thesis/dissertation
Autore: Kenneth Okanwu Contatta »
Composta da 59 pagine.
Questa tesi ha raggiunto 198 click dal 20/04/2006.
Disponibile in PDF, la consultazione è esclusivamente in formato digitale.