Intention to shop online among university students in Jordan
As the Internet has grown dramatically every year since the beginning of the 1990s, and the diffusion of online buying transactions are readily accepted by consumers in some countries, in others consumers seem to be less accepting. On-line commerce through Internet is obtaining attention in Jordan moreover, until today we can observe the limitation for using the on-line shopping. The aim of this research is to study the acceptance level of internet shopping among higher learning institution particularly in Jordan. The current study investigates possible factors that influence consumer Internet intention towards students' online shopping behavior in Jordanian university, the first largest university in Jordan. Technology Acceptance Model (TAM) by Davis et al. (1989) theory has been applied on this study. Several factors such as usefulness and ease of use are become important predictors toward attitude toward on-line shopping that influence students buying intention were analyzed. A test model of theory was analyzed from 146 students. Since no previous research investigated the factors of acceptance level of internet shopping in Jordan, this study gave new insight on the role of factors in internet intention, and the factors that may impact a broader acceptance and development of on-line shopping in Jordan. I will present and discuss my finding and identify changes that will be required for broader acceptance and diffusion of Internet intention in Jordan, so we can have clear picture and understanding of the acceptance level of internet shopping in Jordan.We find the relationship between perceived usefulness and attitude was positive ( = 0.710, p<0.000) and there was also a positive relationship between perceived usefulness and intention to shop ( = 0.985, p<0.000) thus H1 and H2 of the study was supported. As was predicted there was also a positive relationship between perceived ease of use and attitude ( = 0.270, p<0.000) giving support for H3. Attitude was also found to be positively related to intention to shop online ( = 0.937, p<0.000) giving support for H4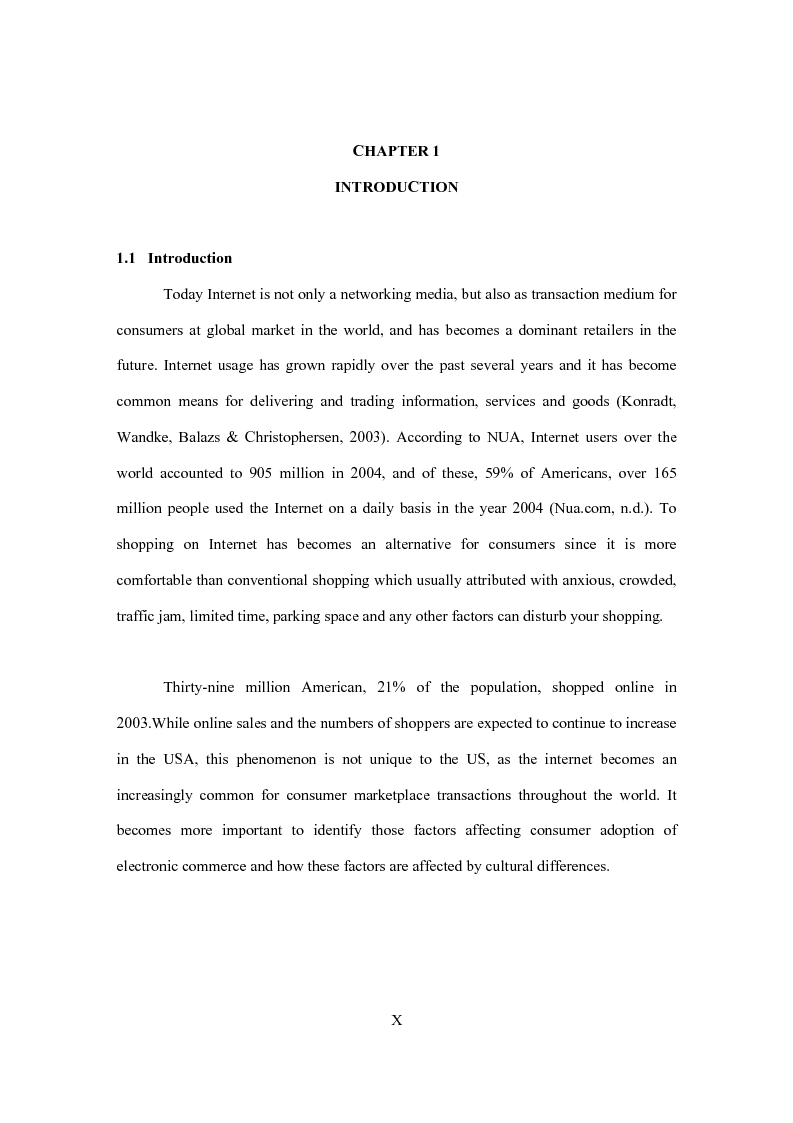 Mostra/Nascondi contenuto.
X CHAPTER 1 INTRODUCTION 1.1 Introduction Today Internet is not only a networking media, but also as transaction medium for consumers at global market in the world, and has becomes a dominant retailers in the future. Internet usage has grown rapidly over the past several years and it has become common means for delivering and trading information, services and goods (Konradt, Wandke, Balazs & Christophersen, 2003). According to NUA, Internet users over the world accounted to 905 million in 2004, and of these, 59% of Americans, over 165 million people used the Internet on a daily basis in the year 2004 (Nua.com, n.d.). To shopping on Internet has becomes an alternative for consumers since it is more comfortable than conventional shopping which usually attributed with anxious, crowded, traffic jam, limited time, parking space and any other factors can disturb your shopping. Thirty-nine million American, 21% of the population, shopped online in 2003.While online sales and the numbers of shoppers are expected to continue to increase in the USA, this phenomenon is not unique to the US, as the internet becomes an increasingly common for consumer marketplace transactions throughout the world. It becomes more important to identify those factors affecting consumer adoption of electronic commerce and how these factors are affected by cultural differences.
International thesis/dissertation
Autore: Abbas Nathier Albarq Contatta »
Composta da 88 pagine.
Questa tesi ha raggiunto 692 click dal 21/06/2006.
Consultata integralmente 3 volte.
Disponibile in PDF, la consultazione è esclusivamente in formato digitale.