The Euro 2002 Information Campaign: Analysis and Evaluation of the National Advertising Campaigns
The aim of this research is to analyze and compare the national advertising campaigns developed by the twelve EU countries for the introduction of the euro. The first part of this research focuses on the presentation of the information campaign at the European level, which was the general framework for all the other national campaigns. After some considerations about the objectives, the structure and the communication strategies adopted at the European level, this research focuses on the national advertising campaigns. The twelve countries, which introduced the new currency, were divided by communication strategy adopted and compared each other by the media evaluations, communication effects (message content), evaluated mostly on the basis of "recognition" and "recall" and results achieved. The thesis is all in English a part for a short summary in Italian. More information about my work at URL: http://www.chiara-valentini.org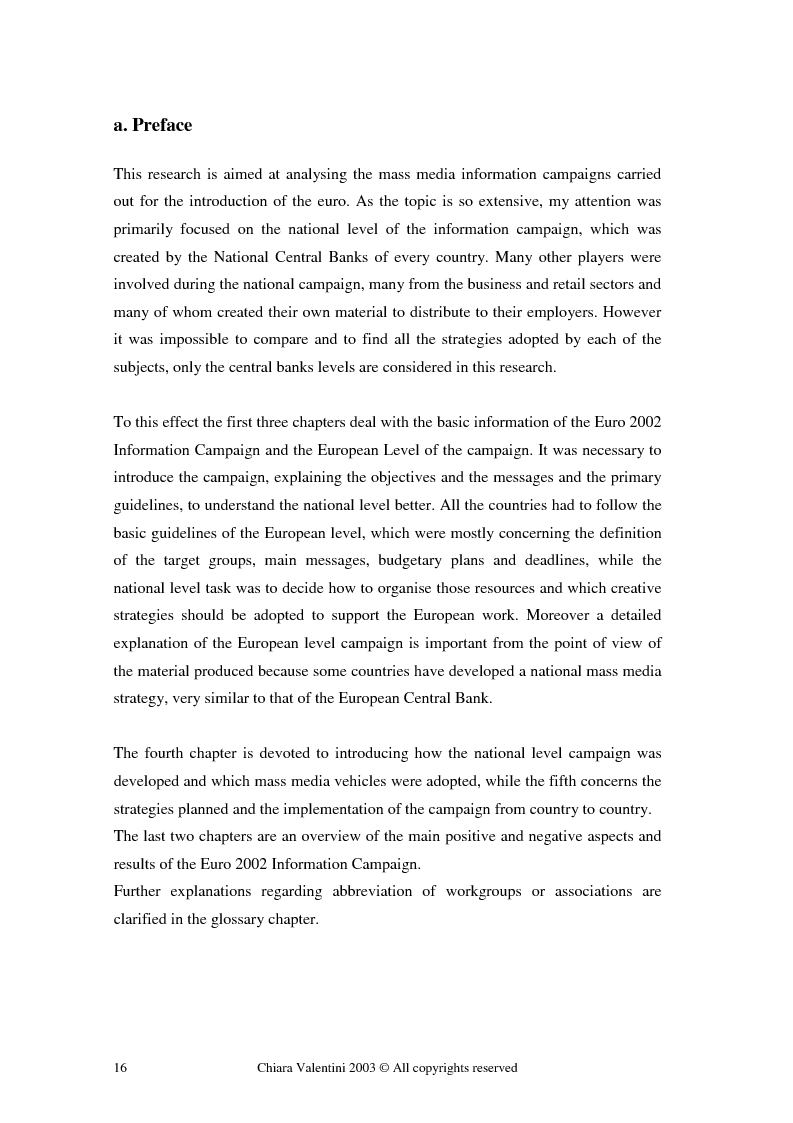 Mostra/Nascondi contenuto.
Chiara Valentini 2003 © All copyrights reserved 16 a. Preface This research is aimed at analysing the mass media information campaigns carried out for the introduction of the euro. As the topic is so extensive, my attention was primarily focused on the national level of the information campaign, which was created by the National Central Banks of every country. Many other players were involved during the national campaign, many from the business and retail sectors and many of whom created their own material to distribute to their employers. However it was impossible to compare and to find all the strategies adopted by each of the subjects, only the central banks levels are considered in this research. To this effect the first three chapters deal with the basic information of the Euro 2002 Information Campaign and the European Level of the campaign. It was necessary to introduce the campaign, explaining the objectives and the messages and the primary guidelines, to understand the national level better. All the countries had to follow the basic guidelines of the European level, which were mostly concerning the definition of the target groups, main messages, budgetary plans and deadlines, while the national level task was to decide how to organise those resources and which creative strategies should be adopted to support the European work. Moreover a detailed explanation of the European level campaign is important from the point of view of the material produced because some countries have developed a national mass media strategy, very similar to that of the European Central Bank. The fourth chapter is devoted to introducing how the national level campaign was developed and which mass media vehicles were adopted, while the fifth concerns the strategies planned and the implementation of the campaign from country to country. The last two chapters are an overview of the main positive and negative aspects and results of the Euro 2002 Information Campaign. Further explanations regarding abbreviation of workgroups or associations are clarified in the glossary chapter.
Tesi di Laurea
Facoltà: Lingue e Letterature Straniere
Autore: Chiara Valentini Contatta »
Composta da 273 pagine.
Questa tesi ha raggiunto 735 click dal 04/07/2006.
Consultata integralmente 3 volte.
Disponibile in PDF, la consultazione è esclusivamente in formato digitale.