Human Rights Plus Subsidiarity for a New Division of the International Political Labour: A United Nations – European Union – North Atlantic Treaty Organization Tripartite Model of Coordination
This thesis aims at assessing whether there is a link between the empowerment of NATO and the EU, the rationalization and streamlining of their mandates and the effective correct implementation of Chapter VII (seven) of the Charter of the UN, namely to the establishment of a UN-centred stellar system in the area of international peace and security. To put it in different words, this work wishes to analyse the current EU-NATO framework of coordination with the following questions in mind: "Does such coordination exercise have a positive impact on the empowerment and democratization of the UN?" What we somehow expect from the discussion of the abovementioned hypothesis is the relevancy of our proposed model of a global security governance system including a division of the international labour between the UN and regional organizations that relies on the principle of subsidiarity and on the common adoption of a human rights approach. Thus, the arguments that are supported in this work go beyond a reaffirmation of the need for the regional organizations to act with the authorization and under the control of the UN SC as provided for in Chapter VIII of the Charter. This latter, in Articles 52, 53 and 54 reaffirms the previsions of Chapter VII related to the primacy of the SC on issues concerning actions with respect to threats to the peace, breaches of the peace and acts of aggression. Still, Chapter VIII does not cover the coordination between the UN and regional organizations in all remaining dimensions of security. It is therefore our understanding that the introduction of hierarchical dimensions into the international legal system tends to build a model of international order in which the UN has granted a leading role with regard to all dimensions of global security governance, even in those cases in which the SC does not represent the obligatory forum for decision-taking under international law. This thesis argues then that the allocation of competencies between the UN and regional organizations should ultimately be decided by the UN SC. Although we are certainly aware of the fact that the feasibility of such hypothesis rests in the consent that should be provided by the international organizations membership, namely by States, we shall approach the present topic assuming that for a State the fact of joining an international organization has direct implications on the definition of its foreign policy: in other words, it is argued in this thesis that Member States of an international organization progressively tend to converge to a shared vision of world order: thus, the respective visions of world order are assumed being the final outcome of the process and strategy of coordination between NATO and the EU, rather than as an independent variable that allows, influences or eventually impedes its development. Such process of international institutional socialization provided by international organizations is not neutral, but indeed it relies on a well established values paradigm: it has been referred to in the literature as a "process of constitutionalization of the international system": this research shall ultimately aim at assessing whether the ongoing process of development of forms of co-operation and coordination between NATO and the EU represents part of this process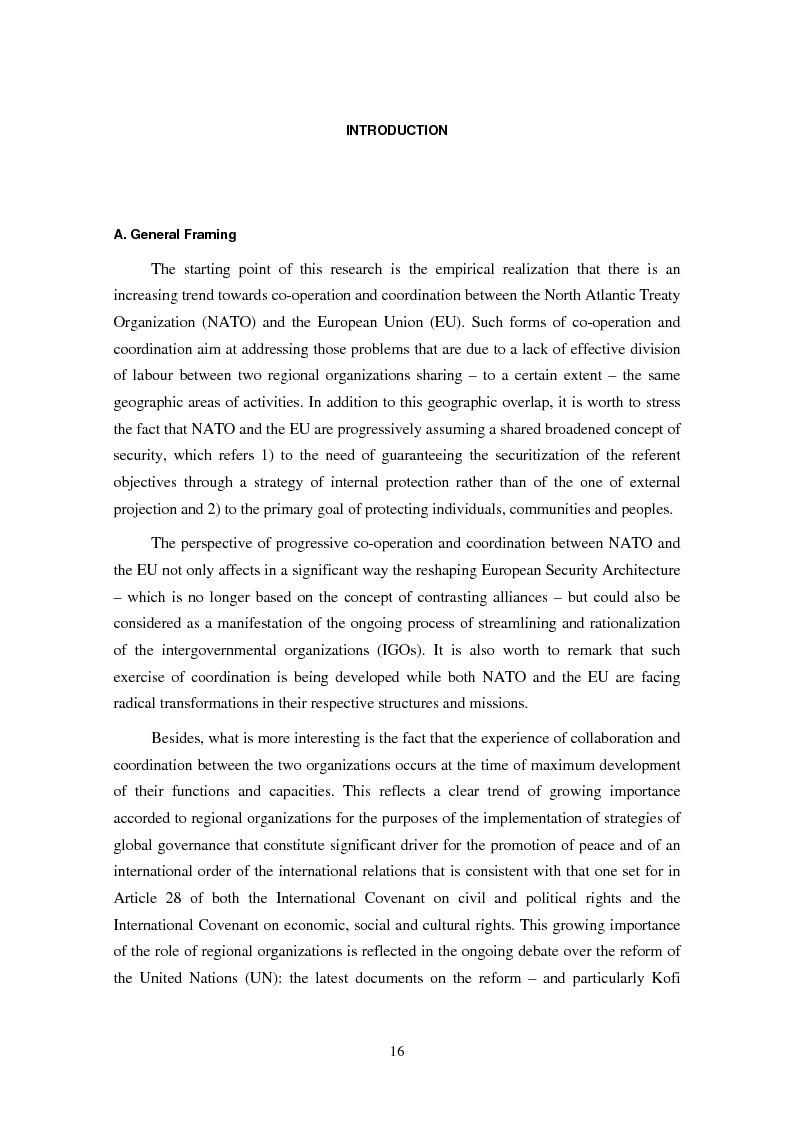 Mostra/Nascondi contenuto.
16 INTRODUCTION A. General Framing The starting point of this research is the empirical realization that there is an increasing trend towards co-operation and coordination between the North Atlantic Treaty Organization (NATO) and the European Union (EU). Such forms of co-operation and coordination aim at addressing those problems that are due to a lack of effective division of labour between two regional organizations sharing – to a certain extent – the same geographic areas of activities. In addition to this geographic overlap, it is worth to stress the fact that NATO and the EU are progressively assuming a shared broadened concept of security, which refers 1) to the need of guaranteeing the securitization of the referent objectives through a strategy of internal protection rather than of the one of external projection and 2) to the primary goal of protecting individuals, communities and peoples. The perspective of progressive co-operation and coordination between NATO and the EU not only affects in a significant way the reshaping European Security Architecture – which is no longer based on the concept of contrasting alliances – but could also be considered as a manifestation of the ongoing process of streamlining and rationalization of the intergovernmental organizations (IGOs). It is also worth to remark that such exercise of coordination is being developed while both NATO and the EU are facing radical transformations in their respective structures and missions. Besides, what is more interesting is the fact that the experience of collaboration and coordination between the two organizations occurs at the time of maximum development of their functions and capacities. This reflects a clear trend of growing importance accorded to regional organizations for the purposes of the implementation of strategies of global governance that constitute significant driver for the promotion of peace and of an international order of the international relations that is consistent with that one set for in Article 28 of both the International Covenant on civil and political rights and the International Covenant on economic, social and cultural rights. This growing importance of the role of regional organizations is reflected in the ongoing debate over the reform of the United Nations (UN): the latest documents on the reform – and particularly Kofi
Laurea liv.II (specialistica)
Facoltà: Scienze Politiche
Autore: Davide Zaru Contatta »
Composta da 260 pagine.
Questa tesi ha raggiunto 712 click dal 18/07/2006.
Consultata integralmente 4 volte.
Disponibile in PDF, la consultazione è esclusivamente in formato digitale.