The Starbucks Corporation: past present and future.
This dissertation attempts to look at the trials, triumphs, and sucesses of the company. The Business strategies that the Shultz administration undertook and turnaround the business to become a beacon of success and progressive enterpreneurship in the modern business world.

Martin Luther showed that it is "a dangerous thing to build a society with a lot of people who has no stake in it" Mr Schultz proved him correct today when he empowered his employees or "partners" and detractors found that it was a dangerous thing to attempt to break a business where the employees has strong affiliation to their company.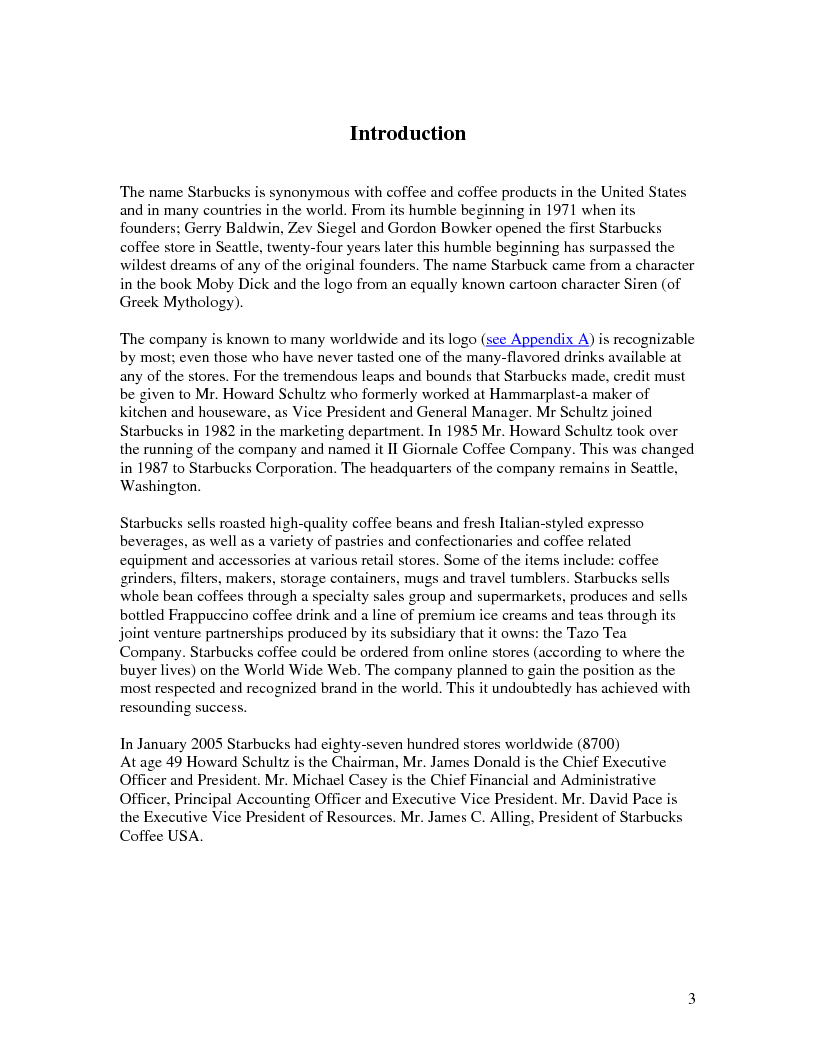 Mostra/Nascondi contenuto.
Introduction The name Starbucks is synonymous with coffee and coffee products in the United States and in many countries in the world. From its humble beginning in 1971 when its founders; Gerry Baldwin, Zev Siegel and Gordon Bowker opened the first Starbucks coffee store in Seattle, twenty-four years later this humble beginning has surpassed the wildest dreams of any of the original founders. The name Starbuck came from a character in the book Moby Dick and the logo from an equally known cartoon character Siren (of Greek Mythology). The company is known to many worldwide and its logo (see Appendix A) is recognizable by most; even those who have never tasted one of the many-flavored drinks available at any of the stores. For the tremendous leaps and bounds that Starbucks made, credit must be given to Mr. Howard Schultz who formerly worked at Hammarplast-a maker of kitchen and houseware, as Vice President and General Manager. Mr Schultz joined Starbucks in 1982 in the marketing department. In 1985 Mr. Howard Schultz took over the running of the company and named it II Giornale Coffee Company. This was changed in 1987 to Starbucks Corporation. The headquarters of the company remains in Seattle, Washington. Starbucks sells roasted high-quality coffee beans and fresh Italian-styled expresso beverages, as well as a variety of pastries and confectionaries and coffee related equipment and accessories at various retail stores. Some of the items include: coffee grinders, filters, makers, storage containers, mugs and travel tumblers. Starbucks sells whole bean coffees through a specialty sales group and supermarkets, produces and sells bottled Frappuccino coffee drink and a line of premium ice creams and teas through its joint venture partnerships produced by its subsidiary that it owns: the Tazo Tea Company. Starbucks coffee could be ordered from online stores (according to where the buyer lives) on the World Wide Web. The company planned to gain the position as the most respected and recognized brand in the world. This it undoubtedly has achieved with resounding success. In January 2005 Starbucks had eighty-seven hundred stores worldwide (8700) At age 49 Howard Schultz is the Chairman, Mr. James Donald is the Chief Executive Officer and President. Mr. Michael Casey is the Chief Financial and Administrative Officer, Principal Accounting Officer and Executive Vice President. Mr. David Pace is the Executive Vice President of Resources. Mr. James C. Alling, President of Starbucks Coffee USA. 3
International thesis/dissertation
Autore: Melvin Gooding Contatta »
Composta da 29 pagine.
Questa tesi ha raggiunto 1508 click dal 24/07/2006.
Consultata integralmente 12 volte.
Disponibile in PDF, la consultazione è esclusivamente in formato digitale.