Phenomenology and predictability of suicide on Rorschach Test
This thesis is divided in two parts. The first one deals with suicide in its general aspects of complexity (difficulty of clear and exact definitions, multicausality of demographic, psychological, psychopathologic, social factors or critical life events) that fall on the possibility of forecast and prediction both on methodological-experimental and clinical point of view. The second one more specifically deals with the psychodiagnostic aspect of suicidal risk, in particular through Rorschach personality projective test. We analysed the historical studies centered on analysis of the most frequent contents in protocols (above all on IV and VII Cards), single sign studies (as color-shading, transparency and cross-section answers) and, more recently, multiple signs studies (as Index S-CON of Exner's Comprehensive system or Riggs index). Finally, we analysed the most diffused questionnaires and psychometric scales for the assessment of suicide risk.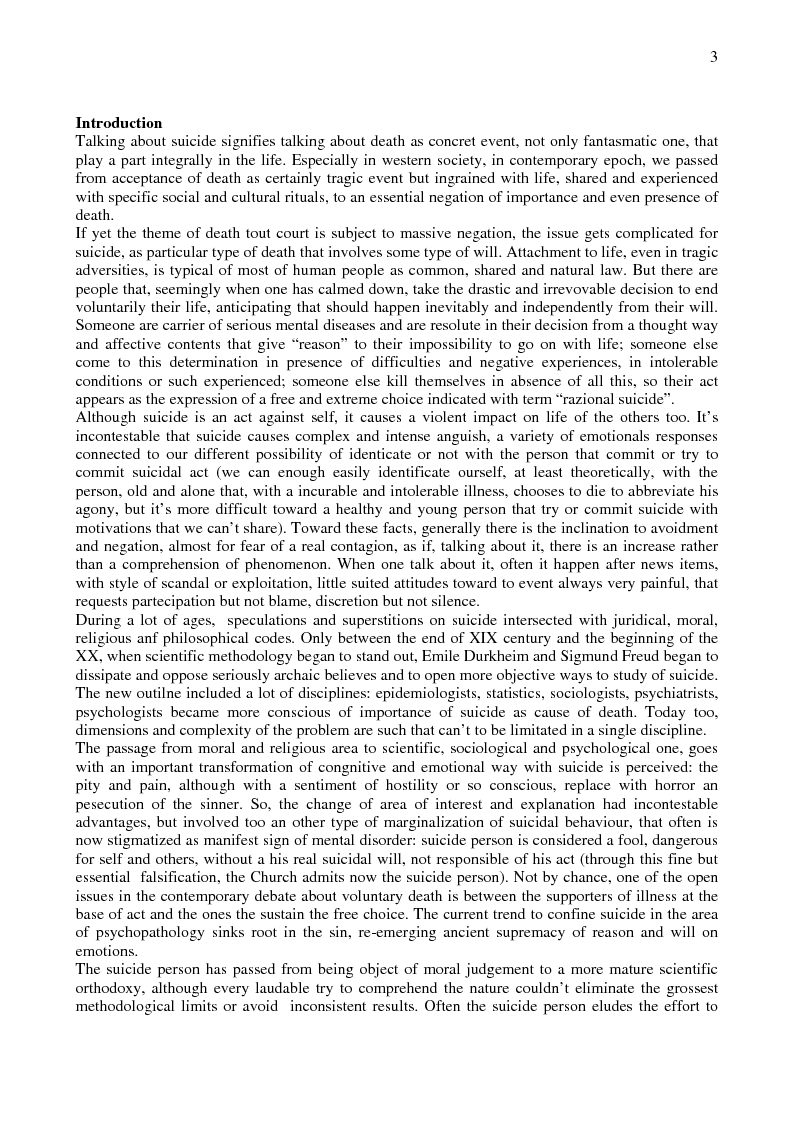 Mostra/Nascondi contenuto.
3 Introduction Talking about suicide signifies talking about death as concret event, not only fantasmatic one, that play a part integrally in the life. Especially in western society, in contemporary epoch, we passed from acceptance of death as certainly tragic event but ingrained with life, shared and experienced with specific social and cultural rituals, to an essential negation of importance and even presence of death. If yet the theme of death tout court is subject to massive negation, the issue gets complicated for suicide, as particular type of death that involves some type of will. Attachment to life, even in tragic adversities, is typical of most of human people as common, shared and natural law. But there are people that, seemingly when one has calmed down, take the drastic and irrevovable decision to end voluntarily their life, anticipating that should happen inevitably and independently from their will. Someone are carrier of serious mental diseases and are resolute in their decision from a thought way and affective contents that give "reason" to their impossibility to go on with life; someone else come to this determination in presence of difficulties and negative experiences, in intolerable conditions or such experienced; someone else kill themselves in absence of all this, so their act appears as the expression of a free and extreme choice indicated with term "razional suicide". Although suicide is an act against self, it causes a violent impact on life of the others too. It's incontestable that suicide causes complex and intense anguish, a variety of emotionals responses connected to our different possibility of identicate or not with the person that commit or try to commit suicidal act (we can enough easily identificate ourself, at least theoretically, with the person, old and alone that, with a incurable and intolerable illness, chooses to die to abbreviate his agony, but it's more difficult toward a healthy and young person that try or commit suicide with motivations that we can't share). Toward these facts, generally there is the inclination to avoidment and negation, almost for fear of a real contagion, as if, talking about it, there is an increase rather than a comprehension of phenomenon. When one talk about it, often it happen after news items, with style of scandal or exploitation, little suited attitudes toward to event always very painful, that requests partecipation but not blame, discretion but not silence. During a lot of ages, speculations and superstitions on suicide intersected with juridical, moral, religious anf philosophical codes. Only between the end of XIX century and the beginning of the XX, when scientific methodology began to stand out, Emile Durkheim and Sigmund Freud began to dissipate and oppose seriously archaic believes and to open more objective ways to study of suicide. The new outilne included a lot of disciplines: epidemiologists, statistics, sociologists, psychiatrists, psychologists became more conscious of importance of suicide as cause of death. Today too, dimensions and complexity of the problem are such that can't to be limitated in a single discipline. The passage from moral and religious area to scientific, sociological and psychological one, goes with an important transformation of congnitive and emotional way with suicide is perceived: the pity and pain, although with a sentiment of hostility or so conscious, replace with horror an pesecution of the sinner. So, the change of area of interest and explanation had incontestable advantages, but involved too an other type of marginalization of suicidal behaviour, that often is now stigmatized as manifest sign of mental disorder: suicide person is considered a fool, dangerous for self and others, without a his real suicidal will, not responsible of his act (through this fine but essential falsification, the Church admits now the suicide person). Not by chance, one of the open issues in the contemporary debate about voluntary death is between the supporters of illness at the base of act and the ones the sustain the free choice. The current trend to confine suicide in the area of psychopathology sinks root in the sin, re-emerging ancient supremacy of reason and will on emotions. The suicide person has passed from being object of moral judgement to a more mature scientific orthodoxy, although every laudable try to comprehend the nature couldn't eliminate the grossest methodological limits or avoid inconsistent results. Often the suicide person eludes the effort to
Traduzione
Facoltà: Psicologia
Traduttore: Pier Luigi Gallucci Contatta »
Composta da 90 pagine.
Questa tesi ha raggiunto 1117 click dal 05/09/2006.
Consultata integralmente 3 volte.
Disponibile in PDF, la consultazione è esclusivamente in formato digitale.