Ibn Hazm's concept of ijma'
This thesis is anb attempt to study Ibn Hazm's concept of ijma (consensus). Ibn Hazm was a Muslim scholar of Persian origin, who revived the Zahiri school in Andalusia (Muslim Spain) in the fifth/eleventh century. The Zahiri school was founded by Dawud in Iraq in the third/ninth century. This school was known for its insistence on the literal interpretation of the nass (divine text). Ijma is accepted by Muslim jurists in the mass as the third source of Islamic law after the Qur'an and the Sunnah (practice) of the Prophet. However, these jurists held different concepts on ijma' according to the schools to which they belonged. As an exponent of the Zahiri school, Ibn Hazm's concept of ijma is quite different from those of other jurists. In defending his concept and refuting those of his opponents, he based his argument upon literal meaning of the nass.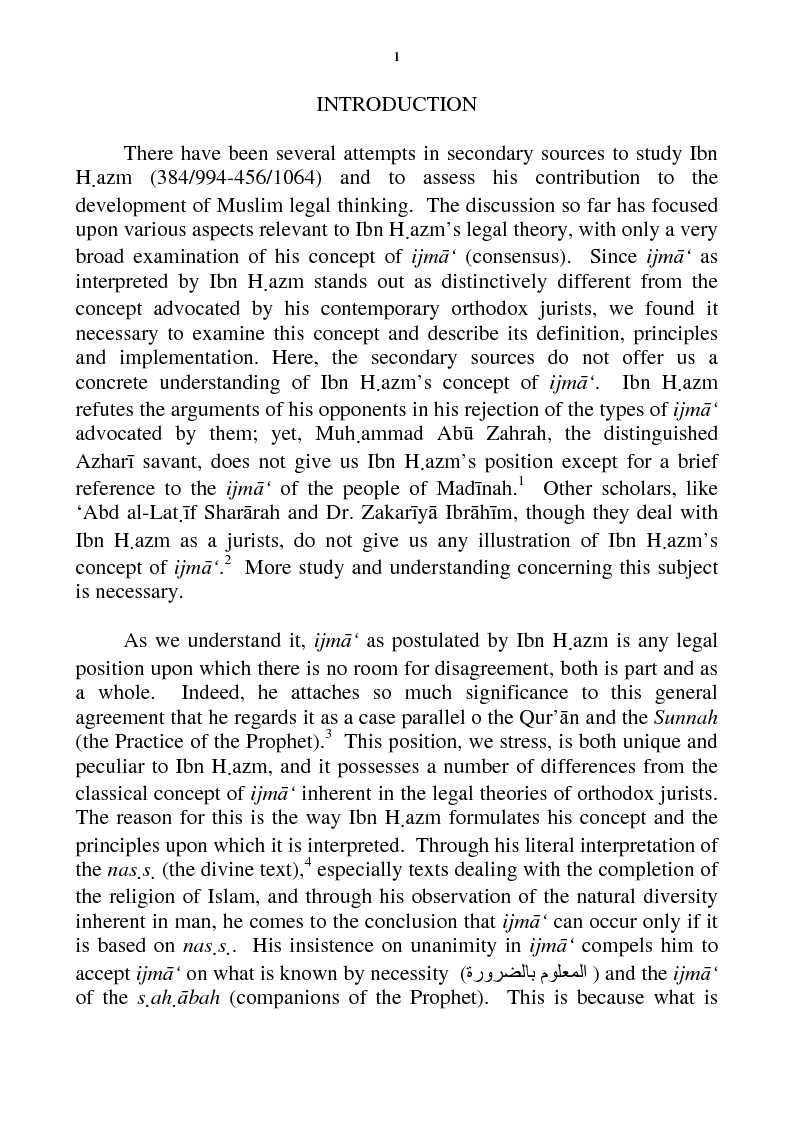 Mostra/Nascondi contenuto.
1 INTRODUCTION There have been several attempts in secondary sources to study Ibn H . azm (384/994-456/1064) and to assess his contribution to the development of Muslim legal thinking. The discussion so far has focused upon various aspects relevant to Ibn H . azm's legal theory, with only a very broad examination of his concept of ijmā' (consensus). Since ijmā' as interpreted by Ibn H . azm stands out as distinctively different from the concept advocated by his contemporary orthodox jurists, we found it necessary to examine this concept and describe its definition, principles and implementation. Here, the secondary sources do not offer us a concrete understanding of Ibn H . azm's concept of ijmā'. Ibn H . azm refutes the arguments of his opponents in his rejection of the types of ijmā' advocated by them; yet, Muh . ammad Abū Zahrah, the distinguished Azharī savant, does not give us Ibn H . azm's position except for a brief reference to the ijmā' of the people of Madīnah. 1 Other scholars, like 'Abd al-Lat . īf Sharārah and Dr. Zakarīyā Ibrāhīm, though they deal with Ibn H . azm as a jurists, do not give us any illustration of Ibn H . azm's concept of ijmā'. 2 More study and understanding concerning this subject is necessary. As we understand it, ijmā' as postulated by Ibn H . azm is any legal position upon which there is no room for disagreement, both is part and as a whole. Indeed, he attaches so much significance to this general agreement that he regards it as a case parallel o the Qur'ān and the Sunnah (the Practice of the Prophet). 3 This position, we stress, is both unique and peculiar to Ibn H . azm, and it possesses a number of differences from the classical concept of ijmā' inherent in the legal theories of orthodox jurists. The reason for this is the way Ibn H . azm formulates his concept and the principles upon which it is interpreted. Through his literal interpretation of the nas . s . (the divine text), 4 especially texts dealing with the completion of the religion of Islam, and through his observation of the natural diversity inherent in man, he comes to the conclusion that ijmā' can occur only if it is based on nas . s . . His insistence on unanimity in ijmā' compels him to accept ijmā' on what is known by necessity (ةروﺮﻀﻟﺎﺑ مﻮﻠﻌﻤﻟا ) and the ijmā' of the s . ah . ābah (companions of the Prophet). This is because what is
International thesis/dissertation
Autore: Muhammad Amin Samad Contatta »
Composta da 118 pagine.
Questa tesi ha raggiunto 199 click dal 26/09/2006.
Consultata integralmente una volta.
Disponibile in PDF, la consultazione è esclusivamente in formato digitale.