Digital Libraries meet Google Scholar: Investigating the changing face of scholarly search using the Google Scholar front-end
The problems with digital libraries and Google Scholar are separately well grounded in literature. However current efforts have largely unexamined digital library use under the Google Scholar front-end. This is important because the popularity of Google as a search engine and Google Scholar amongst academics for seeking scholarly material is considerably high. Our study therefore seeks to examine digital library searches conducted via Google Scholar through think aloud tasks and interviews.

The study finds that participants are far more inclined towards using Google Scholar due it its simple interface, coverage, efficiency, ranking and relevancy. The relative weakness of these factors within digital libraries meant that participants resisted in continuing to dig deeper within digital libraries. Participants did, however, highlight that digital libraries are well integrated when it comes to chaining i.e. following up references, citings, links to other articles etc and felt that such integration helps them to navigate around sources a lot easier. The biggest problem impacting users' ability to search effectively were access issues in both Google Scholar and digital libraries. This was due to a lack of clarity surrounding the access restrictions in digital libraries and dysfunctional links within the results of Google Scholar hampering users' ability to effectively seek material.

The insights gained from the above findings led to suggestions of a hybrid design. This entailed utilising the good bits from both digital libraries and Google Scholar and bridging them together to enhance users search support. Our findings indicated a hybrid design that should come with the performance, ease of handling and coverage like Google Scholar and chaining of sources as within digital libraries. The findings also led to insights where they separately needed to be improved, through provision of feedback on user action, re-designing of dead-links to be more accessible, support for better recognition of locations with unrestricted access, improving subject classification of results and making advanced searching facility more prominent within Google Scholar and provision of cues to makes access restrictions clearer and less complex within digital libraries.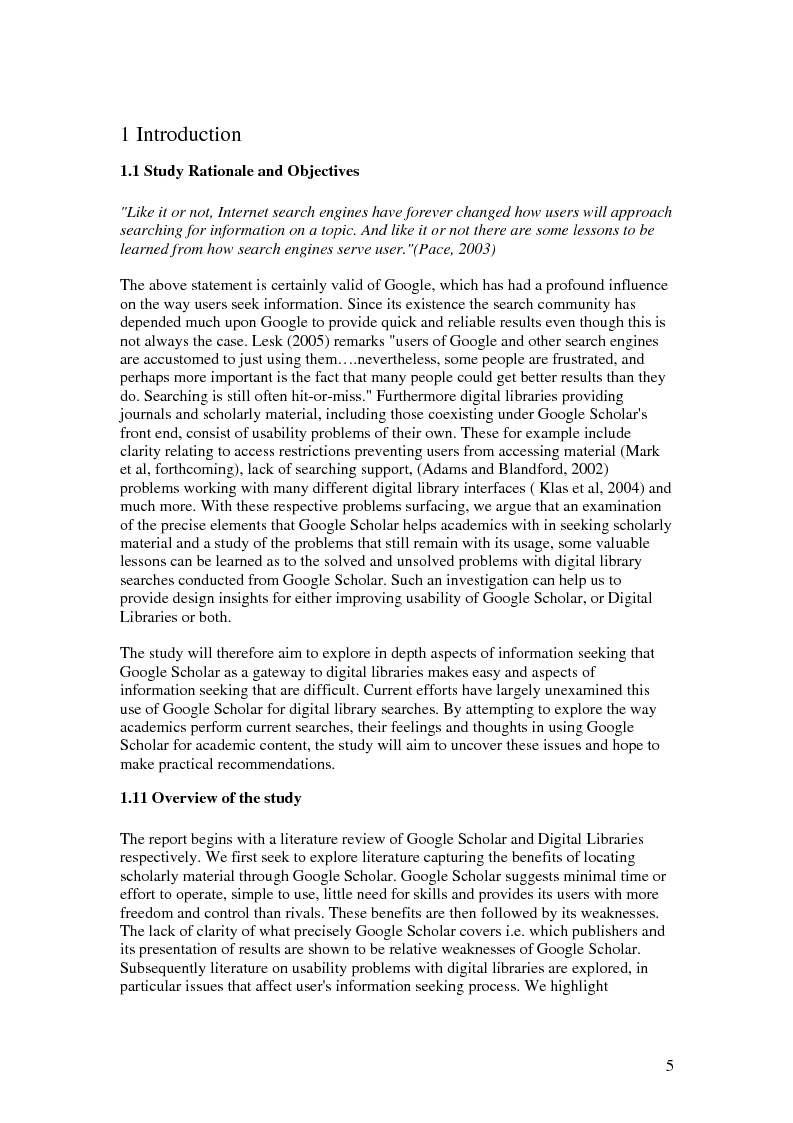 Mostra/Nascondi contenuto.
1 Introduction 1.1 Study Rationale and Objectives "Like it or not, Internet search engines have forever changed how users will approach searching for information on a topic. And like it or not there are some lessons to be learned from how search engines serve user."(Pace, 2003) The above statement is certainly valid of Google, which has had a profound influence on the way users seek information. Since its existence the search community has depended much upon Google to provide quick and reliable results even though this is not always the case. Lesk (2005) remarks "users of Google and other search engines are accustomed to just using them….nevertheless, some people are frustrated, and perhaps more important is the fact that many people could get better results than they do. Searching is still often hit-or-miss." Furthermore digital libraries providing journals and scholarly material, including those coexisting under Google Scholar's front end, consist of usability problems of their own. These for example include clarity relating to access restrictions preventing users from accessing material (Mark et al, forthcoming), lack of searching support, (Adams and Blandford, 2002) problems working with many different digital library interfaces ( Klas et al, 2004) and much more. With these respective problems surfacing, we argue that an examination of the precise elements that Google Scholar helps academics with in seeking scholarly material and a study of the problems that still remain with its usage, some valuable lessons can be learned as to the solved and unsolved problems with digital library searches conducted from Google Scholar. Such an investigation can help us to provide design insights for either improving usability of Google Scholar, or Digital Libraries or both. The study will therefore aim to explore in depth aspects of information seeking that Google Scholar as a gateway to digital libraries makes easy and aspects of information seeking that are difficult. Current efforts have largely unexamined this use of Google Scholar for digital library searches. By attempting to explore the way academics perform current searches, their feelings and thoughts in using Google Scholar for academic content, the study will aim to uncover these issues and hope to make practical recommendations. 1.11 Overview of the study The report begins with a literature review of Google Scholar and Digital Libraries respectively. We first seek to explore literature capturing the benefits of locating scholarly material through Google Scholar. Google Scholar suggests minimal time or effort to operate, simple to use, little need for skills and provides its users with more freedom and control than rivals. These benefits are then followed by its weaknesses. The lack of clarity of what precisely Google Scholar covers i.e. which publishers and its presentation of results are shown to be relative weaknesses of Google Scholar. Subsequently literature on usability problems with digital libraries are explored, in particular issues that affect user's information seeking process. We highlight 5
International thesis/dissertation
Autore: Sammy Iqbal Contatta »
Composta da 79 pagine.
Questa tesi ha raggiunto 635 click dal 28/09/2006.
Consultata integralmente una volta.
Disponibile in PDF, la consultazione è esclusivamente in formato digitale.