The Politics of Subversion: The Postmodern Avant-Garde and Gender Trouble in Selected Plays of Gertrude Stein
Stein's avant-garde writings have many postmodern elements. Accordingly, the term "postmodern avant-garde" can map and rule out the postmodern elements that incorporate the issues addressed in Stein's avant-garde drama. The discussion of Stein's dramatic texts ruled out three unifying elements that characterize the notion of "postmodern avant-garde" drama: the labyrinthine discourse, language- and theory-oriented play writing, and gender/genre trouble. Working on these three interrelated principles, one can state that Stein situates her drama in the core of postmodern sensibility, which challenges both logocentric and phallogocentric categories that characterize mainstream discourse.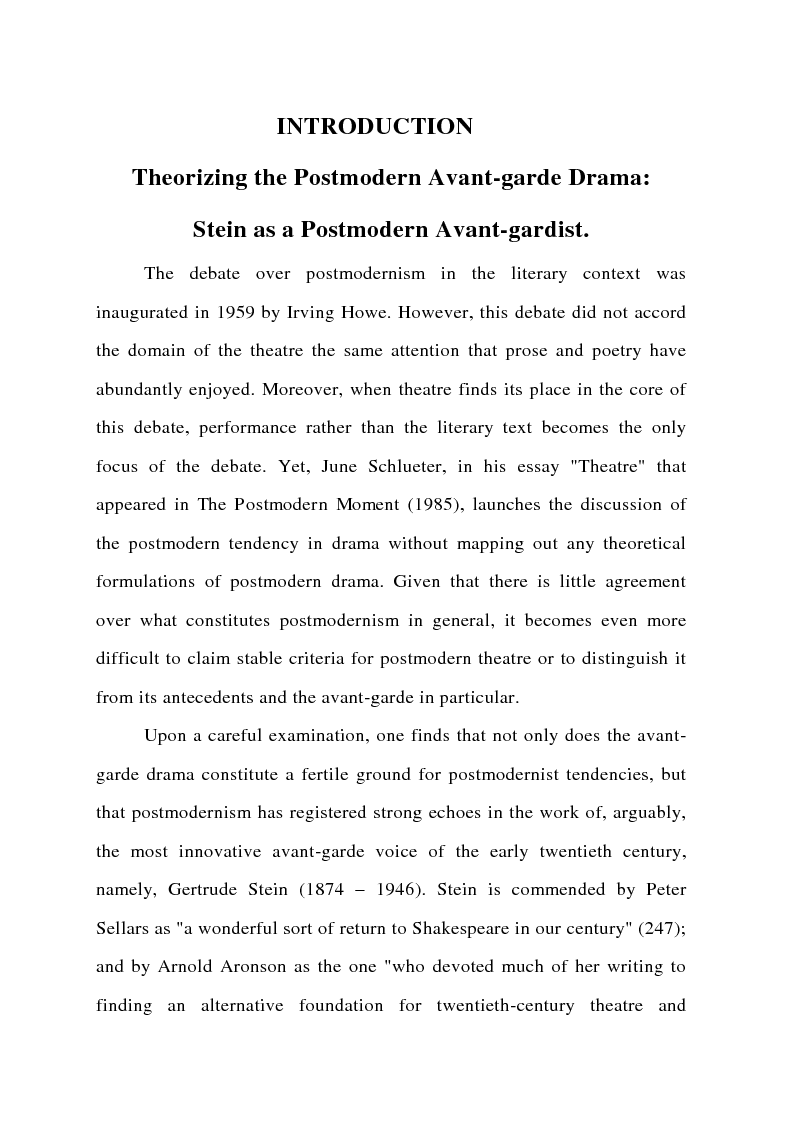 Mostra/Nascondi contenuto.
INTRODUCTION Theorizing the Postmodern Avant-garde Drama: Stein as a Postmodern Avant-gardist. The debate over postmodernism in the literary context was inaugurated in 1959 by Irving Howe. However, this debate did not accord the domain of the theatre the same attention that prose and poetry have abundantly enjoyed. Moreover, when theatre finds its place in the core of this debate, performance rather than the literary text becomes the only focus of the debate. Yet, June Schlueter, in his essay "Theatre" that appeared in The Postmodern Moment (1985), launches the discussion of the postmodern tendency in drama without mapping out any theoretical formulations of postmodern drama. Given that there is little agreement over what constitutes postmodernism in general, it becomes even more difficult to claim stable criteria for postmodern theatre or to distinguish it from its antecedents and the avant-garde in particular. Upon a careful examination, one finds that not only does the avant- garde drama constitute a fertile ground for postmodernist tendencies, but that postmodernism has registered strong echoes in the work of, arguably, the most innovative avant-garde voice of the early twentieth century, namely, Gertrude Stein (1874 – 1946). Stein is commended by Peter Sellars as "a wonderful sort of return to Shakespeare in our century" (247); and by Arnold Aronson as the one "who devoted much of her writing to finding an alternative foundation for twentieth-century theatre and
International thesis/dissertation
Autore: Wael Alsawi Contatta »
Composta da 169 pagine.
Questa tesi ha raggiunto 56 click dal 22/07/2011.
Disponibile in PDF, la consultazione è esclusivamente in formato digitale.