''You in Others - This is Your Soul'' Friendship and Love in Frank O'Hara's Poetry
The thesis considers the production of poetry by Frank O'Hara, focusing in particular on the issue of relations of friendship and love. The introduction considers the poetry of O'Hara in relation to the "New York School", highlighting the features of continuity with the "school", but at the same time the originality of O'Hara himself. It outlines the context of the fifties in New York, focusing on the painting avant-garde giving special emphasis to the close relationship of O'Hara with this artistic environment. It considers the revolutionary reworking of the poetic subject in his poems, a necessary assumption to an analysis of relational space deployed. The exploration of this area reveals that the production of O'Hara poetry requires an awareness of delicate balance between "jouissance" and dispersion of the subject, suggesting adherence with changes and varieties as the basis of poetic discourse and ego that creates that speech. We tried to support this vision through a comparison of this poetic with some philosophical currents both contemporary and after to O'Hara. From this emerged the revolutionary impact of his production, analyzed through a selection of poems in which relationships are proposed as a fundamental and original paradigm, an innovative and privileged place for poetry.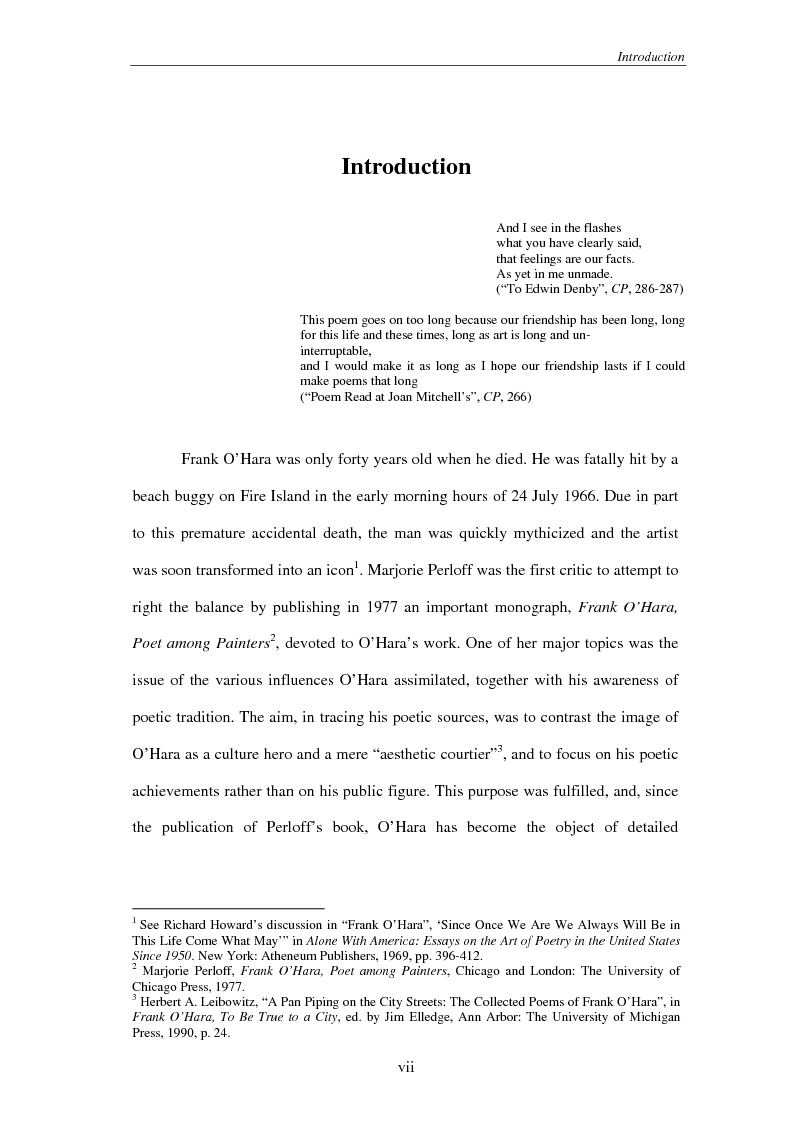 Mostra/Nascondi contenuto.
Introduction Introduction And I see in the flashes what you have clearly said, that feelings are our facts. As yet in me unmade. ("To Edwin Denby", CP, 286-287) This poem goes on too long because our friendship has been long, long for this life and these times, long as art is long and un- interruptable, and I would make it as long as I hope our friendship lasts if I could make poems that long ("Poem Read at Joan Mitchell's", CP, 266) Frank O'Hara was only forty years old when he died. He was fatally hit by a beach buggy on Fire Island in the early morning hours of 24 July 1966. Due in part to this premature accidental death, the man was quickly mythicized and the artist was soon transformed into an icon 1 . Marjorie Perloff was the first critic to attempt to right the balance by publishing in 1977 an important monograph, Frank O'Hara, Poet among Painters 2 , devoted to O'Hara's work. One of her major topics was the issue of the various influences O'Hara assimilated, together with his awareness of poetic tradition. The aim, in tracing his poetic sources, was to contrast the image of O'Hara as a culture hero and a mere "aesthetic courtier" 3 , and to focus on his poetic achievements rather than on his public figure. This purpose was fulfilled, and, since the publication of Perloff's book, O'Hara has become the object of detailed 1 See Richard Howard's discussion in "Frank O'Hara", 'Since Once We Are We Always Will Be in This Life Come What May'" in Alone With America: Essays on the Art of Poetry in the United States Since 1950. New York: Atheneum Publishers, 1969, pp. 396-412. 2 Marjorie Perloff, Frank O'Hara, Poet among Painters, Chicago and London: The University of Chicago Press, 1977. 3 Herbert A. Leibowitz, "A Pan Piping on the City Streets: The Collected Poems of Frank O'Hara", in Frank O'Hara, To Be True to a City, ed. by Jim Elledge, Ann Arbor: The University of Michigan Press, 1990, p. 24. vii
Tesi di Laurea
Facoltà: Lingue e Letterature Straniere
Autore: Corinna Baschirotto Contatta »
Composta da 186 pagine.
Questa tesi ha raggiunto 459 click dal 15/12/2006.
Disponibile in PDF, la consultazione è esclusivamente in formato digitale.