Airplane Autopilot Development
The aim of this thesis work is to develop an autopilot system capable to control the motion axes of a General Aviation Airplane. Generally, an autopilot system carries out all the ``boring" control functions, such as maintaining the route, heading or altitude of an aircraft. The pilot simply sets the target value of the flight parameters and regularly checks the corresponding indicators to verify that the system is behaving as desired. The autopilot that we want to realize will have three fundamental functionalities, provided by three different controllers. These functionalities are: - heading control and maintenance; - altitude control and maintenance; - route control and maintenance. We want to design a system capable to control the lateral and the longitudinal airplane motion without implementing a throttle controller. In order to realize this system we have divided the work in three parts described next. The first part consists in gaining knowledge on flight dynamics and its automatic control systems. Chapter 1 describes a study of the flight control problem. We analyze the various typologies of flight control systems that are implemented in the most common aircrafts and describe the on-board navigation and positioning systems currently used in the airplane. Chapter 2 discusses the bases of automatic control theory and a particular class of regulators: the PID controllers. The second part represents the design of the autopilot system and it is included in Chapter 3 where the design methods used to develop the controllers are described into Details. The third and last phase consists in the controllers tests which are carried out by using Microsoft® Flight Simulator 2004. Each controller is tested against a wide range of flight conditions. The main contribution of this work is to design a simple autopilot system with low development costs and by using an open architecture. The proposed autopilot is expected to have a performance comparable to the autopilot that Microsoft® Flight Simulator 2004 implements in his airplanes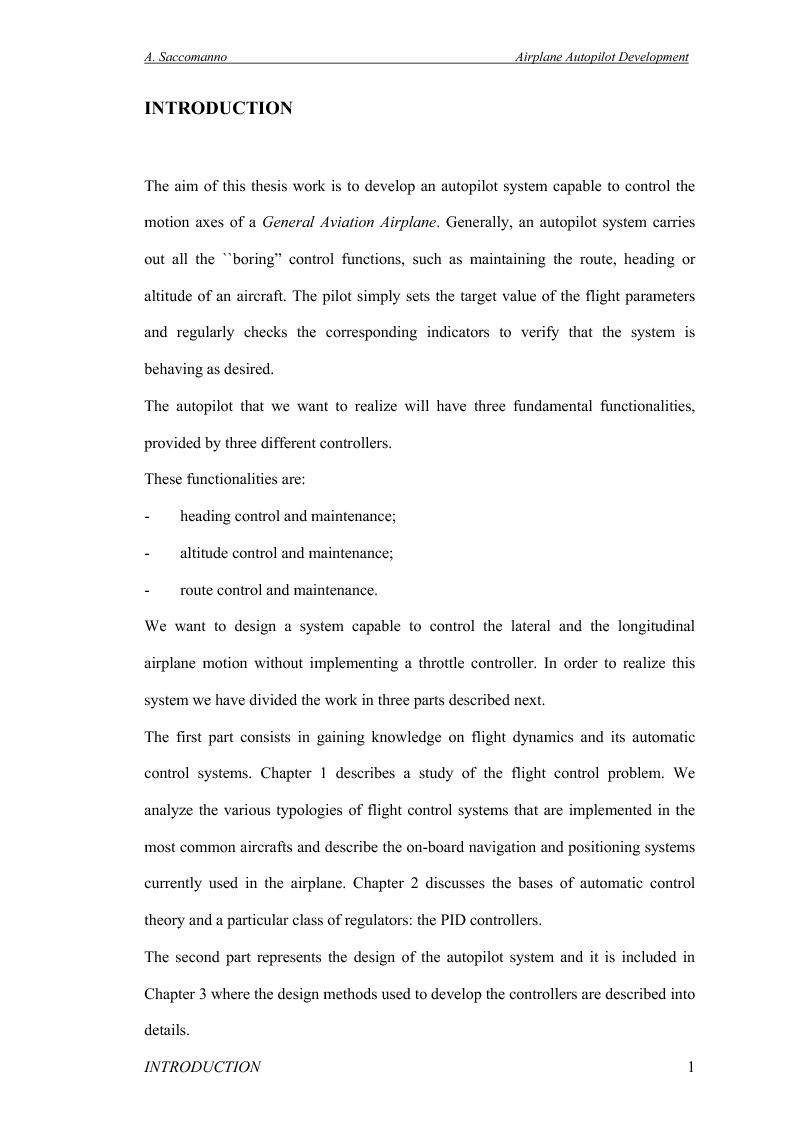 Mostra/Nascondi contenuto.
A. Saccomanno Airplane Autopilot Development INTRODUCTION The aim of this thesis work is to develop an autopilot system capable to control the motion axes of a General Aviation Airplane. Generally, an autopilot system carries out all the ``boring" control functions, such as maintaining the route, heading or altitude of an aircraft. The pilot simply sets the target value of the flight parameters and regularly checks the corresponding indicators to verify that the system is behaving as desired. The autopilot that we want to realize will have three fundamental functionalities, provided by three different controllers. These functionalities are: - heading control and maintenance; - altitude control and maintenance; - route control and maintenance. We want to design a system capable to control the lateral and the longitudinal airplane motion without implementing a throttle controller. In order to realize this system we have divided the work in three parts described next. The first part consists in gaining knowledge on flight dynamics and its automatic control systems. Chapter 1 describes a study of the flight control problem. We analyze the various typologies of flight control systems that are implemented in the most common aircrafts and describe the on-board navigation and positioning systems currently used in the airplane. Chapter 2 discusses the bases of automatic control theory and a particular class of regulators: the PID controllers. The second part represents the design of the autopilot system and it is included in Chapter 3 where the design methods used to develop the controllers are described into details. INTRODUCTION 1
Laurea liv.I
Facoltà: Ingegneria
Autore: Andrea Saccomanno Contatta »
Composta da 110 pagine.
Questa tesi ha raggiunto 984 click dal 10/01/2007.
Consultata integralmente 13 volte.
Disponibile in PDF, la consultazione è esclusivamente in formato digitale.