A study of knowledge and behaviour in relation to the risk of HIV among injecting drug users in Bhaktapur district of Nepal
The overall objective of the study was to assess the present knowledge and behavior in relation to the risk of HIV among injecting Drug Users (IDUs) of Bhaktapur district, Nepal. The study employed descriptive as well explor4ative research design without proposing any hypothesis for testing. Both primary and secondary data were used, but primary data were mainly used to analyze the present knowledge and behavior of IDUs in Bhaktapur district. Whereas, secondary data were used at the time of literature review of the study reviewing the various publications and previous research studies pertained to the field of study. Interview was the major technique applied in order to collect primary data from IDUs. A form of questionnaire was used to collect primary data from IDUs. Structured with close and open ended questions were used in the questionnaire.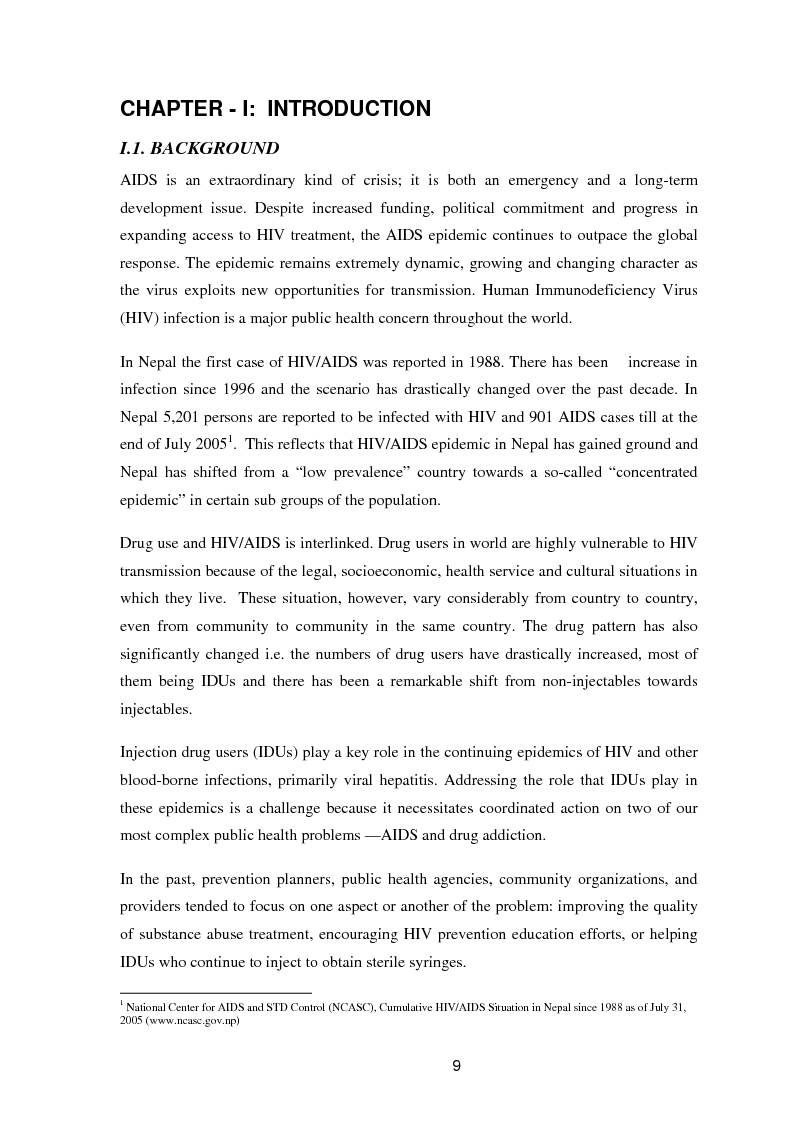 Mostra/Nascondi contenuto.
CHAPTER - I: INTRODUCTION I.1. BACKGROUND AIDS is an extraordinary kind of crisis; it is both an emergency and a long-term development issue. Despite increased funding, political commitment and progress in expanding access to HIV treatment, the AIDS epidemic continues to outpace the global response. The epidemic remains extremely dynamic, growing and changing character as the virus exploits new opportunities for transmission. Human Immunodeficiency Virus (HIV) infection is a major public health concern throughout the world. In Nepal the first case of HIV/AIDS was reported in 1988. There has been increase in infection since 1996 and the scenario has drastically changed over the past decade. In Nepal 5,201 persons are reported to be infected with HIV and 901 AIDS cases till at the end of July 2005 1 . This reflects that HIV/AIDS epidemic in Nepal has gained ground and Nepal has shifted from a "low prevalence" country towards a so-called "concentrated epidemic" in certain sub groups of the population. Drug use and HIV/AIDS is interlinked. Drug users in world are highly vulnerable to HIV transmission because of the legal, socioeconomic, health service and cultural situations in which they live. These situation, however, vary considerably from country to country, even from community to community in the same country. The drug pattern has also significantly changed i.e. the numbers of drug users have drastically increased, most of them being IDUs and there has been a remarkable shift from non-injectables towards injectables. Injection drug users (IDUs) play a key role in the continuing epidemics of HIV and other blood-borne infections, primarily viral hepatitis. Addressing the role that IDUs play in these epidemics is a challenge because it necessitates coordinated action on two of our most complex public health problems —AIDS and drug addiction. In the past, prevention planners, public health agencies, community organizations, and providers tended to focus on one aspect or another of the problem: improving the quality of substance abuse treatment, encouraging HIV prevention education efforts, or helping IDUs who continue to inject to obtain sterile syringes. 1 National Center for AIDS and STD Control (NCASC), Cumulative HIV/AIDS Situation in Nepal since 1988 as of July 31, 2005 (www.ncasc.gov.np) 9
International thesis/dissertation
Autore: Bishnu Prasad Shrestha Contatta »
Composta da 138 pagine.
Questa tesi ha raggiunto 95 click dal 09/02/2007.
Disponibile in PDF, la consultazione è esclusivamente in formato digitale.