Analiza Tranzactionala si Organizatia
The principal contribution that Transactional analysis (TA) can bring for professionals is to knit together under one comprehensive system a theoretical and practical framework that can help psychologists, counsellors, educators, consultants and managers to coordinate and extend their knowledge in an information-based, systematic, and soft manner.
TA can serve as a sophisticated, elegant, and effective system on which the practical activities of professionals in psychotherapy, counselling, education, and organizational management can be built. TA can be divided into five theoretical and practical conceptual clusters, among which: the Strokes Cluster (being related to terms like: "attachment," "intimacy," "warmth," "tender loving care," "need to belong," "contact," "closeness," "relationships," "social support," and "love"); the OK Cluster (correlated with "positive psychology," "human potential," "excellence," "optimism," "subjective well-being," "positive self-concept," "nature's helping hand," "the healing power of the mind."); the Script and Games Cluster ("maladaptive schemas," "self-narratives," "story schemas," "story grammars," "personal myths," "personal event memories," "self-defining memories","core self-beliefs," , "self-concept"); the Ego States and Transactions Cluster (the idea of three egos states and the transactional interactions between them are the most distinctive feature of transactional analysis); the Transactional Analysis Theory of Change Cluster (TA is essentially a cognitive-behavioural theory of personality and change). All the clusters mentioned above are being treated in the first part of this paperwork, establishing in this way the theory foundation and integrating the current stage of science development in this specific field.
The second part of our study focuses on how all basic TA concepts and tools actually apply to organizational environment, an environment which is subject to permanent change; the utmost challenge in the current working environment consists of trying to turn the diversity of individuals into a strong point, better than attempting not to take it into account and let conflicts arise and develop. Studying the effect of ego states, transactions, games, scripts, injunctions, permissions, programming upon our working style and general behaviour in professional life, TA also offers alternatives to improve all communication processes and eventually understand and feel the benefit of positive change within our work area; case studies are very frequent and they provide a relevant image on how things look like in real life. This second chapter ends up with some change and transition approaches, regarded also from TA point of view.
The last part of this paperwork is actually TA in practice, showing what happens during a corporate negotiation between 2 companies, how power games arise inside the 2 teams (and between them also) and which is the result of such an approach.
We hope you will enjoy the ideas and examples presented throughout this work and that you will find it useful for your own professional (and also general) relationship and communication development.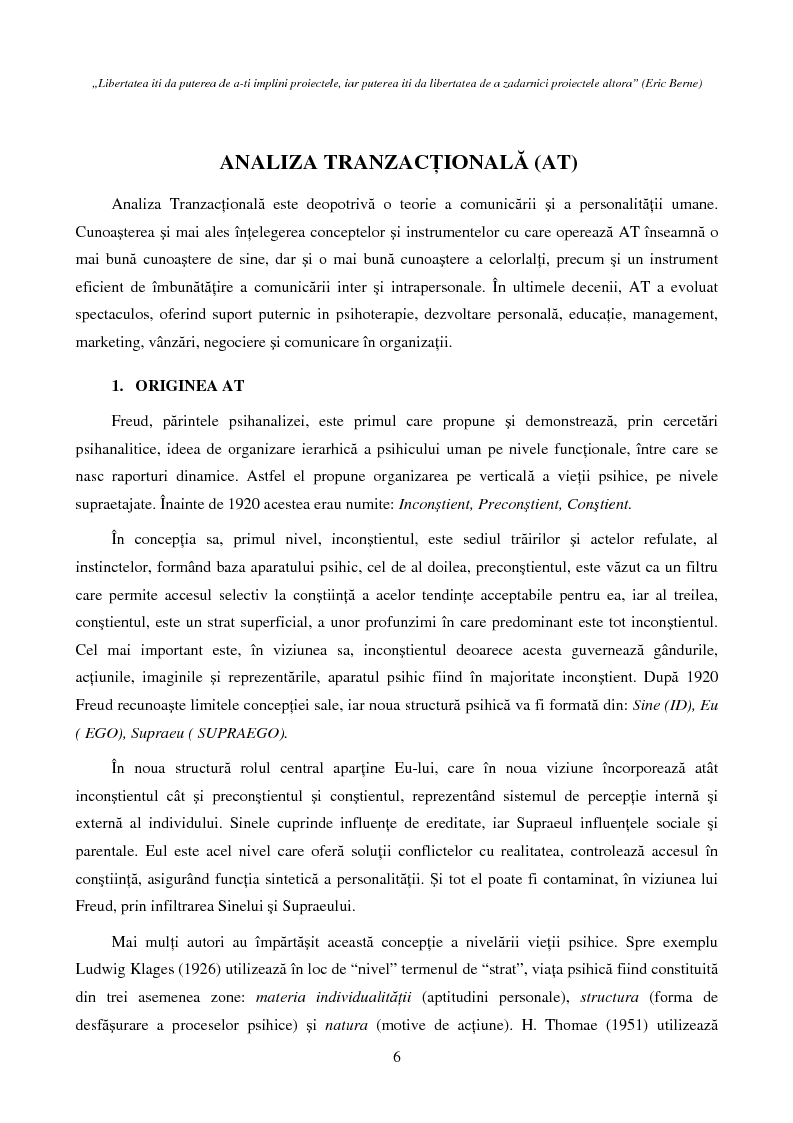 Mostra/Nascondi contenuto.
6 "Libertatea iti da puterea de a-ti implini proiectele, iar puterea iti da libertatea de a zadarnici proiectele altora" (Eric Berne) ANALIZA TRANZACŢIONALĂ (AT) Analiza Tranzacţională este deopotrivă o teorie a comunicării şi a personalităţii umane. Cunoaşterea şi mai ales înţelegerea conceptelor şi instrumentelor cu care operează AT înseamnă o mai bună cunoaştere de sine, dar şi o mai bună cunoaştere a celorlalţi, precum şi un instrument eficient de îmbunătăţire a comunicării inter şi intrapersonale. În ultimele decenii, AT a evoluat spectaculos, oferind suport puternic in psihoterapie, dezvoltare personală, educaţie, management, marketing, vânzări, negociere şi comunicare în organizaţii. 1. ORIGINEA AT Freud, părintele psihanalizei, este primul care propune şi demonstrează, prin cercetări psihanalitice, ideea de organizare ierarhică a psihicului uman pe nivele funcţionale, între care se nasc raporturi dinamice. Astfel el propune organizarea pe verticală a vieţii psihice, pe nivele supraetajate. Înainte de 1920 acestea erau numite: Inconştient, Preconştient, Conştient. În concepţia sa, primul nivel, inconştientul, este sediul trăirilor şi actelor refulate, al instinctelor, formând baza aparatului psihic, cel de al doilea, preconştientul, este văzut ca un filtru care permite accesul selectiv la conştiinţă a acelor tendinţe acceptabile pentru ea, iar al treilea, conştientul, este un strat superficial, a unor profunzimi în care predominant este tot inconştientul. Cel mai important este, în viziunea sa, inconştientul deoarece acesta guvernează gândurile, acţiunile, imaginile şi reprezentările, aparatul psihic fiind în majoritate inconştient. După 1920 Freud recunoaşte limitele concepţiei sale, iar noua structură psihică va fi formată din: Sine (ID), Eu ( EGO), Supraeu ( SUPRAEGO). În noua structură rolul central aparţine Eu-lui, care în noua viziune încorporează atât inconştientul cât şi preconştientul şi conştientul, reprezentând sistemul de percepţie internă şi externă al individului. Sinele cuprinde influenţe de ereditate, iar Supraeul influenţele sociale şi parentale. Eul este acel nivel care oferă soluţii conflictelor cu realitatea, controlează accesul în conştiinţă, asigurând funcţia sintetică a personalităţii. Şi tot el poate fi contaminat, în viziunea lui Freud, prin infiltrarea Sinelui şi Supraeului. Mai mulţi autori au împărtăşit această concepţie a nivelării vieţii psihice. Spre exemplu Ludwig Klages (1926) utilizează în loc de "nivel" termenul de "strat", viaţa psihică fiind constituită din trei asemenea zone: materia individualităţii (aptitudini personale), structura (forma de desfăşurare a proceselor psihice) şi natura (motive de acţiune). H. Thomae (1951) utilizează
International thesis/dissertation
Facoltà: Ştiinţe ale comunicării
Autore: Alina Calin Contatta »
Composta da 69 pagine.
Questa tesi ha raggiunto 674 click dal 30/04/2007.
Consultata integralmente 2 volte.
Disponibile in PDF, la consultazione è esclusivamente in formato digitale.