Family Home for Abandoned Minors: Realities and Prospects
This work treats about the family home for abandoned minors: Realities and prospects
Starting from December 31, 2006 based on law n. 149/2001 minors without a family of origin - about 20.000 in Italy, could no longer be welcomed in traditional institution. This procedure states, infact , that this structures may be superseeded with the probation of the minor into a famiy or with the insertion in a familiar community or family home.
Even if this thesis has been made at the beginning of the 90's it is useful to underline the validity of family homes, as an alternative to institutionalization, taking as examples experiences starting from the 80's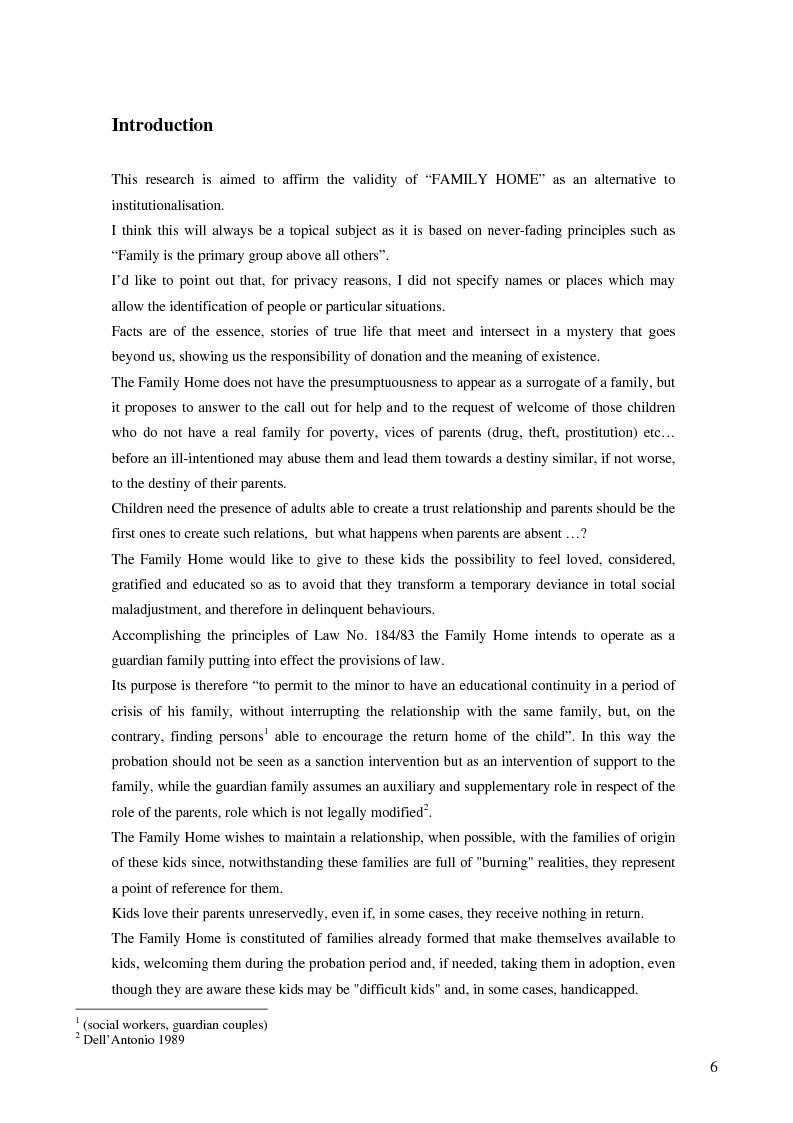 Mostra/Nascondi contenuto.
6 Introduction This research is aimed to affirm the validity of "FAMILY HOME" as an alternative to institutionalisation. I think this will always be a topical subject as it is based on never-fading principles such as "Family is the primary group above all others". I'd like to point out that, for privacy reasons, I did not specify names or places which may allow the identification of people or particular situations. Facts are of the essence, stories of true life that meet and intersect in a mystery that goes beyond us, showing us the responsibility of donation and the meaning of existence. The Family Home does not have the presumptuousness to appear as a surrogate of a family, but it proposes to answer to the call out for help and to the request of welcome of those children who do not have a real family for poverty, vices of parents (drug, theft, prostitution) etc… before an ill-intentioned may abuse them and lead them towards a destiny similar, if not worse, to the destiny of their parents. Children need the presence of adults able to create a trust relationship and parents should be the first ones to create such relations, but what happens when parents are absent …? The Family Home would like to give to these kids the possibility to feel loved, considered, gratified and educated so as to avoid that they transform a temporary deviance in total social maladjustment, and therefore in delinquent behaviours. Accomplishing the principles of Law No. 184/83 the Family Home intends to operate as a guardian family putting into effect the provisions of law. Its purpose is therefore "to permit to the minor to have an educational continuity in a period of crisis of his family, without interrupting the relationship with the same family, but, on the contrary, finding persons 1 able to encourage the return home of the child". In this way the probation should not be seen as a sanction intervention but as an intervention of support to the family, while the guardian family assumes an auxiliary and supplementary role in respect of the role of the parents, role which is not legally modified 2 . The Family Home wishes to maintain a relationship, when possible, with the families of origin of these kids since, notwithstanding these families are full of "burning" realities, they represent a point of reference for them. Kids love their parents unreservedly, even if, in some cases, they receive nothing in return. The Family Home is constituted of families already formed that make themselves available to kids, welcoming them during the probation period and, if needed, taking them in adoption, even though they are aware these kids may be "difficult kids" and, in some cases, handicapped. 1 (social workers, guardian couples) 2 Dell'Antonio 1989
Traduzione
Facoltà: Dir. Gen.le Istr. Universitaria - Vigilanza Università del Molise
Traduttore: Laura Negrini Contatta »
Composta da 103 pagine.
Questa tesi ha raggiunto 417 click dal 21/06/2007.
Disponibile in PDF, la consultazione è esclusivamente in formato digitale.