Poststructural Notions of Language and History in the Novels of Julian Barnes
In my thesis I elaborate on the literary creativity of Julian Barnes. My paper consists of two chapters entitled Language as Identity and Difference and History in Time and Space. The predominating part of each chapter is devoted to the position of individuals competing with meta-narratives of language, history, politics, religion, and culture. The ultimate outcome of the protagonists' proceedings is ambivalent in the sense that their efforts are successful only to some extent. However, at the same time, I illustrate that by opposing domination the protagonists manage to undermine the assumed rationale of social discourses and revise the long-established hierarchies of western values. In the first chapter, we have to do with a broad spectrum of ambiguities connected with the usage of language. Barnes's representation of linguistic reality comprises elements of both structural and poststructural linguistics. The author's analysis is based on the writings of many different philosophers and linguists such as: Wolfgang Iser, Ferdinand de Saussure, Mikhail Bakhtin, Roland Barthes, Jacques Derrida and Ludwig Wittgenstein. The subsequent part of the same chapter is devoted to the problem of fragmented narration- mainly with respect to Flaubert's Parrot. In the second chapter, I elaborate on the status of history in Barnes's novels. It is focused on the interrelations between history and society as well as history and individuals. This sort of research profile leads to posing further questions about the master-narratives that encapsulate the image of God and the vision of the whole world- in temporal and spatial terms. This interpretation is performed with the help of some French philosophers like Michel Foucault and Jean Baudrillard. The theoretical account of the linguistic and historical aspects of discourse, as they are presented by Barnes, allows me to describe the author as a left-wing one who rejects formal knowledge that circulates via social and political institutions. The scrutiny of Barnes's texts is the main point of departure to more general questions connected with contemporary literary theory and cultural studies.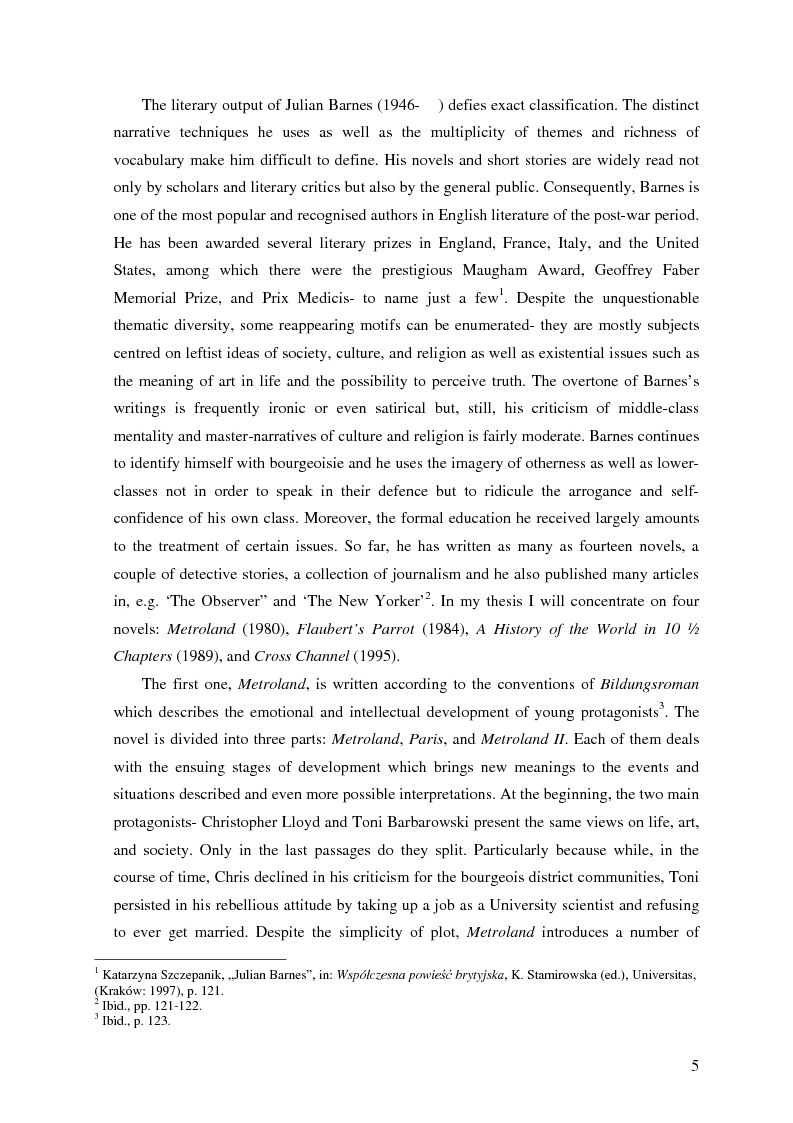 Mostra/Nascondi contenuto.
5 The literary output of Julian Barnes (1946- ) defies exact classification. The distinct narrative techniques he uses as well as the multiplicity of themes and richness of vocabulary make him difficult to define. His novels and short stories are widely read not only by scholars and literary critics but also by the general public. Consequently, Barnes is one of the most popular and recognised authors in English literature of the post-war period. He has been awarded several literary prizes in England, France, Italy, and the United States, among which there were the prestigious Maugham Award, Geoffrey Faber Memorial Prize, and Prix Medicis- to name just a few 1 . Despite the unquestionable thematic diversity, some reappearing motifs can be enumerated- they are mostly subjects centred on leftist ideas of society, culture, and religion as well as existential issues such as the meaning of art in life and the possibility to perceive truth. The overtone of Barnes's writings is frequently ironic or even satirical but, still, his criticism of middle-class mentality and master-narratives of culture and religion is fairly moderate. Barnes continues to identify himself with bourgeoisie and he uses the imagery of otherness as well as lower- classes not in order to speak in their defence but to ridicule the arrogance and self- confidence of his own class. Moreover, the formal education he received largely amounts to the treatment of certain issues. So far, he has written as many as fourteen novels, a couple of detective stories, a collection of journalism and he also published many articles in, e.g. 'The Observer" and 'The New Yorker' 2 . In my thesis I will concentrate on four novels: Metroland (1980), Flaubert's Parrot (1984), A History of the World in 10 ½ Chapters (1989), and Cross Channel (1995). The first one, Metroland, is written according to the conventions of Bildungsroman which describes the emotional and intellectual development of young protagonists 3 . The novel is divided into three parts: Metroland, Paris, and Metroland II. Each of them deals with the ensuing stages of development which brings new meanings to the events and situations described and even more possible interpretations. At the beginning, the two main protagonists- Christopher Lloyd and Toni Barbarowski present the same views on life, art, and society. Only in the last passages do they split. Particularly because while, in the course of time, Chris declined in his criticism for the bourgeois district communities, Toni persisted in his rebellious attitude by taking up a job as a University scientist and refusing to ever get married. Despite the simplicity of plot, Metroland introduces a number of 1 Katarzyna Szczepanik, "Julian Barnes", in: Współczesna powieść brytyjska, K. Stamirowska (ed.), Universitas, (Kraków: 1997), p. 121. 2 Ibid., pp. 121-122. 3 Ibid., p. 123.
International thesis/dissertation
Autore: Daria Przybyla Contatta »
Composta da 71 pagine.
Questa tesi ha raggiunto 102 click dal 02/07/2007.
Disponibile in PDF, la consultazione è esclusivamente in formato digitale.