Application of chemical-physical and mechanical tests for the definition of wine grape quality
There is an old Aussie saying: "to make great wine, get great grapes and don't trip on the mat." We have known for decades that the more you do to a wine, on the vine and in the winery, the less it can deliver what Mother Nature put into it and which Father Time can only enhance.
The two most vital aspects of the characteristics of a truly great wine are the varietal definition and the regional typicity. We all know that it is possible to make a dark, heavy wine by manipulation, but who ever said that that trait was a prerequisite for a wine being great and the only significant criterion for making that claim?
A truly great wine could not be simply more of the same thing; the great wines all had their own unique distinctiveness that came from their cultivars and vineyards. We realize that the grape varietal has an equal and vitally important companion, which is the essence of what the region brings to it.
Many advances have been made in understanding of how the grape berry develops and of the components that are important in wine. No doubt, the quality of our wines has improved as a direct result of being able to manipulate the grape berry through production practices.
It is already apparent that a winemaker can influence wine style through grape-growing practices and through process manipulations but this is not possible without a complete knowledge of the raw material. The trick is to understand the what, when, and how of such manipulation.
This work is an example of the application of traditional and innovative analytical and measurement methods for a better understanding of the varietal notion and its importance in the winemaking field. It is intended for those who want to know more about the contribution of some grape characteristics in varietal classification, differentiation and in the prediction of the grape behavior during the winemaking process. Such information can contribute to a rational management of the winemaking process and valorization of the grape potentialities related to the cultivar and to the territory.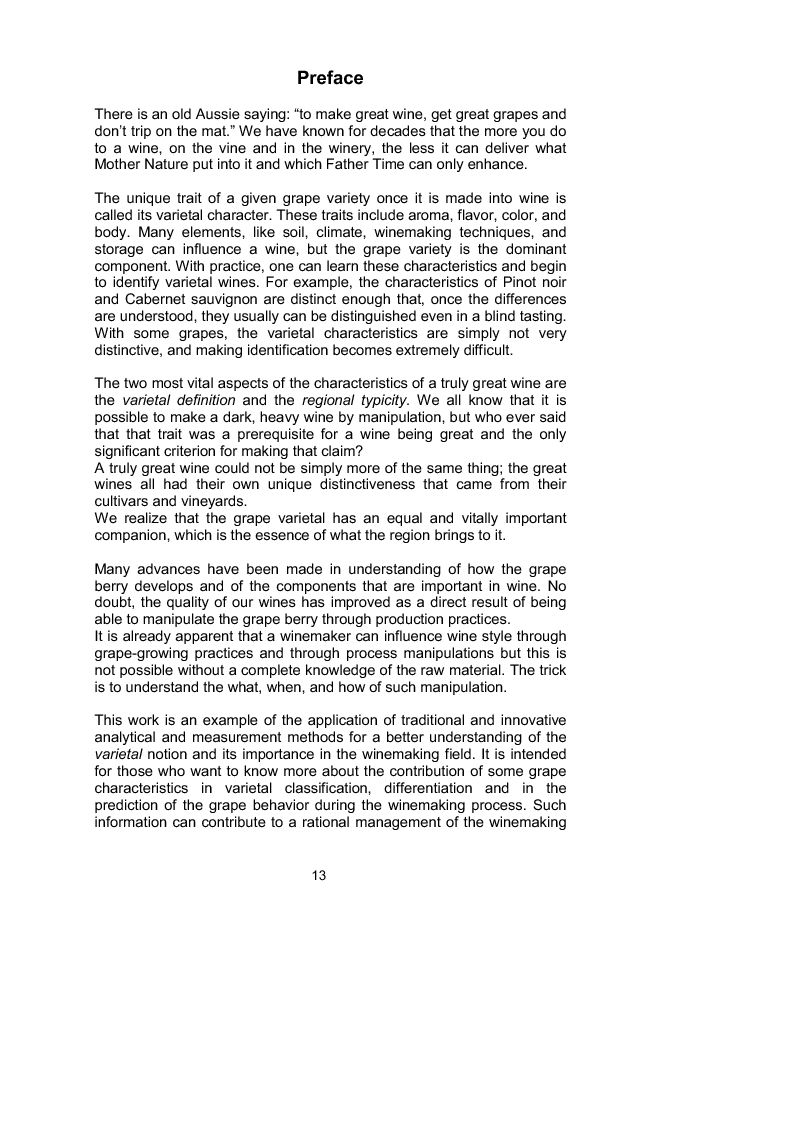 Mostra/Nascondi contenuto.
3UHIDFH 7KHUHLVDQROG$XVVLHVD\LQJ³WRPDNHJUHDWZLQHJHWJUHDWJUDSHVDQG GRQ¶WWULSRQWKHPDW´:HKDYHNQRZQIRUGHFDGHVWKDWWKHPRUH\RXGR WR D ZLQH RQ WKH YLQH DQG LQ WKHZLQHU\ WKH OHVV LW FDQ GHOLYHU ZKDW 0RWKHU1DWXUHSXWLQWRLWDQGZKLFK)DWKHU7LPHFDQRQO\HQKDQFH 7KH XQLTXH WUDLW RI D JLYHQJUDSH YDULHW\ RQFH LW LVPDGH LQWR ZLQH LV FDOOHGLWVYDULHWDOFKDUDFWHU7KHVHWUDLWVLQFOXGHDURPDIODYRUFRORUDQG ERG\ 0DQ\ HOHPHQWV OLNH VRLO FOLPDWH ZLQHPDNLQJ WHFKQLTXHV DQG VWRUDJH FDQ LQIOXHQFH D ZLQH EXW WKH JUDSH YDULHW\ LV WKH GRPLQDQW FRPSRQHQW:LWKSUDFWLFHRQHFDQOHDUQWKHVHFKDUDFWHULVWLFVDQGEHJLQ WR LGHQWLI\YDULHWDOZLQHV)RUH[DPSOH WKHFKDUDFWHULVWLFVRI3LQRWQRLU DQG&DEHUQHWVDXYLJQRQDUHGLVWLQFWHQRXJK WKDWRQFH WKHGLIIHUHQFHV DUHXQGHUVWRRGWKH\XVXDOO\FDQEHGLVWLQJXLVKHGHYHQLQDEOLQGWDVWLQJ :LWK VRPH JUDSHV WKH YDULHWDO FKDUDFWHULVWLFV DUH VLPSO\ QRW YHU\ GLVWLQFWLYHDQGPDNLQJLGHQWLILFDWLRQEHFRPHVH[WUHPHO\GLIILFXOW 7KHWZRPRVWYLWDODVSHFWVRIWKHFKDUDFWHULVWLFVRIDWUXO\JUHDWZLQHDUH WKH YDULHWDO GHILQLWLRQ DQG WKH UHJLRQDO W\SLFLW\ :H DOO NQRZ WKDW LW LV SRVVLEOHWRPDNHDGDUNKHDY\ZLQHE\PDQLSXODWLRQEXWZKRHYHUVDLG WKDW WKDW WUDLW ZDV D SUHUHTXLVLWH IRU D ZLQH EHLQJ JUHDW DQG WKH RQO\ VLJQLILFDQWFULWHULRQIRUPDNLQJWKDWFODLP" $WUXO\JUHDWZLQHFRXOGQRWEHVLPSO\PRUHRIWKHVDPHWKLQJWKHJUHDW ZLQHV DOO KDG WKHLU RZQ XQLTXH GLVWLQFWLYHQHVV WKDW FDPH IURP WKHLU FXOWLYDUVDQGYLQH\DUGV :H UHDOL]H WKDW WKH JUDSH YDULHWDO KDV DQ HTXDO DQG YLWDOO\ LPSRUWDQW FRPSDQLRQZKLFKLVWKHHVVHQFHRIZKDWWKHUHJLRQEULQJVWRLW 0DQ\ DGYDQFHV KDYH EHHQ PDGH LQ XQGHUVWDQGLQJ RI KRZ WKH JUDSH EHUU\ GHYHORSV DQG RI WKH FRPSRQHQWV WKDW DUH LPSRUWDQW LQ ZLQH 1R GRXEW WKHTXDOLW\RIRXUZLQHVKDV LPSURYHGDVDGLUHFWUHVXOWRIEHLQJ DEOHWRPDQLSXODWHWKHJUDSHEHUU\WKURXJKSURGXFWLRQSUDFWLFHV ,WLVDOUHDG\DSSDUHQWWKDWDZLQHPDNHUFDQLQIOXHQFHZLQHVW\OHWKURXJK JUDSHJURZLQJSUDFWLFHV DQG WKURXJK SURFHVVPDQLSXODWLRQVEXW WKLV LV QRWSRVVLEOHZLWKRXWDFRPSOHWHNQRZOHGJHRIWKHUDZPDWHULDO7KHWULFN LVWRXQGHUVWDQG WKHZKDWZKHQDQGKRZRIVXFKPDQLSXODWLRQ 7KLVZRUN LVDQH[DPSOHRI WKHDSSOLFDWLRQRI WUDGLWLRQDODQG LQQRYDWLYH DQDO\WLFDODQGPHDVXUHPHQWPHWKRGVIRUDEHWWHUXQGHUVWDQGLQJRI WKH YDULHWDO QRWLRQDQG LWV LPSRUWDQFHLQWKHZLQHPDNLQJILHOG,W LV LQWHQGHG IRUWKRVHZKRZDQWWRNQRZPRUHDERXWWKHFRQWULEXWLRQRIVRPHJUDSH FKDUDFWHULVWLFV LQ YDULHWDO FODVVLILFDWLRQ GLIIHUHQWLDWLRQ DQG LQ WKH SUHGLFWLRQRI WKHJUDSHEHKDYLRUGXULQJ WKHZLQHPDNLQJSURFHVV6XFK LQIRUPDWLRQFDQFRQWULEXWHWRDUDWLRQDOPDQDJHPHQWRIWKHZLQHPDNLQJ
Tesi di Dottorato
Dipartimento: DiVaPRA Microbiology and Food Industry sector
Autore: Hend Letaief Contatta »
Composta da 150 pagine.
Questa tesi ha raggiunto 285 click dal 12/02/2008.
Consultata integralmente una volta.
Disponibile in PDF, la consultazione è esclusivamente in formato digitale.