Autism and methods of treatment
From the analysis of the principal nosographic classification of childish psychosis to different conception of autism with its principal points of strenght and points of weakness. The analisys of the causes of the autistic disorder evidences a multifactorial nature towards which the great part of the scientific world is inclined.
It follows a description of the principal methods of treatment, as a direct consequence of the conception above described. A particular regard is give to the TEACCH Program of Schopler.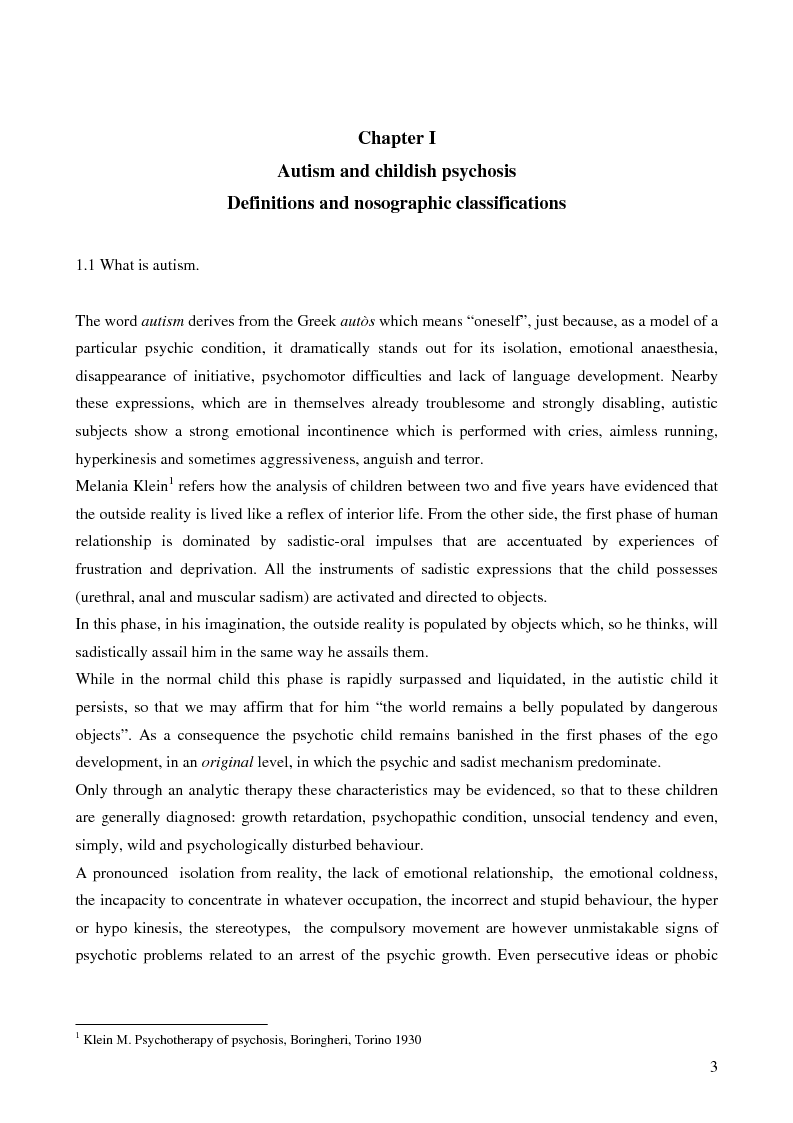 Mostra/Nascondi contenuto.
3 Chapter I Autism and childish psychosis Definitions and nosographic classifications 1.1 What is autism. The word autism derives from the Greek autòs which means "oneself", just because, as a model of a particular psychic condition, it dramatically stands out for its isolation, emotional anaesthesia, disappearance of initiative, psychomotor difficulties and lack of language development. Nearby these expressions, which are in themselves already troublesome and strongly disabling, autistic subjects show a strong emotional incontinence which is performed with cries, aimless running, hyperkinesis and sometimes aggressiveness, anguish and terror. Melania Klein 1 refers how the analysis of children between two and five years have evidenced that the outside reality is lived like a reflex of interior life. From the other side, the first phase of human relationship is dominated by sadistic-oral impulses that are accentuated by experiences of frustration and deprivation. All the instruments of sadistic expressions that the child possesses (urethral, anal and muscular sadism) are activated and directed to objects. In this phase, in his imagination, the outside reality is populated by objects which, so he thinks, will sadistically assail him in the same way he assails them. While in the normal child this phase is rapidly surpassed and liquidated, in the autistic child it persists, so that we may affirm that for him "the world remains a belly populated by dangerous objects". As a consequence the psychotic child remains banished in the first phases of the ego development, in an original level, in which the psychic and sadist mechanism predominate. Only through an analytic therapy these characteristics may be evidenced, so that to these children are generally diagnosed: growth retardation, psychopathic condition, unsocial tendency and even, simply, wild and psychologically disturbed behaviour. A pronounced isolation from reality, the lack of emotional relationship, the emotional coldness, the incapacity to concentrate in whatever occupation, the incorrect and stupid behaviour, the hyper or hypo kinesis, the stereotypes, the compulsory movement are however unmistakable signs of psychotic problems related to an arrest of the psychic growth. Even persecutive ideas or phobic 1 Klein M. Psychotherapy of psychosis, Boringheri, Torino 1930
Traduzione
Facoltà: Lettere e Filosofia
Traduttore: Laura Negrini Contatta »
Composta da 50 pagine.
Questa tesi ha raggiunto 717 click dal 22/02/2008.
Disponibile in PDF, la consultazione è esclusivamente in formato digitale.