E-learning and Distance Learning for students with disabilities
In this thesis I analize the different handicaps in relation to the possibility to use Distance Learning and E-learning for the education to disabled students. The possibility offered by Distance Learning are useful to reach a good and higher education. Problems are today the access to information and technology for these persons, often the accessibilty of internet, websites and documents create barriers. For the implementation of e-learning but also for publishing documents visual, earing, mobility and cognitive handicaps we have to analise all problems and find solutions, the w3c principles helps us. How can we use e-learning for disabled students?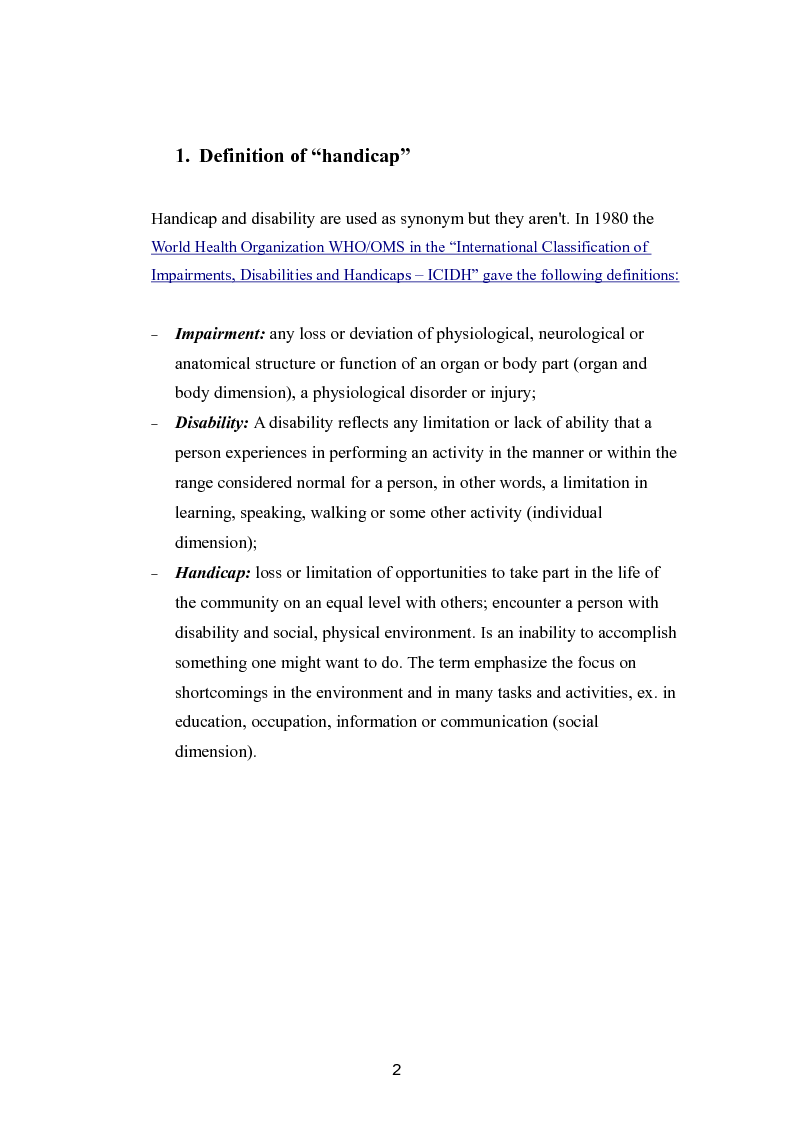 Mostra/Nascondi contenuto.
1. Definition of "handicap" Handicap and disability are used as synonym but they aren't. In 1980 the World Health Organization WHO/OMS in the "International Classification of Impairments, Disabilities and Handicaps – ICIDH" gave the following definitions: − Impairment: any loss or deviation of physiological, neurological or anatomical structure or function of an organ or body part (organ and body dimension), a physiological disorder or injury; − Disability: A disability reflects any limitation or lack of ability that a person experiences in performing an activity in the manner or within the range considered normal for a person, in other words, a limitation in learning, speaking, walking or some other activity (individual dimension); − Handicap: loss or limitation of opportunities to take part in the life of the community on an equal level with others; encounter a person with disability and social, physical environment. Is an inability to accomplish something one might want to do. The term emphasize the focus on shortcomings in the environment and in many tasks and activities, ex. in education, occupation, information or communication (social dimension). 2
Traduzione
Facoltà: Lettere e Filosofia
Traduttore: Manuela Ticozzi Contatta »
Composta da 56 pagine.
Questa tesi ha raggiunto 406 click dal 21/03/2008.
Consultata integralmente una volta.
Disponibile in PDF, la consultazione è esclusivamente in formato digitale.