Searching for a Global language: A Debate in the Global English Era
The search for a means of international communication is problem that men of every age and every place tried to solve. Some linguists created artificial languages as Esperanto, but without success. More recently, it was concluded that existing languages are the most effective solutions, as evidenced by the English language and its status as the international language. This thesis is focoused mainly on English: the reasons of its success, the way it is used, some criticism and possible future scenarios where it might lose its leading position.
Some spects of its distribution are discussed too, as the "ELT English Language Teaching" and its cultural implications.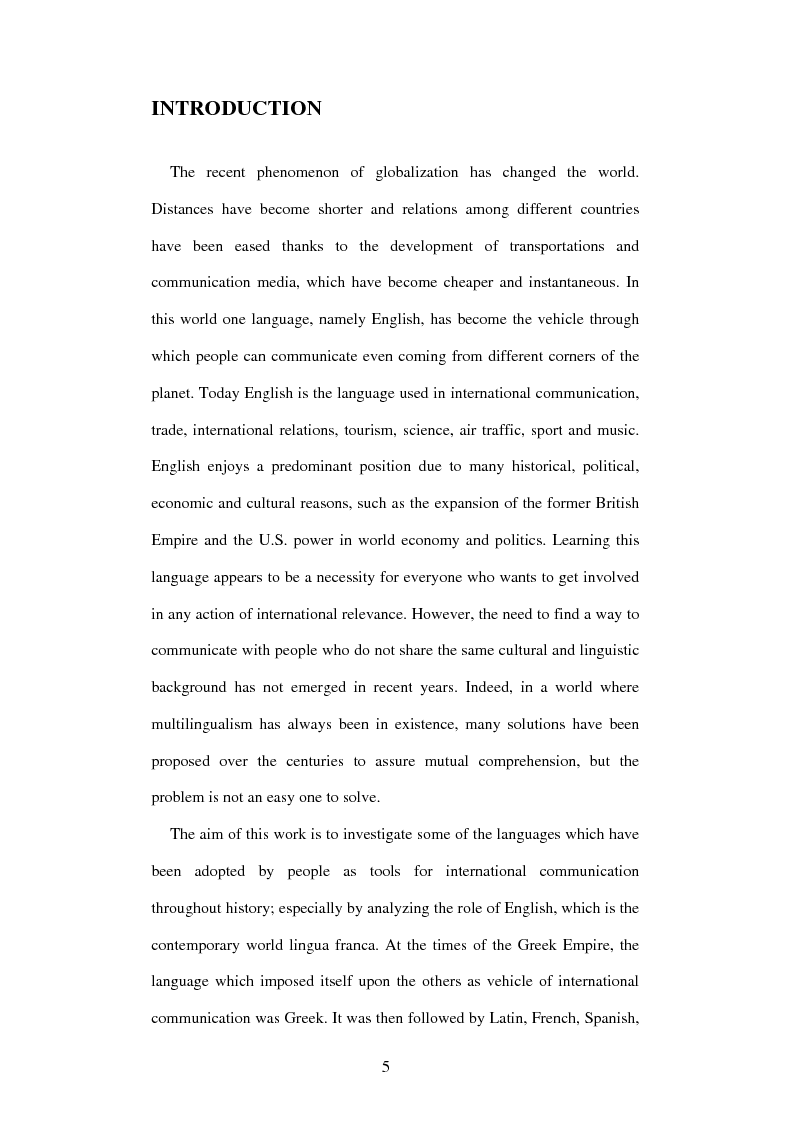 Mostra/Nascondi contenuto.
5 INTRODUCTION The recent phenomenon of globalization has changed the world. Distances have become shorter and relations among different countries have been eased thanks to the development of transportations and communication media, which have become cheaper and instantaneous. In this world one language, namely English, has become the vehicle through which people can communicate even coming from different corners of the planet. Today English is the language used in international communication, trade, international relations, tourism, science, air traffic, sport and music. English enjoys a predominant position due to many historical, political, economic and cultural reasons, such as the expansion of the former British Empire and the U.S. power in world economy and politics. Learning this language appears to be a necessity for everyone who wants to get involved in any action of international relevance. However, the need to find a way to communicate with people who do not share the same cultural and linguistic background has not emerged in recent years. Indeed, in a world where multilingualism has always been in existence, many solutions have been proposed over the centuries to assure mutual comprehension, but the problem is not an easy one to solve. The aim of this work is to investigate some of the languages which have been adopted by people as tools for international communication throughout history; especially by analyzing the role of English, which is the contemporary world lingua franca. At the times of the Greek Empire, the language which imposed itself upon the others as vehicle of international communication was Greek. It was then followed by Latin, French, Spanish,
Laurea liv.II (specialistica)
Facoltà: Interfacoltà: Lettere e Filosofia + Scienze Politiche
Autore: Alida Rozzarin Contatta »
Composta da 205 pagine.
Questa tesi ha raggiunto 1158 click dal 10/04/2008.
Consultata integralmente 6 volte.
Disponibile in PDF, la consultazione è esclusivamente in formato digitale.