Children's aggressiveness and bullying: problems and educational perspectives
The purpose of this thesis is to analise by an educational approach one of the aggressive behavior of the children: the bullying.
The first part of the research is focused to the theoretical studies of bullying as a communication expression. The second part analyse bullying in Italy, in Europe and in non-European countries. From the definition and analysis of the phenomenon the thesis moves to causes and the presentation of innovative intervention strategies.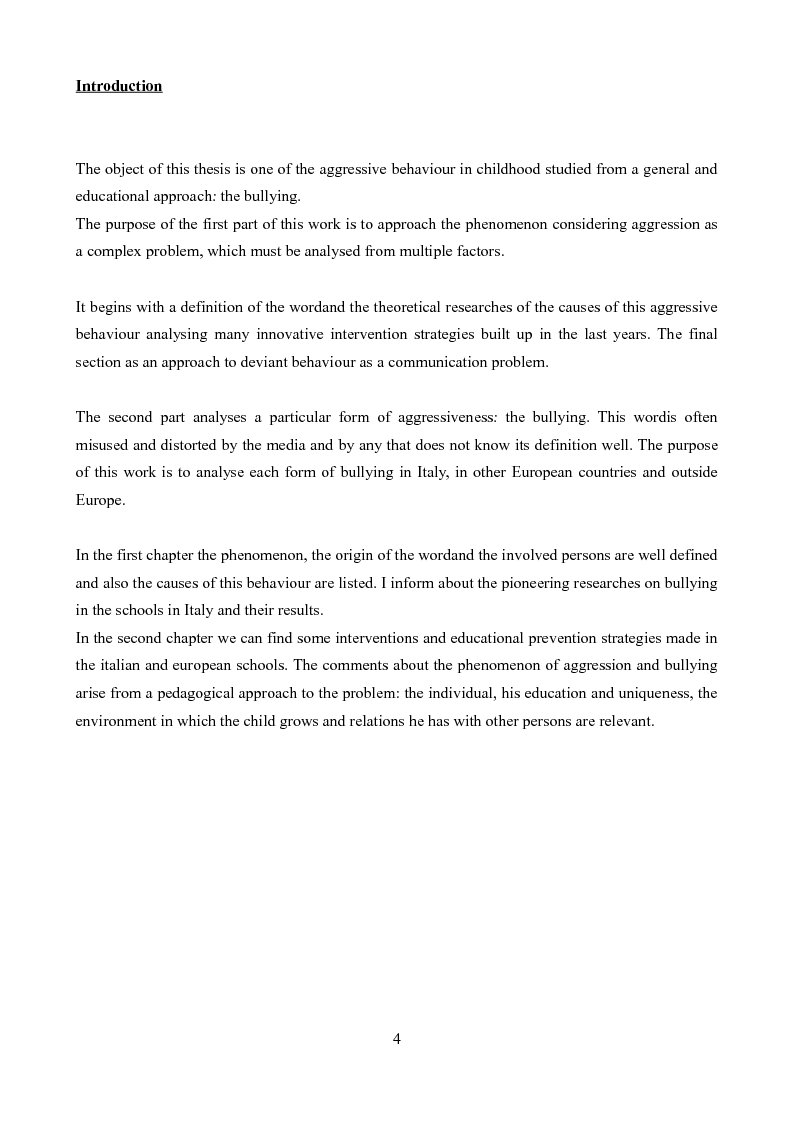 Mostra/Nascondi contenuto.
Introduction The object of this thesis is one of the aggressive behaviour in childhood studied from a general and educational approach: the bullying. The purpose of the first part of this work is to approach the phenomenon considering aggression as a complex problem, which must be analysed from multiple factors. It begins with a definition of the wordand the theoretical researches of the causes of this aggressive behaviour analysing many innovative intervention strategies built up in the last years. The final section as an approach to deviant behaviour as a communication problem. The second part analyses a particular form of aggressiveness: the bullying. This wordis often misused and distorted by the media and by any that does not know its definition well. The purpose of this work is to analyse each form of bullying in Italy, in other European countries and outside Europe. In the first chapter the phenomenon, the origin of the wordand the involved persons are well defined and also the causes of this behaviour are listed. I inform about the pioneering researches on bullying in the schools in Italy and their results. In the second chapter we can find some interventions and educational prevention strategies made in the italian and european schools. The comments about the phenomenon of aggression and bullying arise from a pedagogical approach to the problem: the individual, his education and uniqueness, the environment in which the child grows and relations he has with other persons are relevant. 4
Traduzione
Facoltà: Scienze della Formazione
Traduttore: Manuela Ticozzi Contatta »
Composta da 120 pagine.
Questa tesi ha raggiunto 566 click dal 13/06/2008.
Disponibile in PDF, la consultazione è esclusivamente in formato digitale.