From Earth to Light, from Archaeological Site to Internet Website - Archaeology and Public between Excavation and Communication
This thesis tries to trace a journey "from Earth to light", which starts from Archaeological excavation, of which there are described scientific basis and technique, and arrives to the presentation in public of evidences, to Archaeological sites' valorisation, to musealisation and to diffusion's forms as experimental Archaeology or Archaeology's journalistic treatment.

They are studied specific cases like the Archeofilmfest of Forlì, the Archaeological Cinema's Festival of Rovereto, the Crow Canyon Archaeological Center of Colorado, the Jorvik Viking Centre of York, the Archaeo-mining park of Rocca San Silvestro in Campiglia Marittima, the paleo-Christian basilica of Saint Lawrence in Aosta and at last the Experimental Archaeological Centre of Turin.

The thesis, which treats an issue not completely treated in the Italian specific literature, has been edited drawing in a profitable way to a wide bibliography also in foreign languages, which is attached at the end of the thesis.

I think to have to point out the usefulness of a multidisciplinary and integrated approach to the research of the Italian historical-Archaeological heritage, profitable not only because it suggests new patterns of presentation and tourist-economic exploitation of sites and parks, but also because it finds in these same modes the natural completion of Archaeological research.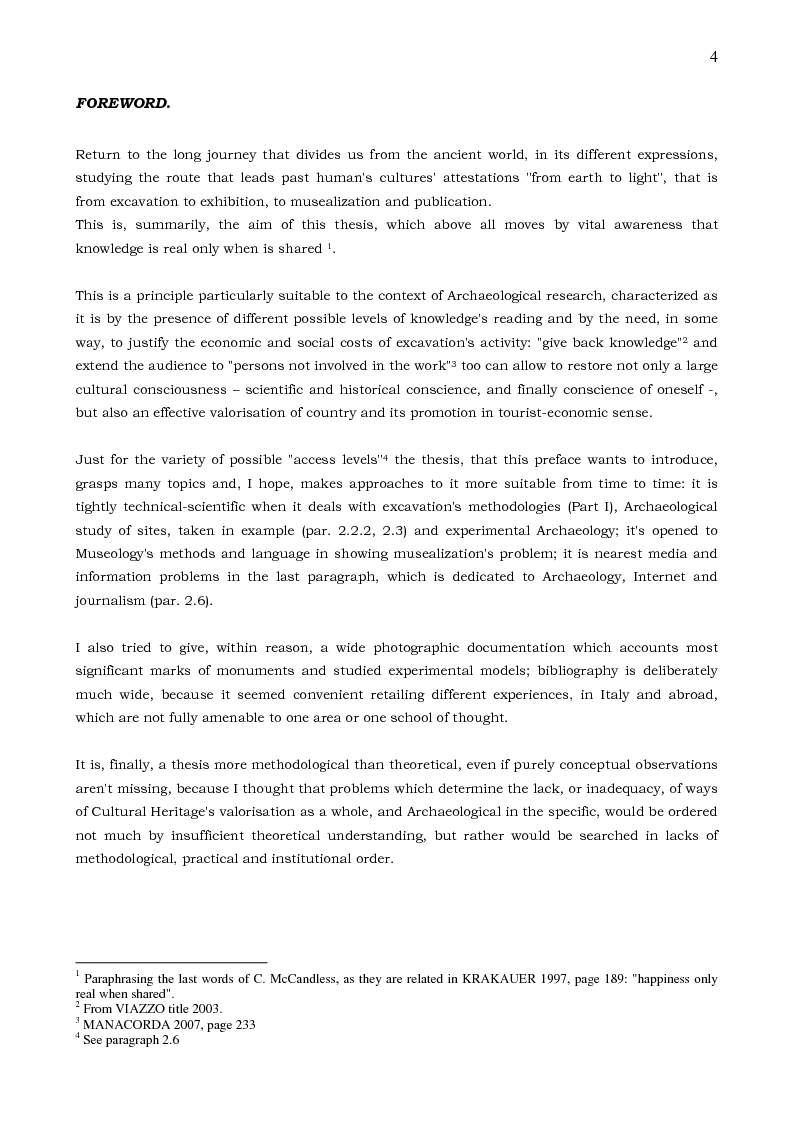 Mostra/Nascondi contenuto.
4 FOREWORD. Return to the long journey that divides us from the ancient world, in its different expressions, studying the route that leads past human's cultures' attestations "from earth to light", that is from excavation to exhibition, to musealization and publication. This is, summarily, the aim of this thesis, which above all moves by vital awareness that knowledge is real only when is shared 1. This is a principle particularly suitable to the context of Archaeological research, characterized as it is by the presence of different possible levels of knowledge's reading and by the need, in some way, to justify the economic and social costs of excavation's activity: "give back knowledge"2 and extend the audience to "persons not involved in the work"3 too can allow to restore not only a large cultural consciousness – scientific and historical conscience, and finally conscience of oneself -, but also an effective valorisation of country and its promotion in tourist-economic sense. Just for the variety of possible "access levels"4 the thesis, that this preface wants to introduce, grasps many topics and, I hope, makes approaches to it more suitable from time to time: it is tightly technical-scientific when it deals with excavation's methodologies (Part I), Archaeological study of sites, taken in example (par. 2.2.2, 2.3) and experimental Archaeology; it's opened to Museology's methods and language in showing musealization's problem; it is nearest media and information problems in the last paragraph, which is dedicated to Archaeology, Internet and journalism (par. 2.6). I also tried to give, within reason, a wide photographic documentation which accounts most significant marks of monuments and studied experimental models; bibliography is deliberately much wide, because it seemed convenient retailing different experiences, in Italy and abroad, which are not fully amenable to one area or one school of thought. It is, finally, a thesis more methodological than theoretical, even if purely conceptual observations aren't missing, because I thought that problems which determine the lack, or inadequacy, of ways of Cultural Heritage's valorisation as a whole, and Archaeological in the specific, would be ordered not much by insufficient theoretical understanding, but rather would be searched in lacks of methodological, practical and institutional order. 1 Paraphrasing the last words of C. McCandless, as they are related in KRAKAUER 1997, page 189: "happiness only real when shared". 2 From VIAZZO title 2003. 3 MANACORDA 2007, page 233 4 See paragraph 2.6
Traduzione
Facoltà: Lettere e Filosofia
Traduttore: Cristina Settembri Contatta »
Composta da 45 pagine.
Questa tesi ha raggiunto 594 click dal 20/10/2008.
Disponibile in PDF, la consultazione è esclusivamente in formato digitale.