Food unsafety: a burden for developing countries. The case of mycotoxins
After a description of food safety, this work analyzes the role of food safety in food security (quality and hygiene of food in food safety). Then the work shows what happens with the presence of mycotoxins in foodstuffs of developing countries, both by a medical and economic point of view. Finally, the paper examines the existing food policies and regulations and actions to protect the economy and the health of populations of less developed countries.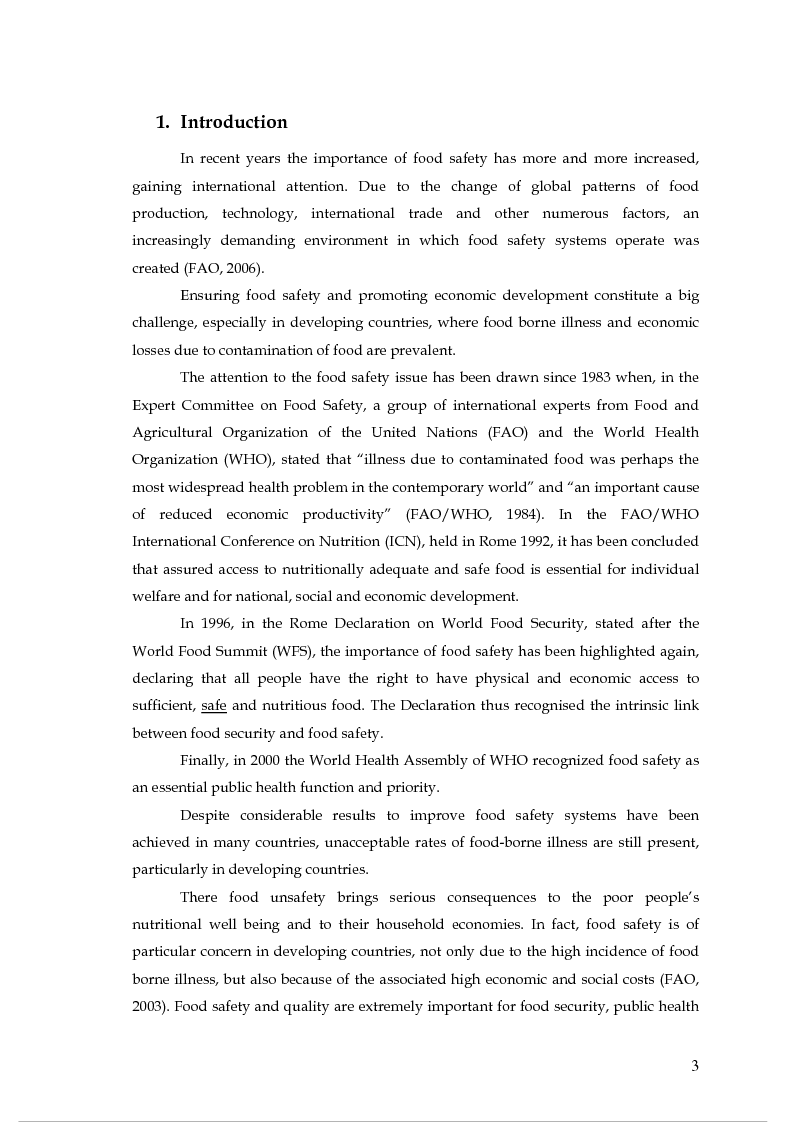 Mostra/Nascondi contenuto.
3 1. Introduction In recent years the importance of food safety has more and more increased, gaining international attention. Due to the change of global patterns of food production, technology, international trade and other numerous factors, an increasingly demanding environment in which food safety systems operate was created (FAO, 2006). Ensuring food safety and promoting economic development constitute a big challenge, especially in developing countries, where food borne illness and economic losses due to contamination of food are prevalent. The attention to the food safety issue has been drawn since 1983 when, in the Expert Committee on Food Safety, a group of international experts from Food and Agricultural Organization of the United Nations (FAO) and the World Health Organization (WHO), stated that "illness due to contaminated food was perhaps the most widespread health problem in the contemporary world" and "an important cause of reduced economic productivity" (FAO/WHO, 1984). In the FAO/WHO International Conference on Nutrition (ICN), held in Rome 1992, it has been concluded that assured access to nutritionally adequate and safe food is essential for individual welfare and for national, social and economic development. In 1996, in the Rome Declaration on World Food Security, stated after the World Food Summit (WFS), the importance of food safety has been highlighted again, declaring that all people have the right to have physical and economic access to sufficient, safe and nutritious food. The Declaration thus recognised the intrinsic link between food security and food safety. Finally, in 2000 the World Health Assembly of WHO recognized food safety as an essential public health function and priority. Despite considerable results to improve food safety systems have been achieved in many countries, unacceptable rates of food-borne illness are still present, particularly in developing countries. There food unsafety brings serious consequences to the poor people's nutritional well being and to their household economies. In fact, food safety is of particular concern in developing countries, not only due to the high incidence of food borne illness, but also because of the associated high economic and social costs (FAO, 2003). Food safety and quality are extremely important for food security, public health
Tesi di Master
Autore: Ilaria Proietti Contatta »
Composta da 48 pagine.
Questa tesi ha raggiunto 294 click dal 12/02/2009.
Disponibile in PDF, la consultazione è esclusivamente in formato digitale.