A Concept Creation Methodology within Second Life immersive virtual environment for Product Development
Design led innovation in creating concepts for product development is often dominated by the backgrounds and positions of individuals. This research has explored the use of the Second Life for concept creation where backgrounds and job roles are not visible within a virtual team environment. Second Life enables its users to interact with each other through motional avatars that are able to meet other residents, socialize, hold meetings and debates and otherwise do business.

Second Life is the most popular virtual environment with potential to support collaborative working. The research has detailed the research findings and development of a concept creation methodology for concepts creation within the Second Life. The research enabled a critical analysis of collaborative concept creation within Second Life, its advantages, disadvantages and areas of improvement. Some benefits that were found for Second Life's concept creation abilities were possible reduction of concept creation costs, time and individuals' travels; however, limitations such as communications difficulties and poor tools were also found during the research.


NB: LA TESI E' SCRITTA IN INGLESE!!!!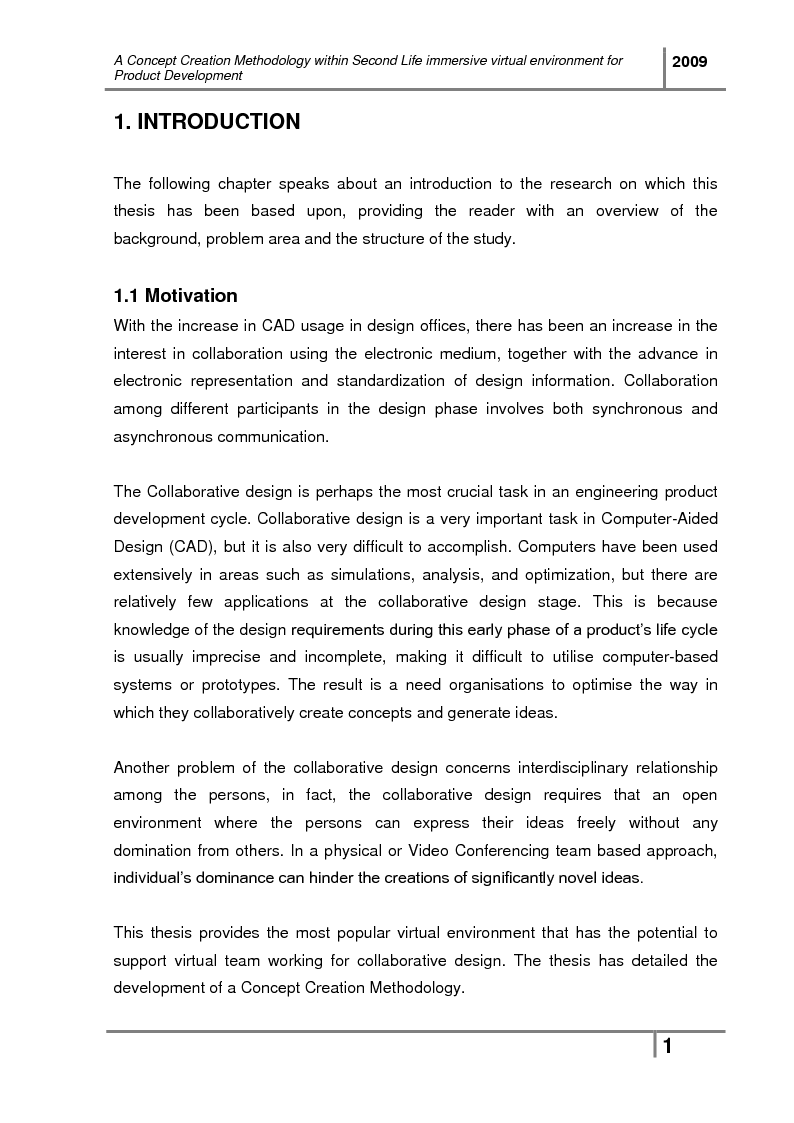 Mostra/Nascondi contenuto.
A Concept Creation Methodology within Second Life immersive virtual environment for Product Development 2009 1 1. INTRODUCTION The following chapter speaks about an introduction to the research on which this thesis has been based upon, providing the reader with an overview of the background, problem area and the structure of the study. 1.1 Motivation With the increase in CAD usage in design offices, there has been an increase in the interest in collaboration using the electronic medium, together with the advance in electronic representation and standardization of design information. Collaboration among different participants in the design phase involves both synchronous and asynchronous communication. The Collaborative design is perhaps the most crucial task in an engineering product development cycle. Collaborative design is a very important task in Computer-Aided Design (CAD), but it is also very difficult to accomplish. Computers have been used extensively in areas such as simulations, analysis, and optimization, but there are relatively few applications at the collaborative design stage. This is because knowledge of the design requirements during this early phase of a product's life cycle is usually imprecise and incomplete, making it difficult to utilise computer-based systems or prototypes. The result is a need organisations to optimise the way in which they collaboratively create concepts and generate ideas. Another problem of the collaborative design concerns interdisciplinary relationship among the persons, in fact, the collaborative design requires that an open environment where the persons can express their ideas freely without any domination from others. In a physical or Video Conferencing team based approach, individual's dominance can hinder the creations of significantly novel ideas. This thesis provides the most popular virtual environment that has the potential to support virtual team working for collaborative design. The thesis has detailed the development of a Concept Creation Methodology.
Laurea liv.II (specialistica)
Facoltà: Ingegneria
Autore: Alessandro Colli Contatta »
Composta da 147 pagine.
Questa tesi ha raggiunto 169 click dal 22/04/2009.
Disponibile in PDF, la consultazione è esclusivamente in formato digitale.