Environmental Degradation through Anthropogenic Impacts on the Black Sea and its Coasts
During the last three decades the Black Sea has experienced severe environmental degradation in terms of its biodiversity, habitats, recreational value and water quality. It has been exposed to natural and environmental fluctuations and more recently to strong anthropogenic stresses. Now it is facing a huge ecological disequilibrium which could finally turn this body of water into a dead sea .The environmental crisis is a direct consequence of the increasing human activities along the sea shores, since the Black Sea is a regional sea and it is of a great economic importance for the countries situated around its coasts. It supports a booming tourist business, a fishery, and transport, served by large sea ports, large industrial and agricultural activities. Due to these economic and industrial activities, Black Sea is experiencing severe environmental problems such as eutrophication, chemical, oil and bacterial pollution, as well as biological pollution through the accidental introduction of invasive species. Urgent actions and cooperative approaches for its rehabilitation should be implemented. The following paper provides basic information for the present environmental state of the Black Sea basin, the problems that are facing its ecosystem and the implementation of different environmental programmes and conventions. Finally conclusions are made that corporate and effective approaches can both restore and protect Black Sea and its biological resources.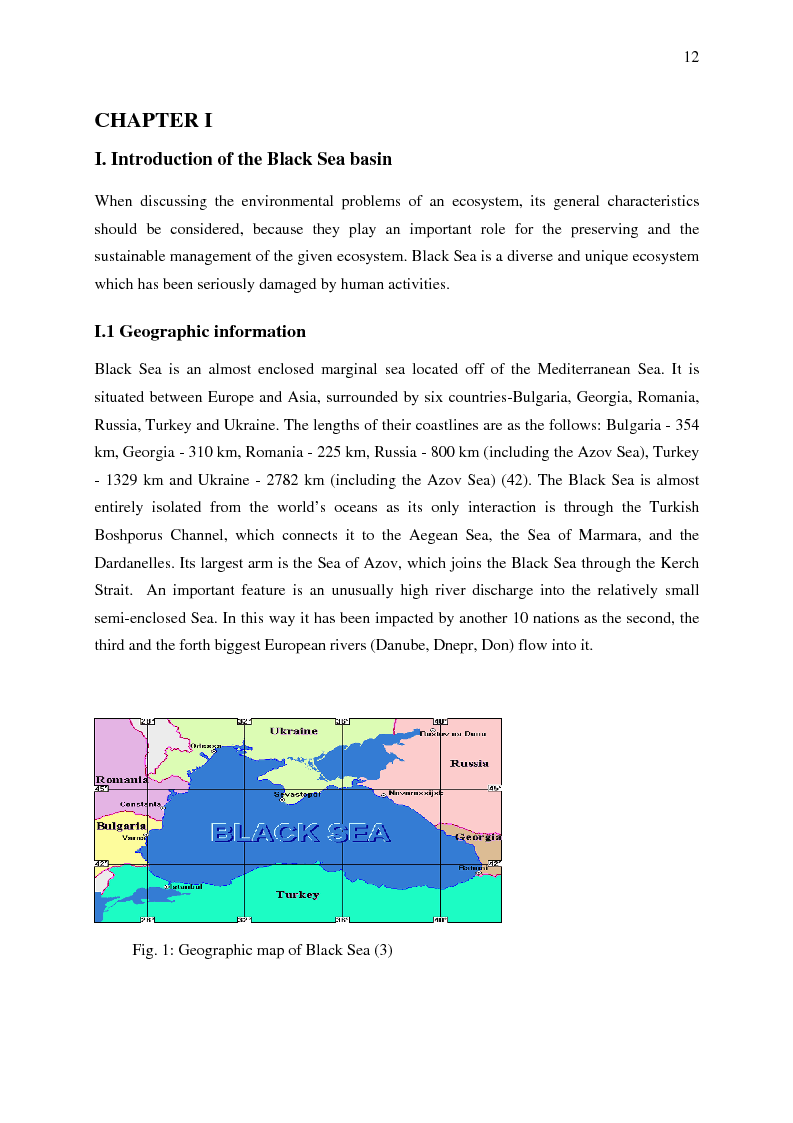 Mostra/Nascondi contenuto.
12 CHAPTER I I. Introduction of the Black Sea basin When discussing the environmental problems of an ecosystem, its general characteristics should be considered, because they play an important role for the preserving and the sustainable management of the given ecosystem. Black Sea is a diverse and unique ecosystem which has been seriously damaged by human activities. I.1 Geographic information Black Sea is an almost enclosed marginal sea located off of the Mediterranean Sea. It is situated between Europe and Asia, surrounded by six countries-Bulgaria, Georgia, Romania, Russia, Turkey and Ukraine. The lengths of their coastlines are as the follows: Bulgaria - 354 km, Georgia - 310 km, Romania - 225 km, Russia - 800 km (including the Azov Sea), Turkey - 1329 km and Ukraine - 2782 km (including the Azov Sea) (42). The Black Sea is almost entirely isolated from the world's oceans as its only interaction is through the Turkish Boshporus Channel, which connects it to the Aegean Sea, the Sea of Marmara, and the Dardanelles. Its largest arm is the Sea of Azov, which joins the Black Sea through the Kerch Strait. An important feature is an unusually high river discharge into the relatively small semi-enclosed Sea. In this way it has been impacted by another 10 nations as the second, the third and the forth biggest European rivers (Danube, Dnepr, Don) flow into it. Fig. 1: Geographic map of Black Sea (3)
International thesis/dissertation
Autore: Tanya Baycheva Contatta »
Composta da 74 pagine.
Questa tesi ha raggiunto 61 click dal 13/05/2009.
Disponibile in PDF, la consultazione è esclusivamente in formato digitale.