Biodiesel production plant project integrated to a plant for biomasses cogeneration and an existing alcohol production.
It has been studied the fulfilment feasibility of a biodiesel production plant in cogeneration with an existing steam turbine alimented by vegetable biomasses and a marcs dealcoholization system. The biodiesel production is completely renewable because it is produced by ethanol (and not by methanol as usual), have been studied all the transesterifications combinations among different oils (soya, colza, sunflower, palm, brassica carinata), alcohol (ethanol and metanol) and basic catalyst (sodium hydroxide and potassium). Saline extractive distillation application with calcium chloride by ethanol-water azeotrope break obtaining completely anhydrous ethanol.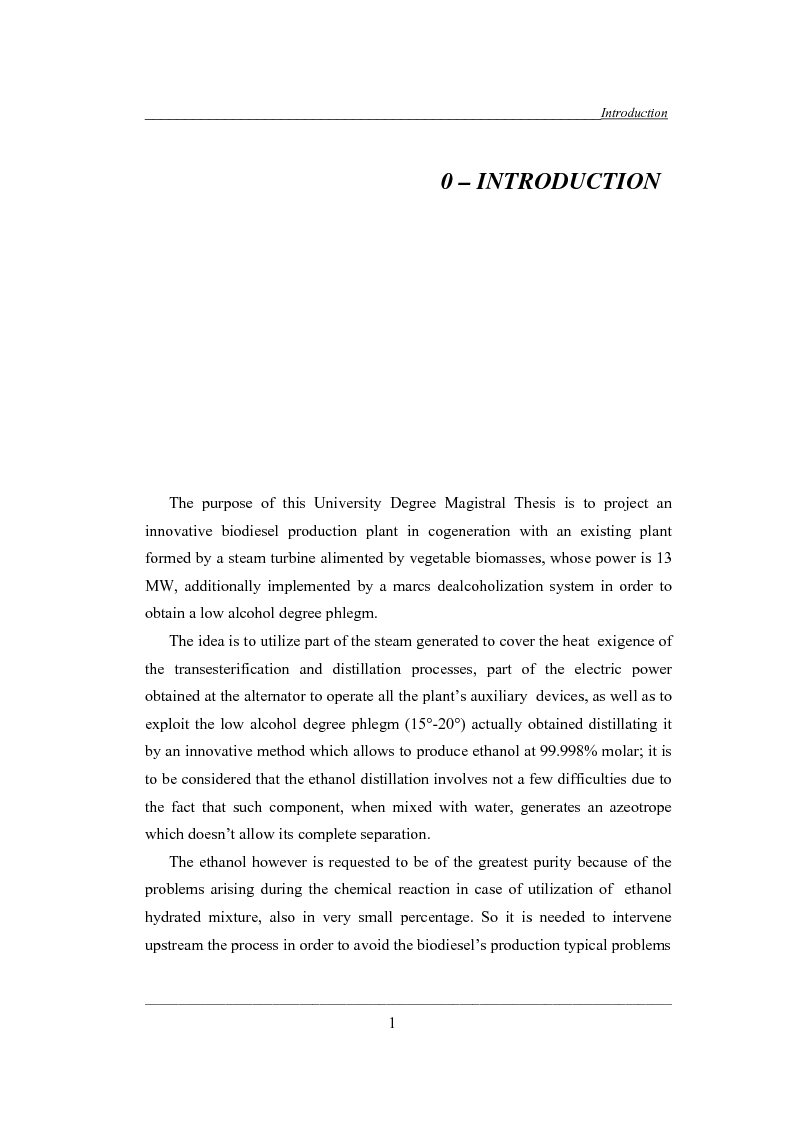 Mostra/Nascondi contenuto.
_________________________________________________________Introduction 0 – INTRODUCTION The purpose of this University Degree Magistral Thesis is to project an innovative biodiesel production plant in cogeneration with an existing plant formed by a steam turbine alimented by vegetable biomasses, whose power is 13 MW, additionally implemented by a marcs dealcoholization system in order to obtain a low alcohol degree phlegm. The idea is to utilize part of the steam generated to cover the heat exigence of the transesterification and distillation processes, part of the electric power obtained at the alternator to operate all the plant's auxiliary devices, as well as to exploit the low alcohol degree phlegm (15°-20°) actually obtained distillating it by an innovative method which allows to produce ethanol at 99.998% molar; it is to be considered that the ethanol distillation involves not a few difficulties due to the fact that such component, when mixed with water, generates an azeotrope which doesn't allow its complete separation. The ethanol however is requested to be of the greatest purity because of the problems arising during the chemical reaction in case of utilization of ethanol hydrated mixture, also in very small percentage. So it is needed to intervene upstream the process in order to avoid the biodiesel's production typical problems _______________________________________________________________________________ 1
Traduzione
Facoltà: Ingegneria
Traduttore: Franco Orlandini Contatta »
Composta da 165 pagine.
Questa tesi ha raggiunto 333 click dal 05/06/2009.
Disponibile in PDF, la consultazione è esclusivamente in formato digitale.