Pittori in scena. Teatro contemporaneo e arti figurative
The aim of my degree thesis is to investigate, through the analysis of four contemporary British and American plays, the way in which theatre and figurative arts come into contact, giving birth to a modern and eclectic theatre. Picasso's Women , My Matisse , Red on Black and Yo! Picasso! Beside Picasso , although they all deal with figurative arts, profoundly differ the one from the other in their structure and in the themes they explore. Brian McAvera's Picasso's Women and Howard Ginsberg's My Matisse, to which the first chapter is dedicated, respectively put on stage some of the women in Pablo Picasso and Henri Matisse's life; both McAvera and Ginsberg's plays – the first one through a series of eight monologues while the second one commingling monologue and dialogue into an original dramatic form – concentrate on the relationship between the artists and their women, presenting the two painters from a very intimate viewpoint. Andrew Bridgmont's Red on Black and Brian McAvera's other play, Yo! Picasso! Beside Picasso choose instead to put the artists, Rothko and Picasso, directly on stage; through their dialogue with another character – a dialogue which becomes a duologue in Bridgmont's play and which evolves into a role-play in McAvera's one – various themes, such as the role of the artist in society or the economic values of a masterpiece, are profoundly looked into.
However, notwithstanding the richness of each play and the differences between them, there are some common considerations to make, necessary to better understand the inter-relationship between figurative arts and contemporary theatre. The first of these considerations regards the meta-theatrical and meta-artistic value of each play. By putting artists on stage and by discussing topics related to the Arts, the three playwrights wish to offer their critical viewpoint on one of the most lively debates of our contemporary society: must art be only politically committed? Must it take on a religious sense? Must it be purely entertaining? These questions have strongly arisen in Great Britain since the 1990s: it was the era of Cool Britannia, which saw an enormous development of figurative arts, music and theatre and in which "britishness" became synonym of a young and active lifestyle. Today, even if things have changed and article newspapers exalting the coolness of Britain have disappeared, the debate on the arts is still current and even more necessary. Playwrights like McAvera, Ginbserg and Bridgmont do not provide explicit answers to the questions they raise: it is the theatregoer who should reflect on these interrogatives and give their own personal answer, not only about the future of art, and of course of theatre, but also about their own role of critical audience. In the case of plays like the four analysed in my degree thesis, the role of the audience is particularly important. It is quite obvious that the more the theatregoers know about the artist, his life and his work, the more they will appreciate and understand the play; still, all pièces are enjoyable even by those who are less acquainted with figurative arts and who will subsequently concentrate on the more gossipy aspects of the plays. However, playwrights want their audience to be as collaborative as possible: to let the plays work in all their complexity, the theatre-viewer must be ready to modify their opinion about a given artist, integrating their previous knowledge about him with the new information they get from the plays' characters. In this way, a portrait of the painter is slowly created on stage and continuously change according to the audience and even to the director's interpretation.
The last but probably most important consideration regards the structure of the play itself: playwrights actually borrow techniques from the figurative arts and use them to create plays which in a way become reflections of the work of art. This happens in McAvera's texts, which aim to reproduce the fragmentation and plurality of perspectives of a cubist painting or sculpture; it is also true for My Matisse, whose mixed structure of monologue and dialogue imitates the simplification of Matisse's art without reaching the extreme destructuration typical of cubism and of a sequence of successive monologues. Finally, this mechanism works for Red on Black, in which the relationship between the two characters, Rothko and Joe, seems to reflect the peculiar geometry of Rothko's canvases.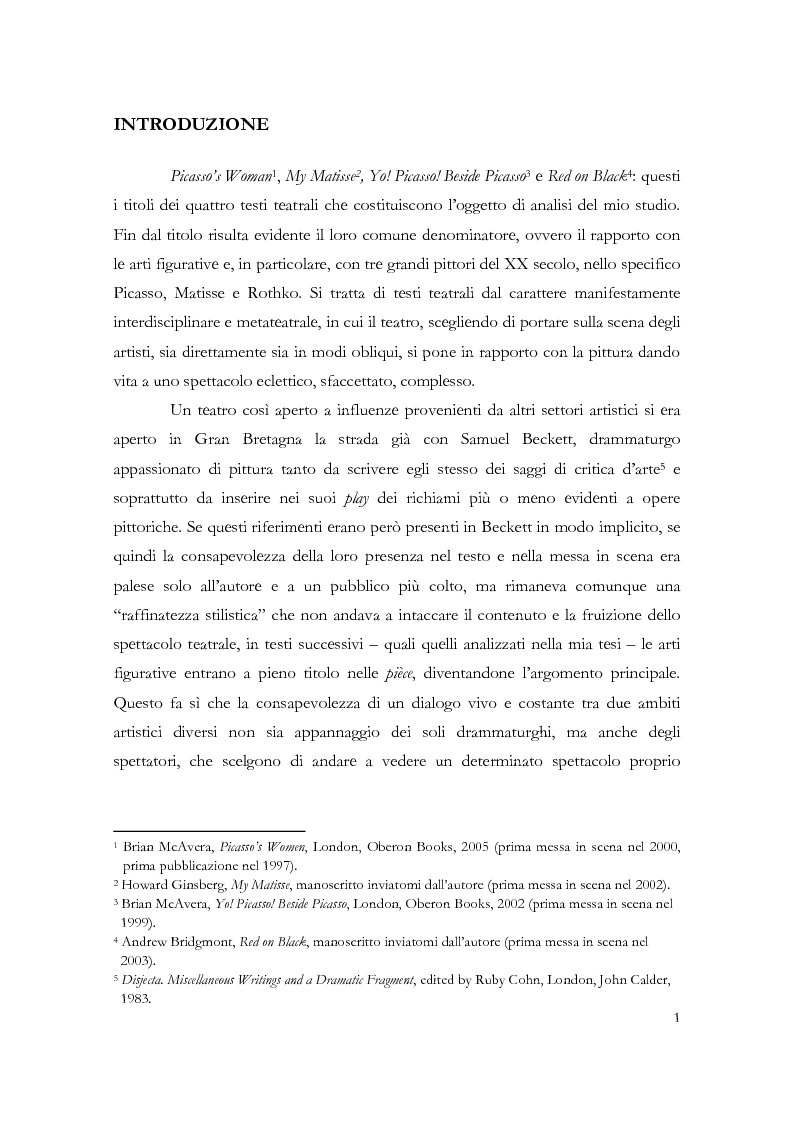 Mostra/Nascondi contenuto.
1 INTRODUZIONE Picasso's Woman 1 , My Matisse 2 , Yo! Picasso! Beside Picasso 3 e Red on Black 4 : questi i titoli dei quattro testi teatrali che costituiscono l'oggetto di analisi del mio studio. Fin dal titolo risulta evidente il loro comune denominatore, ovvero il rapporto con le arti figurative e, in particolare, con tre grandi pittori del XX secolo, nello specifico Picasso, Matisse e Rothko. Si tratta di testi teatrali dal carattere manifestamente interdisciplinare e metateatrale, in cui il teatro, scegliendo di portare sulla scena degli artisti, sia direttamente sia in modi obliqui, si pone in rapporto con la pittura dando vita a uno spettacolo eclettico, sfaccettato, complesso. Un teatro così aperto a influenze provenienti da altri settori artistici si era aperto in Gran Bretagna la strada già con Samuel Beckett, drammaturgo appassionato di pittura tanto da scrivere egli stesso dei saggi di critica d'arte 5 e soprattutto da inserire nei suoi play dei richiami più o meno evidenti a opere pittoriche. Se questi riferimenti erano però presenti in Beckett in modo implicito, se quindi la consapevolezza della loro presenza nel testo e nella messa in scena era palese solo all'autore e a un pubblico più colto, ma rimaneva comunque una "raffinatezza stilistica" che non andava a intaccare il contenuto e la fruizione dello spettacolo teatrale, in testi successivi – quali quelli analizzati nella mia tesi – le arti figurative entrano a pieno titolo nelle pièce, diventandone l'argomento principale. Questo fa sì che la consapevolezza di un dialogo vivo e costante tra due ambiti artistici diversi non sia appannaggio dei soli drammaturghi, ma anche degli spettatori, che scelgono di andare a vedere un determinato spettacolo proprio 1 Brian McAvera, Picasso's Women, London, Oberon Books, 2005 (prima messa in scena nel 2000, prima pubblicazione nel 1997). 2 Howard Ginsberg, My Matisse, manoscritto inviatomi dall'autore (prima messa in scena nel 2002). 3 Brian McAvera, Yo! Picasso! Beside Picasso, London, Oberon Books, 2002 (prima messa in scena nel 1999). 4 Andrew Bridgmont, Red on Black, manoscritto inviatomi dall'autore (prima messa in scena nel 2003). 5 Disjecta. Miscellaneous Writings and a Dramatic Fragment, edited by Ruby Cohn, London, John Calder, 1983.
Laurea liv.II (specialistica)
Facoltà: Lingue e Letterature Europee ed Extraeuropee
Autore: Chiara Biscella Contatta »
Composta da 138 pagine.
Questa tesi ha raggiunto 1054 click dal 10/07/2009.
Consultata integralmente una volta.
Disponibile in PDF, la consultazione è esclusivamente in formato digitale.