Key Success Factors of Large Group Interventions
The increasing importance, popularity, and success of large group interventions have favored the creation and formalization of numerous different large group intervention methods and principles. This research study was based on existing theory on large group interventions, and a comparative analysis of the in-depth interview transcripts of 14 leading expert large group intervention practitioners, who either invented a methodology or led more than 20 large group interventions.

The assumptions that were found key to large group interventions are that humans are intrinsically social, that it is necessary to involve the whole relevant system to tackle the specific intent, and that a deep exchange between elements in the system that leads to shared learning at several social levels is essential. The most significant finding of this study compared to traditional literature is the centrality of the transpersonal qualities of groups. The engagement of both large and small groups and the mixing of diverse people are among the practices that mostly implement fundamental assumptions. The purpose, client system, and practitioner determine other complementary specific key success factors.

The study highlighted the necessity to further investigate the theory, the application, and the impact of masterful inquiry, social networking, and other subtle and still not precisely identified transpersonal qualities of groups.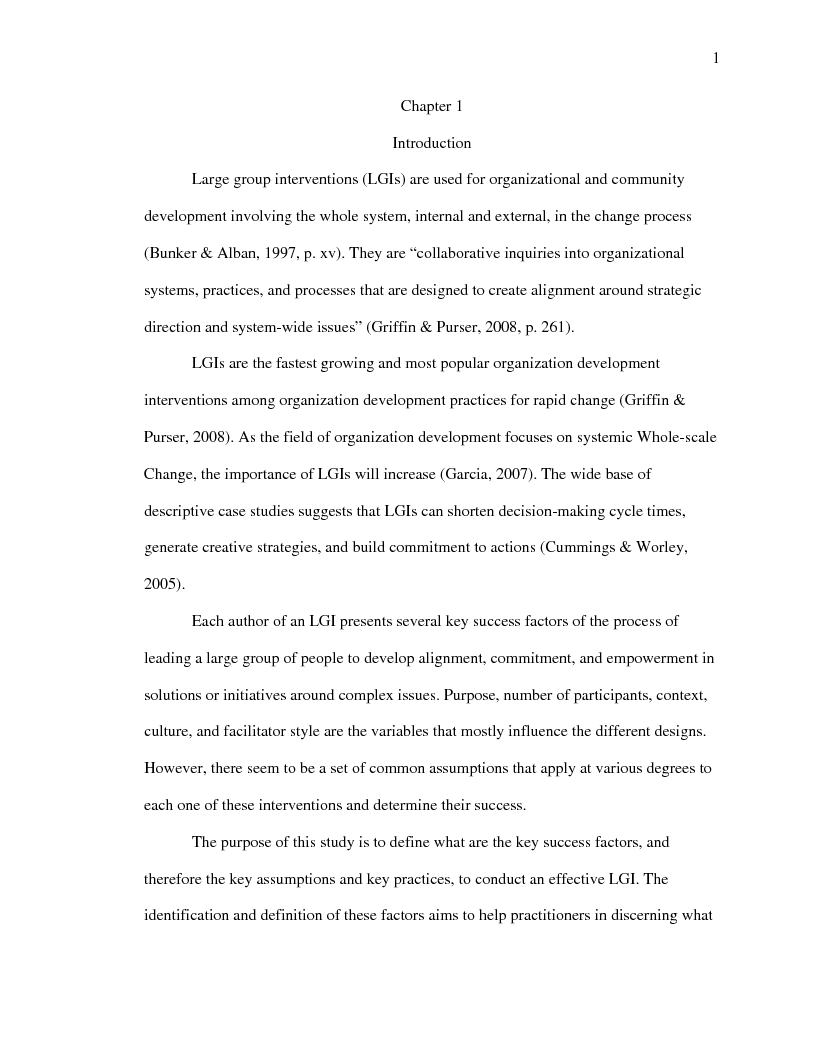 Mostra/Nascondi contenuto.
1 Chapter 1 Introduction Large group interventions (LGIs) are used for organizational and community development involving the whole system, internal and external, in the change process (Bunker & Alban, 1997, p. xv). They are "collaborative inquiries into organizational systems, practices, and processes that are designed to create alignment around strategic direction and system-wide issues" (Griffin & Purser, 2008, p. 261). LGIs are the fastest growing and most popular organization development interventions among organization development practices for rapid change (Griffin & Purser, 2008). As the field of organization development focuses on systemic Whole-scale Change, the importance of LGIs will increase (Garcia, 2007). The wide base of descriptive case studies suggests that LGIs can shorten decision-making cycle times, generate creative strategies, and build commitment to actions (Cummings & Worley, 2005). Each author of an LGI presents several key success factors of the process of leading a large group of people to develop alignment, commitment, and empowerment in solutions or initiatives around complex issues. Purpose, number of participants, context, culture, and facilitator style are the variables that mostly influence the different designs. However, there seem to be a set of common assumptions that apply at various degrees to each one of these interventions and determine their success. The purpose of this study is to define what are the key success factors, and therefore the key assumptions and key practices, to conduct an effective LGI. The identification and definition of these factors aims to help practitioners in discerning what
Tesi di Master
Autore: Alberto Rossi Contatta »
Composta da 130 pagine.
Questa tesi ha raggiunto 209 click dal 26/08/2009.
Consultata integralmente 2 volte.
Disponibile in PDF, la consultazione è esclusivamente in formato digitale.