Postmodernist Mythopoeia
In this thesis I argue that contemporary postmodernist literature attempts to rewrite the myths that underpin right wing, sewn up late capitalist society using urban myth as a basis.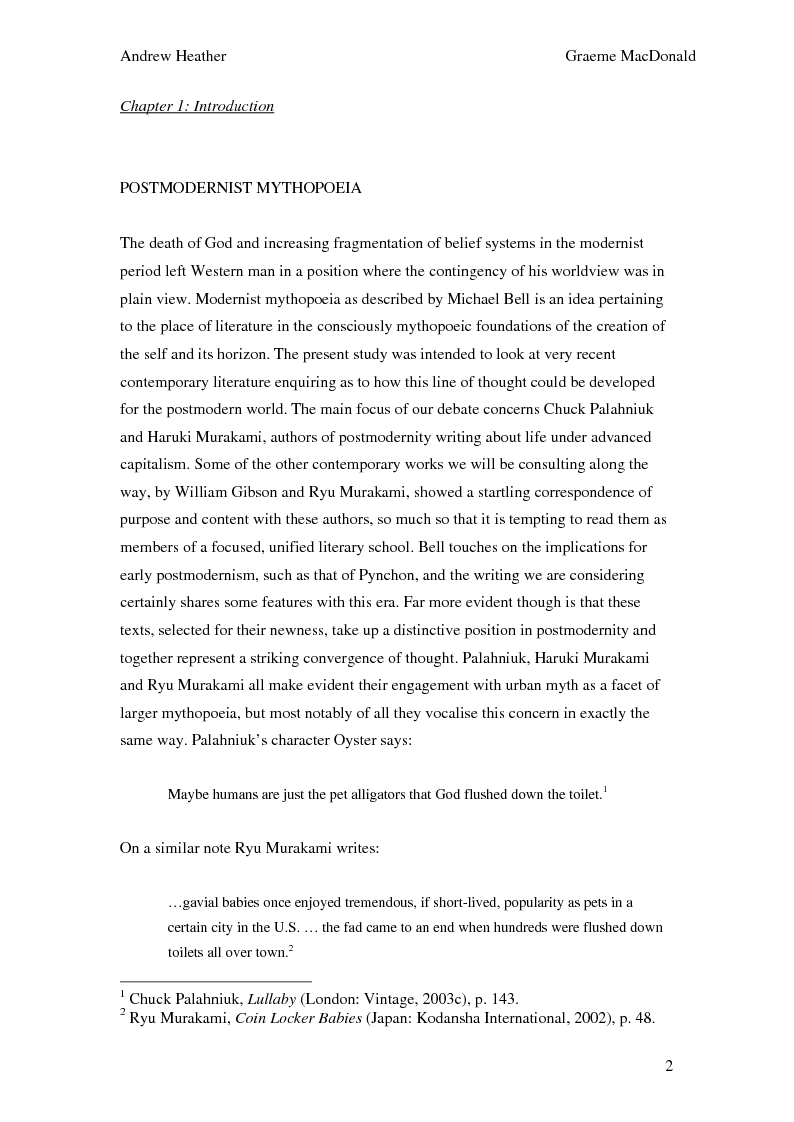 Mostra/Nascondi contenuto.
Andrew Heather Graeme MacDonald 2 Chapter 1: Introduction POSTMODERNIST MYTHOPOEIA The death of God and increasing fragmentation of belief systems in the modernist period left Western man in a position where the contingency of his worldview was in plain view. Modernist mythopoeia as described by Michael Bell is an idea pertaining to the place of literature in the consciously mythopoeic foundations of the creation of the self and its horizon. The present study was intended to look at very recent contemporary literature enquiring as to how this line of thought could be developed for the postmodern world. The main focus of our debate concerns Chuck Palahniuk and Haruki Murakami, authors of postmodernity writing about life under advanced capitalism. Some of the other contemporary works we will be consulting along the way, by William Gibson and Ryu Murakami, showed a startling correspondence of purpose and content with these authors, so much so that it is tempting to read them as members of a focused, unified literary school. Bell touches on the implications for early postmodernism, such as that of Pynchon, and the writing we are considering certainly shares some features with this era. Far more evident though is that these texts, selected for their newness, take up a distinctive position in postmodernity and together represent a striking convergence of thought. Palahniuk, Haruki Murakami and Ryu Murakami all make evident their engagement with urban myth as a facet of larger mythopoeia, but most notably of all they vocalise this concern in exactly the same way. Palahniuk's character Oyster says: Maybe humans are just the pet alligators that God flushed down the toilet. 1 On a similar note Ryu Murakami writes: …gavial babies once enjoyed tremendous, if short-lived, popularity as pets in a certain city in the U.S. … the fad came to an end when hundreds were flushed down toilets all over town. 2 1 Chuck Palahniuk, Lullaby (London: Vintage, 2003c), p. 143. 2 Ryu Murakami, Coin Locker Babies (Japan: Kodansha International, 2002), p. 48.
International thesis/dissertation
Autore: Andy Heather Contatta »
Composta da 63 pagine.
Questa tesi ha raggiunto 332 click dal 27/08/2009.
Consultata integralmente 3 volte.
Disponibile in PDF, la consultazione è esclusivamente in formato digitale.