Hepatitis C Virus prevalence among blood donors in Mampong Government Hospital
In Ghana it is estimated that between 1.3% and 8.4% between of the general population present anti-hepatitis C virus (HCV) antibodies. But there is no seroprevalence of the virus in most of our communities Based on that, this case study was used to estimate the seroprevalence of the virus among blood donors who report at the Mampong District Hospital. The objective of this case study was to investigate the seroprevalence of HCV among the blood donors and to estimate the seroprevalence among donors who have been transfused before. At the end of the study there was a seroprevalence of 6.7% among the donors and 8% among the 20% of the total donor's population who have been transfused before
Sixty blood donors were used for this study and their consent were sorted whether they would want to be part. A standardized questionnaire was used to collect data concerning marital status, occupation, history of donation, history of hepatitis in family, history of transfusion and history of intravenous drug use.
The seroprevalence of HCV among the blood donors was 6.7%. Most of the donors were males and they had the highest seroprevalence than the females. Majority of the donors were also between the ages of 17 and 30 but those recording HCV seropositives were between the ages of 17 and 35. Since there was a seroprevalence of 6.7% all blood to be transfused should be screened for the virus and all those with previous histories of transfusion might not be screened for the virus so they should go for the test to assist in its prevention.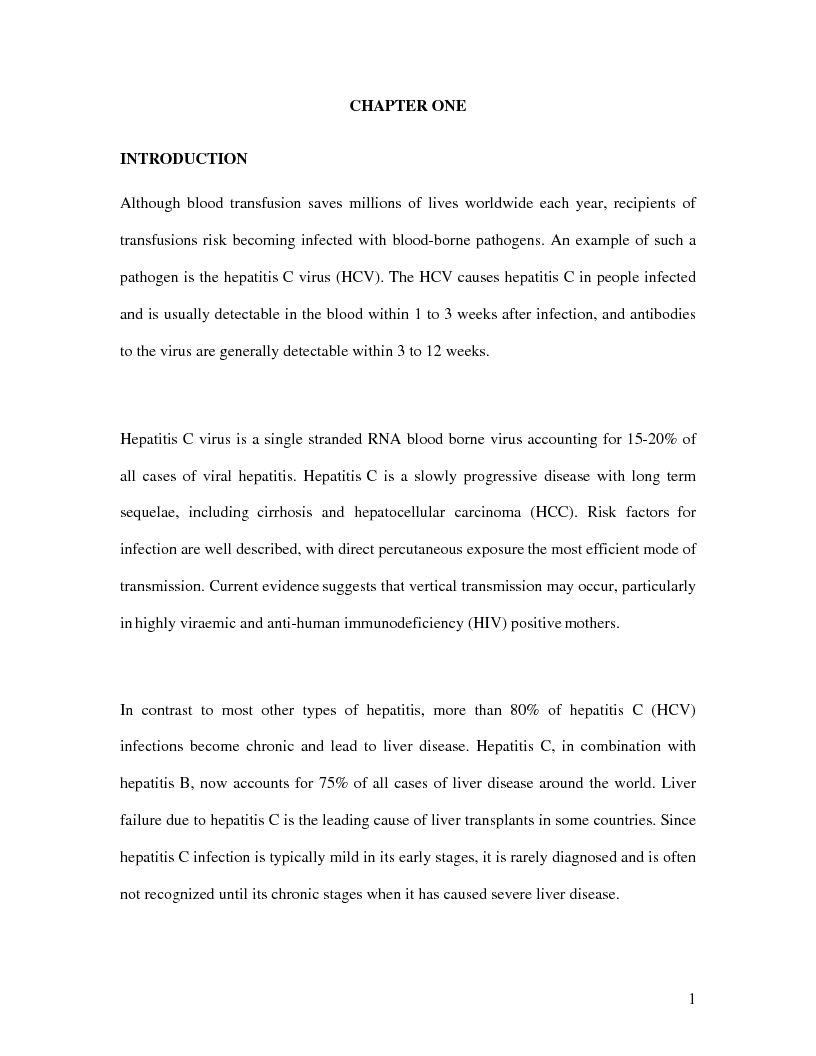 Mostra/Nascondi contenuto.
CHAPTER ONE INTRODUCTION Although blood transfusion saves millions of lives worldwide each year, recipients of transfusions risk becoming infected with blood-borne pathogens. An example of such a pathogen is the hepatitis C virus (HCV). The HCV causes hepatitis C in people infected and is usually detectable in the blood within 1 to 3 weeks after infection, and antibodies to the virus are generally detectable within 3 to 12 weeks. Hepatitis C virus is a single stranded RNA blood borne virus accounting for 15-20% of all cases of viral hepatitis. Hepatitis C is a slowly progressive disease with long term sequelae, including cirrhosis and hepatocellular carcinoma (HCC). Risk factors for infection are well described, with direct percutaneous exposure the most efficient mode of transmission. Current evidence suggests that vertical transmission may occur, particularly in highly viraemic and anti-human immunodeficiency (HIV) positive mothers. In contrast to most other types of hepatitis, more than 80% of hepatitis C (HCV) infections become chronic and lead to liver disease. Hepatitis C, in combination with hepatitis B, now accounts for 75% of all cases of liver disease around the world. Liver failure due to hepatitis C is the leading cause of liver transplants in some countries. Since hepatitis C infection is typically mild in its early stages, it is rarely diagnosed and is often not recognized until its chronic stages when it has caused severe liver disease. 1
International thesis/dissertation
Autore: Yaw Boateng Contatta »
Composta da 35 pagine.
Questa tesi ha raggiunto 92 click dal 11/12/2009.
Disponibile in PDF, la consultazione è esclusivamente in formato digitale.