Dalitz Plot Study of the Charmless Decay B+ -> Ks pi+ pi0 with the BABAR Detector
Dalitz plot study using a charmless decay to the Babar experiment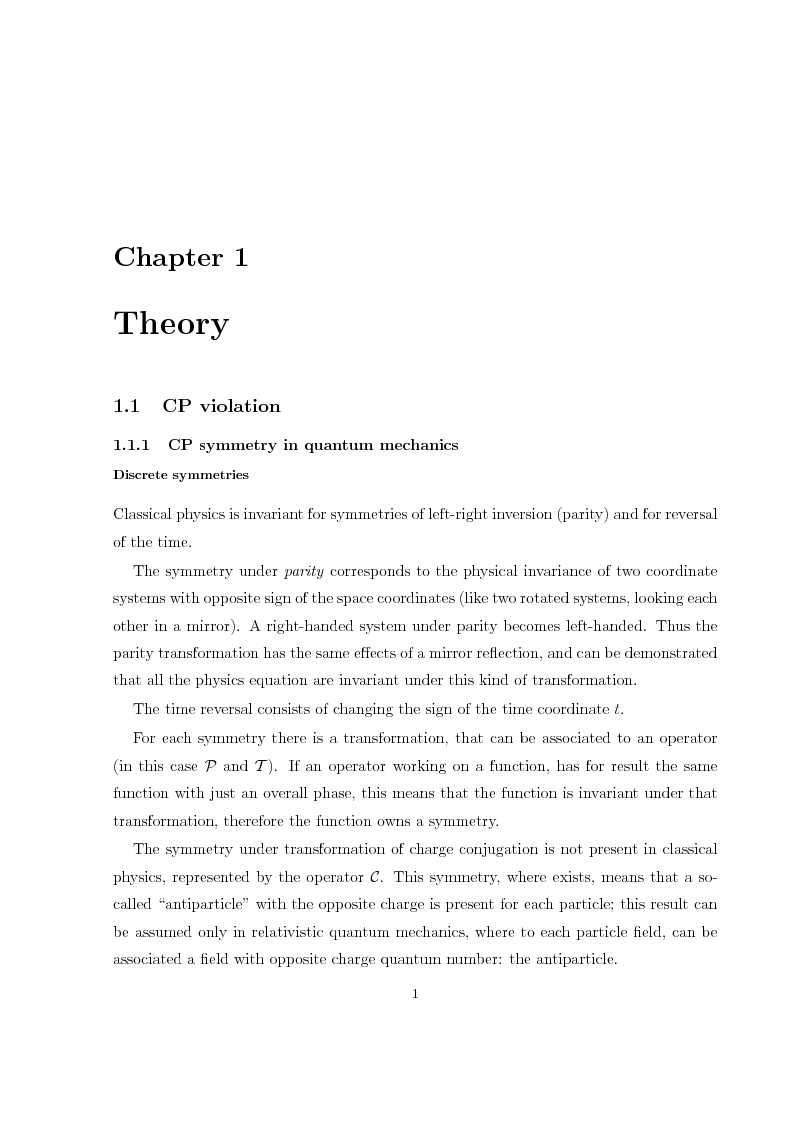 Mostra/Nascondi contenuto.
Chapter 1 Theory 1.1 CP violation 1.1.1 CP symmetry in quantum mechanics Discrete symmetries Classical physics is invariant for symmetries of left-right inversion (parity) and for reversal of the time. The symmetry under parity corresponds to the physical invariance of two coordinate systems with opposite sign of the space coordinates (like two rotated systems, looking each other in a mirror). A right-handed system under parity becomes left-handed. Thus the parity transformation has the same effects of a mirror reflection, and can be demonstrated that all the physics equation are invariant under this kind of transformation. The time reversal consists of changing the sign of the time coordinate t. For each symmetry there is a transformation, that can be associated to an operator (in this case P and T ). If an operator working on a function, has for result the same function with just an overall phase, this means that the function is invariant under that transformation, therefore the function owns a symmetry. The symmetry under transformation of charge conjugation is not present in classical physics, represented by the operator C. This symmetry, where exists, means that a so- called "antiparticle" with the opposite charge is present for each particle; this result can be assumed only in relativistic quantum mechanics, where to each particle field, can be associated a field with opposite charge quantum number: the antiparticle. 1
Tesi di Laurea
Facoltà: Scienze Matematiche, Fisiche e Naturali
Autore: Paolo Franchini Contatta »
Composta da 191 pagine.
Questa tesi ha raggiunto 1683 click dal 17/02/2010.
Disponibile in PDF, la consultazione è esclusivamente in formato digitale.