Slums and shelter policies in Kenya: the case of Kibera, Soweto East slum upgrading project
The research thesis investigates the phenomenon of urbanization in the developing countries, with a major focus on the Kenyan case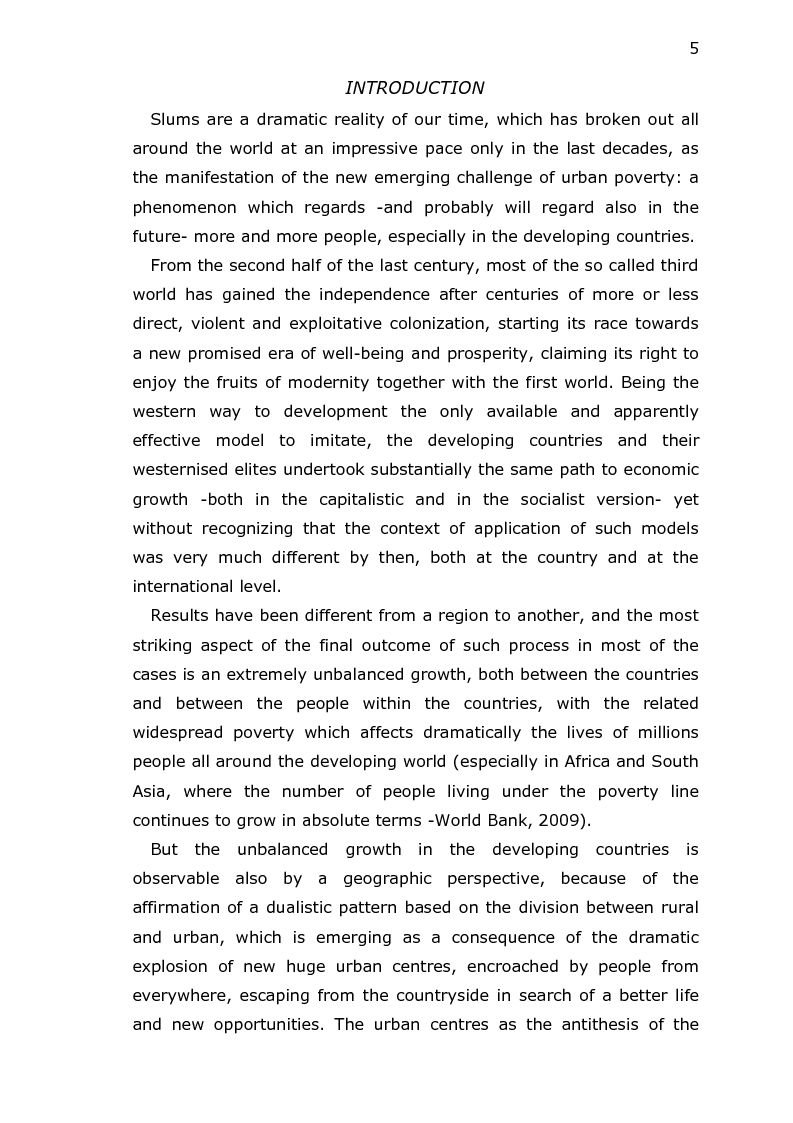 Mostra/Nascondi contenuto.
5INTRODUCTION Slums are a dramatic reality of our time, which has broken out all around the world at an impressive pace only in the last decades, as the manifestation of the new emerging challenge of urban poverty: a phenomenon which regards -and probably will regard also in the future- more and more people, especially in the developing countries. From the second half of the last century, most of the so called third world has gained the independence after centuries of more or less direct, violent and exploitative colonization, starting its race towards a new promised era of well-being and prosperity, claiming its right to enjoy the fruits of modernity together with the first world. Being the western way to development the only available and apparently effective model to imitate, the developing countries and their westernised elites undertook substantially the same path to economic growth -both in the capitalistic and in the socialist version- yet without recognizing that the context of application of such models was very much different by then, both at the country and at the international level. Results have been different from a region to another, and the most striking aspect of the final outcome of such process in most of the cases is an extremely unbalanced growth, both between the countries and between the people within the countries, with the related widespread poverty which affects dramatically the lives of millions people all around the developing world (especially in Africa and South Asia, where the number of people living under the poverty line continues to grow in absolute terms -World Bank, 2009). But the unbalanced growth in the developing countries is observable also by a geographic perspective, because of the affirmation of a dualistic pattern based on the division between rural and urban, which is emerging as a consequence of the dramatic explosion of new huge urban centres, encroached by people from everywhere, escaping from the countryside in search of a better life and new opportunities. The urban centres as the antithesis of the
Laurea liv.II (specialistica)
Facoltà: Scienze Politiche
Autore: Mattia Binacchi Contatta »
Composta da 168 pagine.
Questa tesi ha raggiunto 396 click dal 11/03/2010.
Consultata integralmente 3 volte.
Disponibile in PDF, la consultazione è esclusivamente in formato digitale.