The Culture and Market on Wind Project Financing. The French Experience.
My thesis analyses wind energy under different aspects, particularly I focused on the culture and market of wind energy in France. In order to have a real basis for analysis, I studied the case of Nordex France S.a.s., a company that produces wind turbines and installs wind parks. The most inspiring part for me was that it had a specific office dedicated to communicational and educational matters. This office has been in effect for more than 3 years, as an organised structure, in which has policies that focuses on bringing awareness about wind energy. Nordex France communications concentrates on the following tasks:
1) the inauguration of wind parks;
2) pedagogical visits of parks;
3) fair trade stands;
4) the opening of the site of Nordex France.
After the construction of each park, an inauguration takes place. It is an enormous event (about six months are necessary to organise each inauguration), with the purpose of providing accurate information on wind power. The inauguration has a fundamental importance since in that moment there is the active exchange with Nordex (through many Nordex's employees) and the community, which ask many questions about the park, including wind energy, turbine functionality, and avoided pollution thanks to the use of wind power.
In fact, Nordex strongly believes that the understanding and acceptation of wind power to the general public is an investment in creating peace between wind turbines and anti-wind citizens.
The communications' office of Nordex France also organises the parks visits for various audiences: for school pupils, chiefs of companies (that are generally oriented to invest in wind energy), administration department of the Tower House.

Another peculiarity of this company is Windmoney, a tool for financing the wind project. Inserting the relevant data in this program, permits it to have a business plan with various provisional information, which is always requested from the invertors, the banks and the other stakeholders that take part in the investment. I examined Windmoney of France, afterwards, I started with the analysis of Windmoney for the United States (in fact, Nordex is strongly oriented to operate in this market). This second analysis took tremendous effort because of the US market complexity: there are fifty states and as many wind energy laws and territory incentives, there are double taxation laws (national and federal taxes) and there are two markets for green certificates (voluntary and compliance markets).

Even though France is not the leading country in the European classification for wind power installation, it shows continuous growth each year. Moreover, it provided me a good opportunity to study in depth a corporate case and to experience a country where wind energy shows favourable consideration.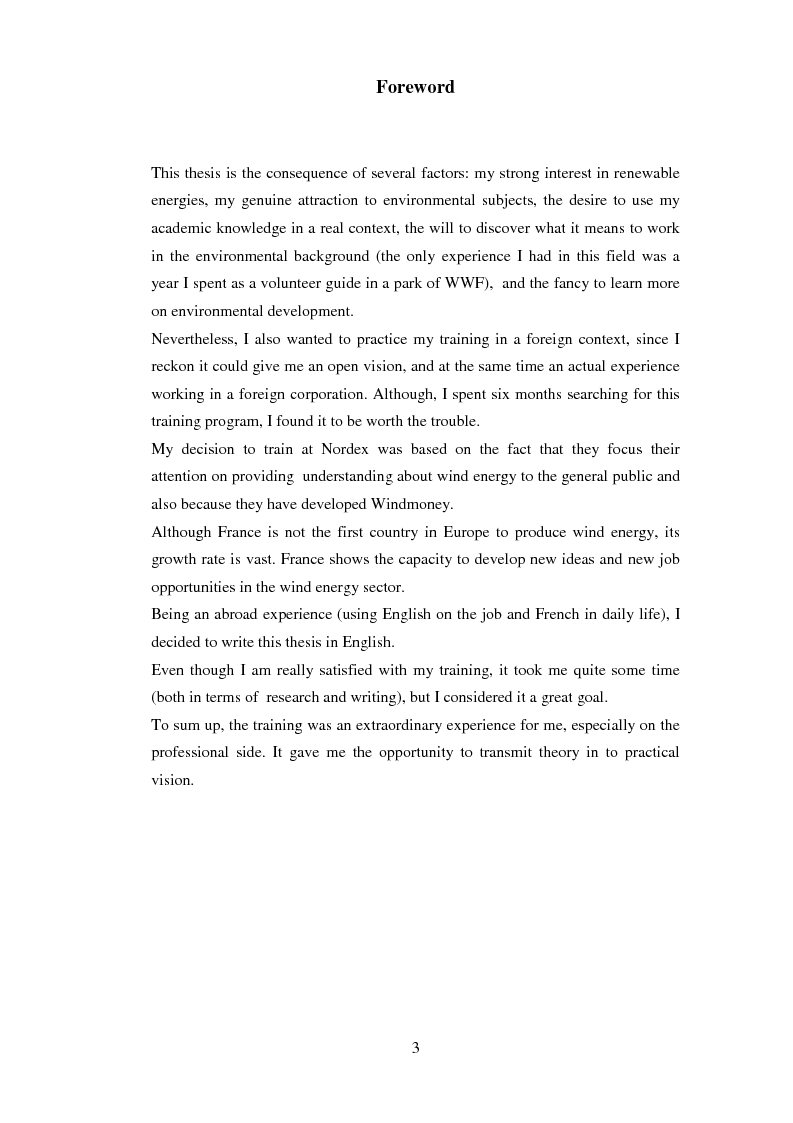 Mostra/Nascondi contenuto.
3 Foreword This thesis is the consequence of several factors: my strong interest in renewable energies, my genuine attraction to environmental subjects, the desire to use my academic knowledge in a real context, the will to discover what it means to work in the environmental background (the only experience I had in this field was a year I spent as a volunteer guide in a park of WWF), and the fancy to learn more on environmental development. Nevertheless, I also wanted to practice my training in a foreign context, since I reckon it could give me an open vision, and at the same time an actual experience working in a foreign corporation. Although, I spent six months searching for this training program, I found it to be worth the trouble. My decision to train at Nordex was based on the fact that they focus their attention on providing understanding about wind energy to the general public and also because they have developed Windmoney. Although France is not the first country in Europe to produce wind energy, its growth rate is vast. France shows the capacity to develop new ideas and new job opportunities in the wind energy sector. Being an abroad experience (using English on the job and French in daily life), I decided to write this thesis in English. Even though I am really satisfied with my training, it took me quite some time (both in terms of research and writing), but I considered it a great goal. To sum up, the training was an extraordinary experience for me, especially on the professional side. It gave me the opportunity to transmit theory in to practical vision.
Laurea liv.I
Facoltà: Scienze Ambientali
Autore: Antonella Cassiani Contatta »
Composta da 63 pagine.
Questa tesi ha raggiunto 368 click dal 26/03/2010.
Disponibile in PDF, la consultazione è esclusivamente in formato digitale.