Analysis and long term strategy of the secondary south-western airport of Trapani-Birgi
In most of the Italian national published literature, the Trapani Birgi airport has received relatively little or none attention and has been very much overshadowed by the airline sector or by other major airports. Attitude towards this south-western airport should change as for its recent growing role for the Sicilian regional economy, besides the undisputed local effects.
Using specialized aviation reviews, economic researches and questionnaires at a very practical focus, this study provides a comprehensive and appreciated trend analysis of Trapani airport highlighting its two major key aspects, the traffic growth and the financial performance.
Afterwards the arriving of the low cost carrier Ryanair in 2006 which seems having increased the international nature of this industry, the airport's account remains weighted by costs showing a negative trend. The emphasis here is on the economic and commercial areas at a strategic level and this research wishes analysing the long term strategies of Trapani airport as a complex business requiring a range of managerial competencies and corrective actions.
Finally it is intention of this study foreseeing its future developments and interlinks to the surrounded area so to enable the reader to acquire a broad and up-to-date insight of this state-controlled enterprise.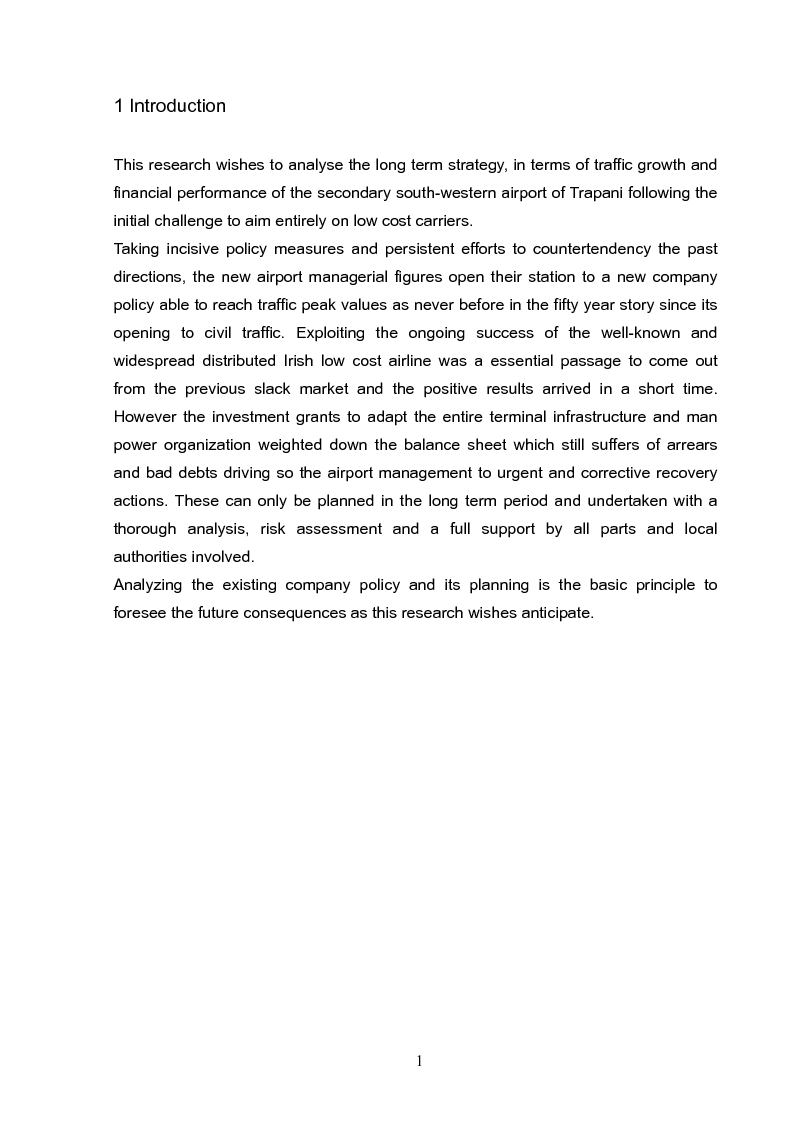 Mostra/Nascondi contenuto.
11 Introduction This research wishes to analyse the long term strategy, in terms of traffic growth and financial performance of the secondary south-western airport of Trapani following the initial challenge to aim entirely on low cost carriers. Taking incisive policy measures and persistent efforts to countertendency the past directions, the new airport managerial figures open their station to a new company policy able to reach traffic peak values as never before in the fifty year story since its opening to civil traffic. Exploiting the ongoing success of the well-known and widespread distributed Irish low cost airline was a essential passage to come out from the previous slack market and the positive results arrived in a short time. However the investment grants to adapt the entire terminal infrastructure and man power organization weighted down the balance sheet which still suffers of arrears and bad debts driving so the airport management to urgent and corrective recovery actions. These can only be planned in the long term period and undertaken with a thorough analysis, risk assessment and a full support by all parts and local authorities involved. Analyzing the existing company policy and its planning is the basic principle to foresee the future consequences as this research wishes anticipate.
Laurea liv.I
Facoltà: Leisure, Travel and Tourism
Autore: Enrico Maria Malato Contatta »
Composta da 47 pagine.
Questa tesi ha raggiunto 335 click dal 21/04/2010.
Consultata integralmente una volta.
Disponibile in PDF, la consultazione è esclusivamente in formato digitale.