Globalization, Labour Market and the Swedish Welfare State
Globalization is a widespread phenomenon that is having a strong influence on the modern society, creating both threats and opportunities. One of the most affected areas by the global pressures is the labor market, which requires specific policies and tools to respond to the increasing challenges.
It is thus the task of the modern welfare states, to intervene in the attempt of transforming the global effects in opportunities rather than threats.
The work analyzes this "trilateral" relationship between globalization, labor market and welfare state, both from a theoretical and a practical point of view. In fact, the Swedish welfare state, as a representative of the best practice of the welfare state models, the Nordic model, is deeply examined as a case study.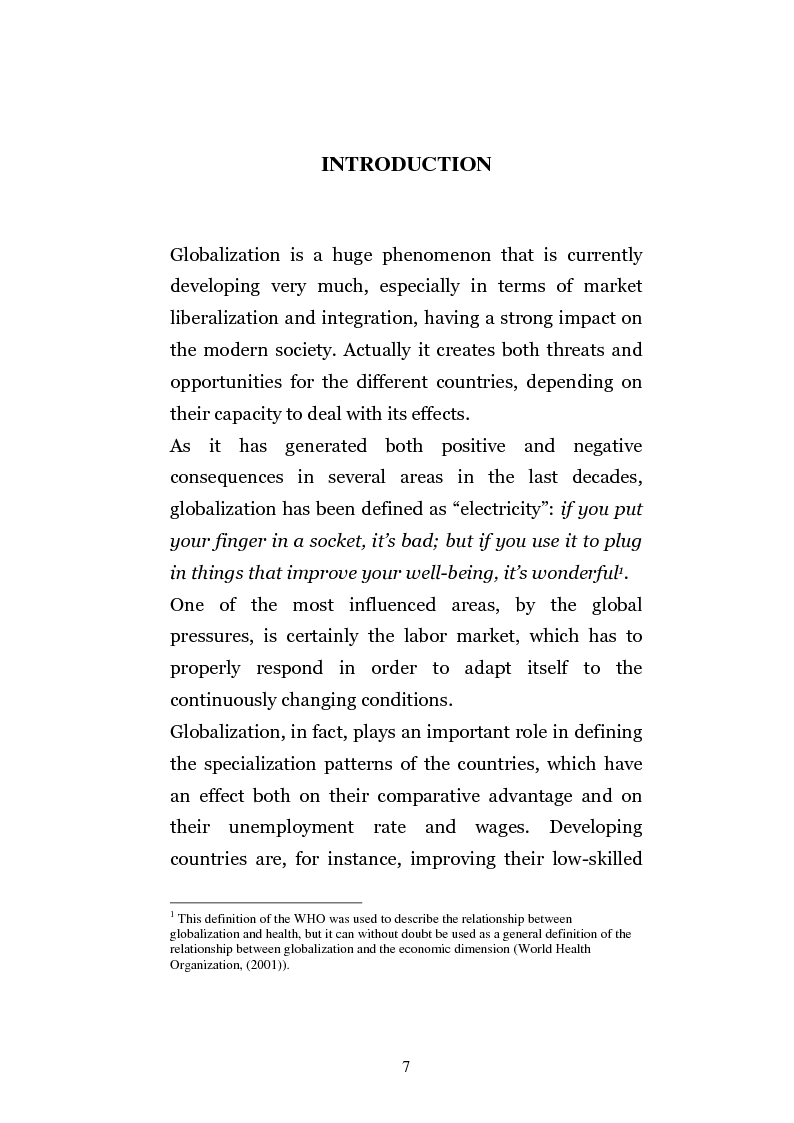 Mostra/Nascondi contenuto.
INTRODUCTION Globalization is a huge phenomenon that is currently developing very much, especially in terms of market liberalization and integration, having a strong impact on the modern society. Actually it creates both threats and opportunities for the different countries, depending on their capacity to deal with its effects. As it has generated both positive and negative consequences in several areas in the last decades, globalization has been defined as "electricity": if you put your finger in a socket, it"s bad; but if you use it to plug 1 in things that improve your well-being, it"s wonderful. One of the most influenced areas, by the global pressures, is certainly the labor market, which has to properly respond in order to adapt itself to the continuously changing conditions. Globalization, in fact, plays an important role in defining the specialization patterns of the countries, which have an effect both on their comparative advantage and on their unemployment rate and wages. Developing countries are, for instance, improving their low-skilled 1 This definition of the WHO was used to describe the relationship between globalization and health, but it can without doubt be used as a general definition of the relationship between globalization and the economic dimension (World Health Organization, (2001)). 7
Laurea liv.II (specialistica)
Facoltà: Economia
Autore: Miriam Borrelli Contatta »
Composta da 212 pagine.
Questa tesi ha raggiunto 642 click dal 13/10/2010.
Consultata integralmente una volta.
Disponibile in PDF, la consultazione è esclusivamente in formato digitale.