Innovation 2010: new perspectives. The case of dragon latecomers.
New perspectives on innovation. Trends in strategies for innovation. Analysis strategies of Chinese companies. China Macro analysis. National competitive advantage. Latecomer effect. National Innovation System. Analysis and strategies for wind power in China.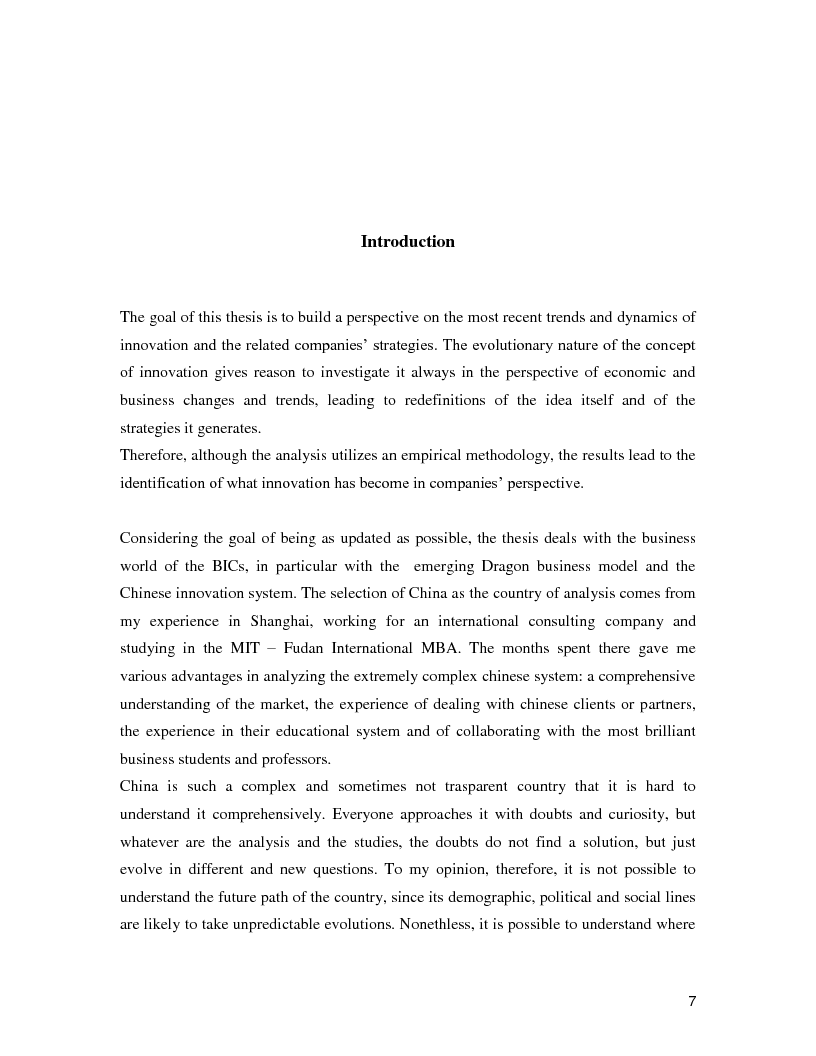 Mostra/Nascondi contenuto.
7 Introduction The goal of this thesis is to build a perspective on the most recent trends and dynamics of innovation and the related companies' strategies. The evolutionary nature of the concept of innovation gives reason to investigate it always in the perspective of economic and business changes and trends, leading to redefinitions of the idea itself and of the strategies it generates. Therefore, although the analysis utilizes an empirical methodology, the results lead to the identification of what innovation has become in companies' perspective. Considering the goal of being as updated as possible, the thesis deals with the business world of the BICs, in particular with the emerging Dragon business model and the Chinese innovation system. The selection of China as the country of analysis comes from my experience in Shanghai, working for an international consulting company and studying in the MIT – Fudan International MBA. The months spent there gave me various advantages in analyzing the extremely complex chinese system: a comprehensive understanding of the market, the experience of dealing with chinese clients or partners, the experience in their educational system and of collaborating with the most brilliant business students and professors. China is such a complex and sometimes not trasparent country that it is hard to understand it comprehensively. Everyone approaches it with doubts and curiosity, but whatever are the analysis and the studies, the doubts do not find a solution, but just evolve in different and new questions. To my opinion, therefore, it is not possible to understand the future path of the country, since its demographic, political and social lines are likely to take unpredictable evolutions. Nonethless, it is possible to understand where
Laurea liv.II (specialistica)
Facoltà: Scienze Manageriali
Autore: Marco Duso Contatta »
Composta da 196 pagine.
Questa tesi ha raggiunto 249 click dal 27/10/2010.
Disponibile in PDF, la consultazione è esclusivamente in formato digitale.