Cross Cultural Study of Bloomberg Management & Corporate Culture
Comparative survey on Bloomberg Corporation management. Comparison between the headquarter in Milan and London. Analysis of Corporate Culture in a multinational company operating in finance, media and communication. The figure of a leader and his business philosophy.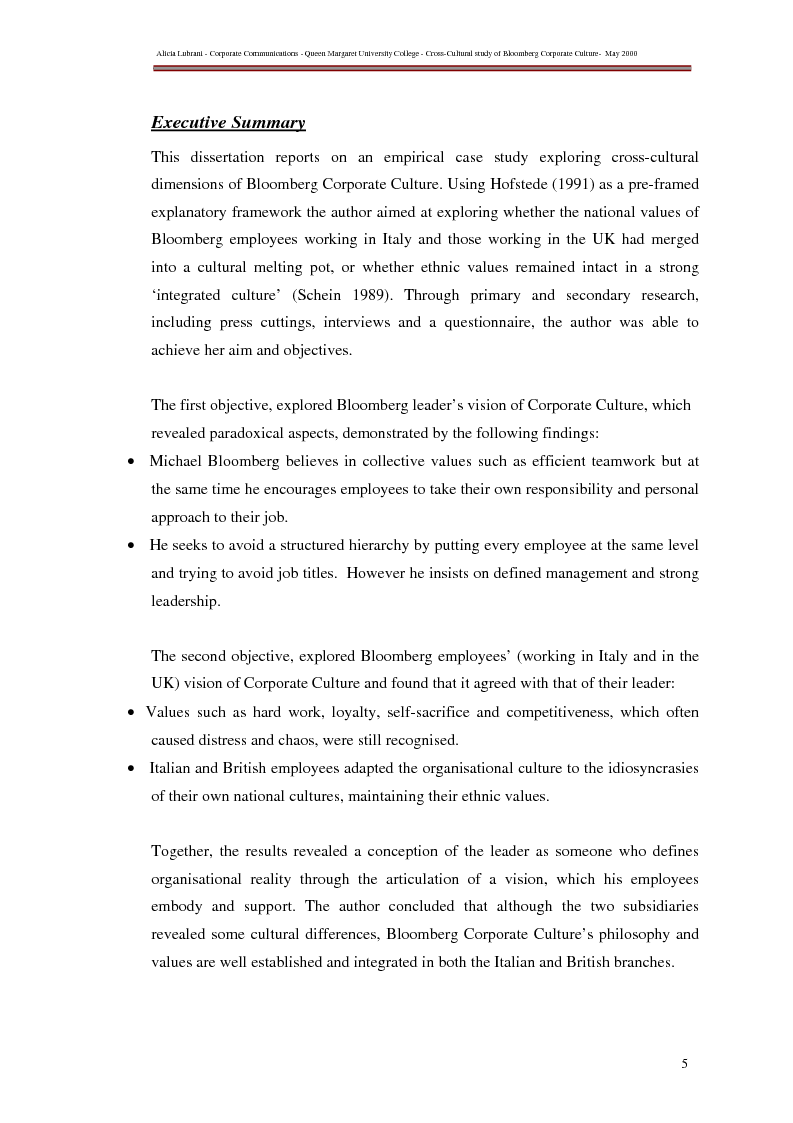 Mostra/Nascondi contenuto.
Alicia Lubrani - Corporate Communications - Queen Margaret University College - Cross-Cultural study of Bloomberg Corporate Culture- May 2000 5 Executive Summary This dissertation reports on an empirical case study exploring cross-cultural dimensions of Bloomberg Corporate Culture. Using Hofstede (1991) as a pre-framed explanatory framework the author aimed at exploring whether the national values of Bloomberg employees working in Italy and those working in the UK had merged into a cultural melting pot, or whether ethnic values remained intact in a strong 'integrated culture' (Schein 1989). Through primary and secondary research, including press cuttings, interviews and a questionnaire, the author was able to achieve her aim and objectives. The first objective, explored Bloomberg leader's vision of Corporate Culture, which revealed paradoxical aspects, demonstrated by the following findings: ξ Michael Bloomberg believes in collective values such as efficient teamwork but at the same time he encourages employees to take their own responsibility and personal approach to their job. ξ He seeks to avoid a structured hierarchy by putting every employee at the same level and trying to avoid job titles. However he insists on defined management and strong leadership. The second objective, explored Bloomberg employees' (working in Italy and in the UK) vision of Corporate Culture and found that it agreed with that of their leader: ξ Values such as hard work, loyalty, self-sacrifice and competitiveness, which often caused distress and chaos, were still recognised. ξ Italian and British employees adapted the organisational culture to the idiosyncrasies of their own national cultures, maintaining their ethnic values. Together, the results revealed a conception of the leader as someone who defines organisational reality through the articulation of a vision, which his employees embody and support. The author concluded that although the two subsidiaries revealed some cultural differences, Bloomberg Corporate Culture's philosophy and values are well established and integrated in both the Italian and British branches.
Tesi di Laurea
Facoltà: Scienze della Comunicazione e dello Spettacolo
Autore: Alicia Matilda Lubrani Contatta »
Composta da 81 pagine.
Questa tesi ha raggiunto 2417 click dal 20/03/2004.
Consultata integralmente 4 volte.
Disponibile in PDF, la consultazione è esclusivamente in formato digitale.